Get ready for summer at your static caravan or holiday lodge with our gas barbecues gear guide. We go through the key features to look for when buying a barbecue, safety tips when cooking outdoors, plus five great gas barbecues that are perfect for grilling on a caravan veranda, decking or patio.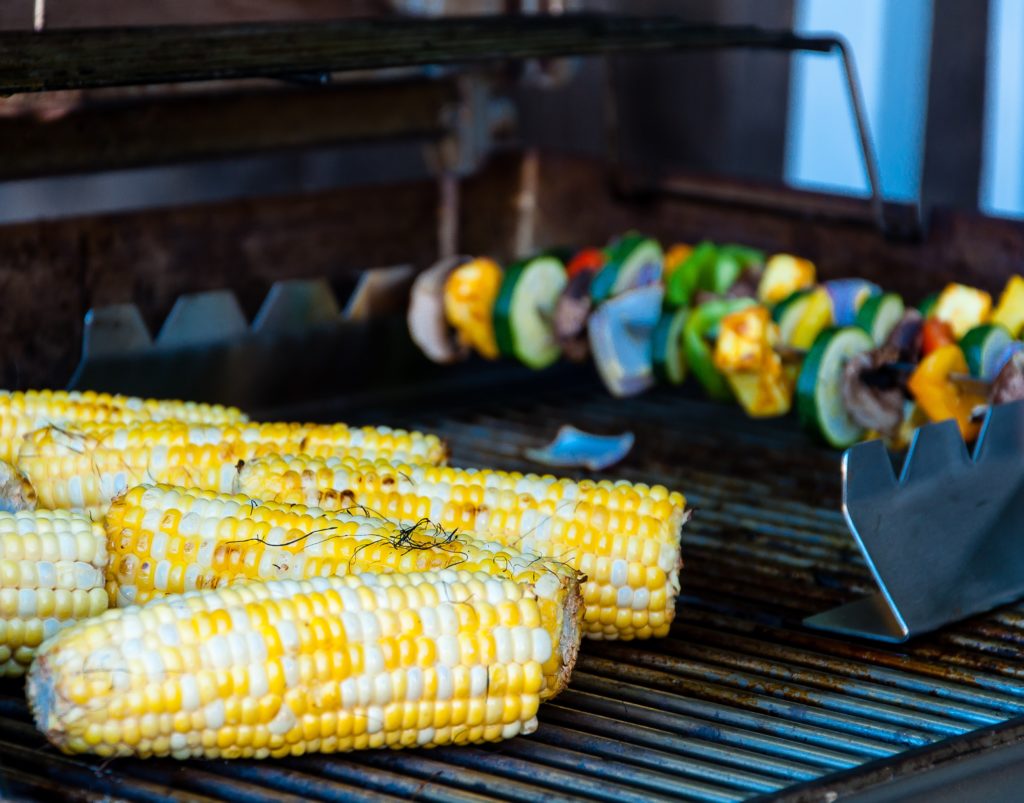 Top gas barbecue safety tips
Before cranking up the gas outside, always check that your holiday park owner is happy for you to use a barbecue. Plus, spare a thought for your fellow neighbours who might not appreciate the smoke and smell!
Keep your children away from the barbecue when cooking, and remember that a barbecue can give off a lot of heat so don't have it too close to your static caravan or lodge, or near any veranda rails and posts. It could cause serious damage or scorching
Also, keep any barbecue well off the ground to prevent scorching or burning to decking or grass.
Never cook in an enclosed space and never take your barbecue indoors
Keep a fire extinguisher or an electric blanket nearby when cooking on a barbecue – just in case of emergencies
On a windy day try to cook in a sheltered area or use a barbecue with a hood to act as a windbreak
Top barbecue cooking tips
As well as safety, hygiene is just as important whenever you're preparing food.
Keep your cooking utensils clean and don't mix cooked and raw ingredients. Always keep the right foods at the right temperatures
Use separate chopping boards and knives for fresh meat, cooked meat, and vegetables, to prevent any cross-contamination
Brushing meat with vegetable oil will help to stop it sticking to the barbecue grill. Add a bit of Rosemary helps to keep the bugs away too!
Marinating meats overnight in a sealed plastic bag means you can agitate them occasionally for an even covering – fish should only be marinated for 20 minutes, however, before the marinade begins to "cook" the flesh.
Key features to look for when buying a gas barbecue
Whilst cooking over charcoal might give you a better flavour you can't beat a gas barbecue for its instant heat so you can get cooking straight away. Plus, many gas barbecues now come with a range of extra burners and features for the ultimate outdoor cooking party!
First of all, consider how much space you have on your caravan decking or patio and where you can store it when it's not in use. Some will have side trays and legs which fold down, or alternatively, you can keep them outside by investing in a cover. If you do plan to keep it outside on your decking, however, think of the amount of floor space it will consume when not in use. Some can take up quite a large area so maybe don't go too big!
The "wobble test" (giving it a gentle shake) will help you find out how sturdy the barbecue is and it might be worth looking for a gas barbecue with locking wheels for extra stability.
Depending how many people you're cooking for will determine how many burners you'll need and the size of your cooking area. Also, the style of barbecue all depends on how you plan to cook on it. Some will have a standard cooking grate for traditional grilling but then there are some which will also include hot plates, griddles, pizza stones, and separate side burners/hobs for warming sauces, steaming, etc.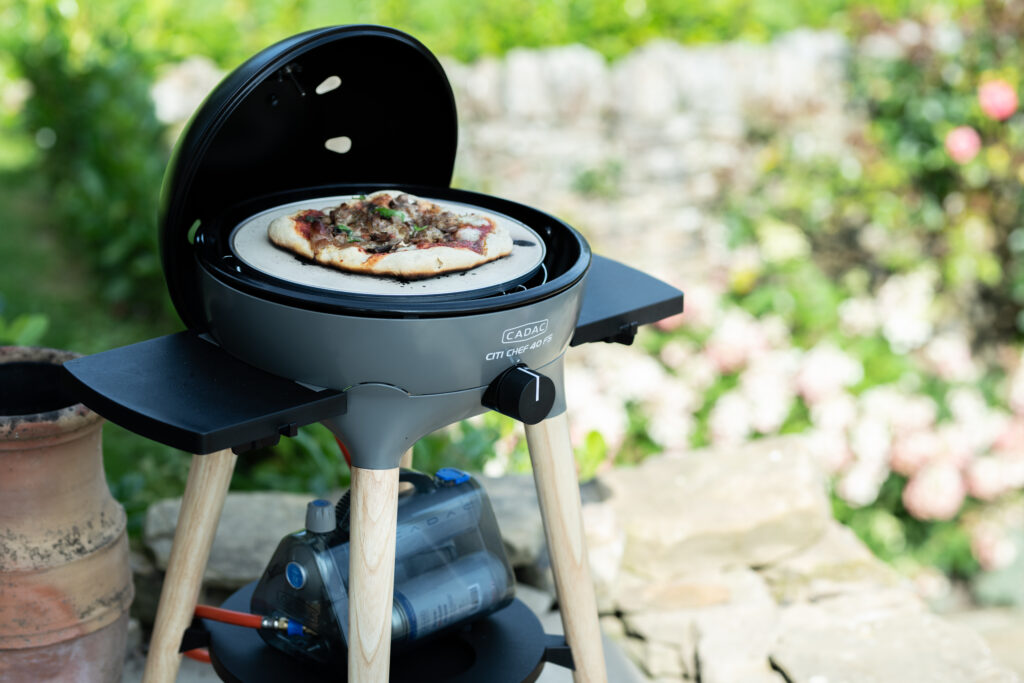 The more features, the more adventurous you can be with your cooking, with the option to grill, roast and even bake!
Different cooking surfaces, such as a griddle will also be easier to clean, and look out for fat collectors to ease the dirty work after cooking.
Outdoor cooking on a gas barbecue is not complete without utensils, sauces and spices. So be sure to look for a barbecue that gives you a place to hang your burger flipper and sausage fork, plus shelving for condiments.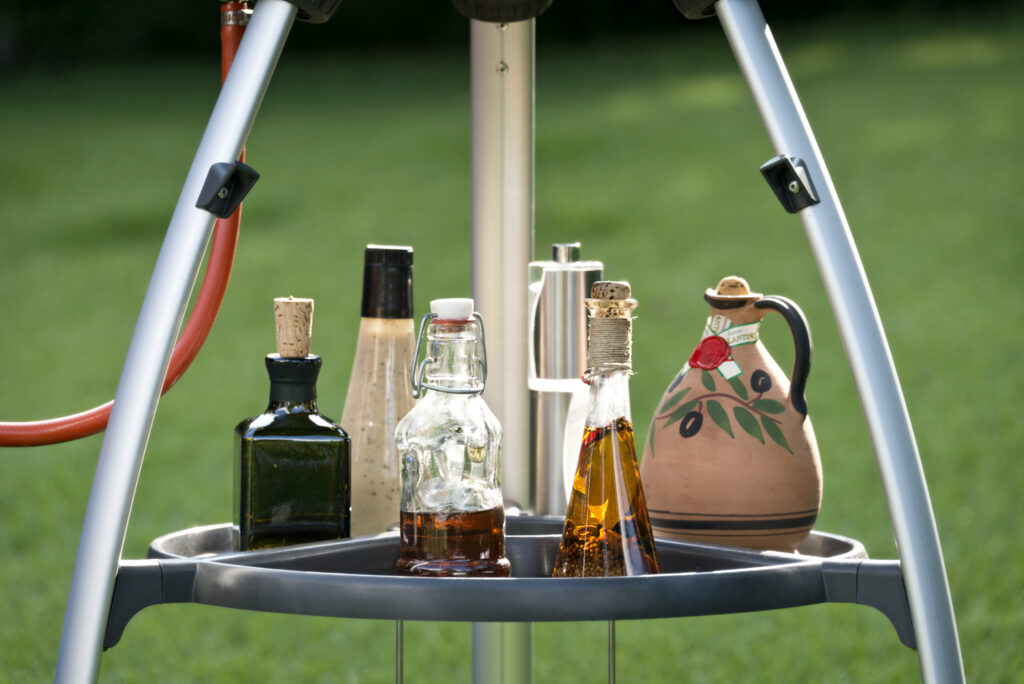 The cost of a gas barbecue can range from around £100 to well over a £1,000, dependent on brand, size and those all-important features.
Let's take a look at five gas barbecues, from budget, to cool and super-sized!
1. A compact barbecue – Cadac Citi Chef 40 FS
This compact, one-burner gas barbecue promises to be the "ultimate urban accessory; stylish, modern and uncompromising on performance".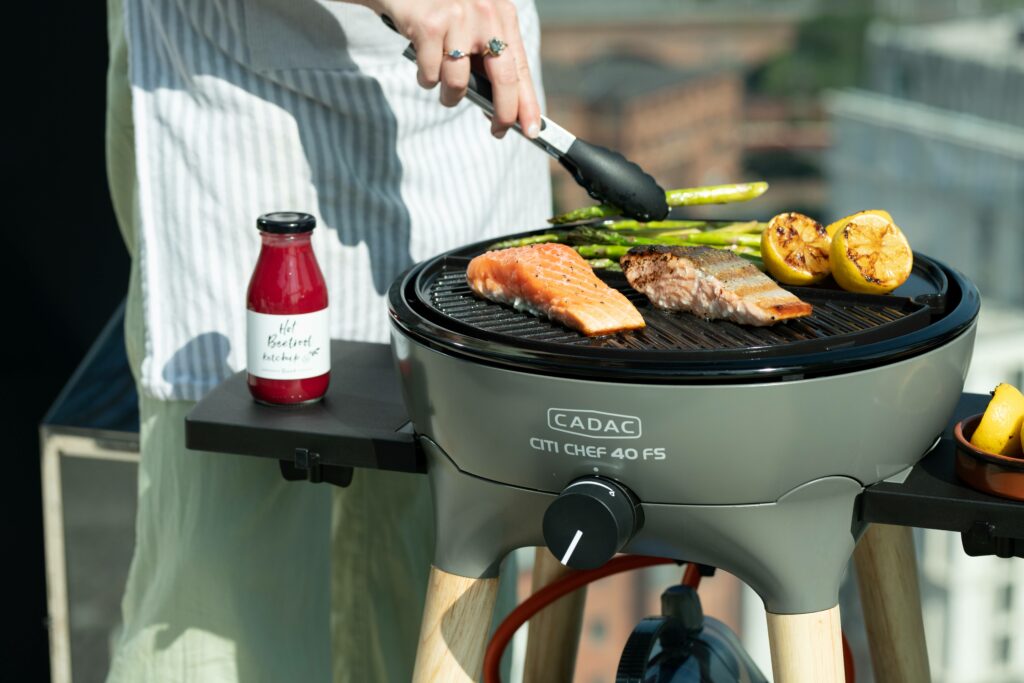 It's lightweight and therefore easy to move around and set up on a caravan decking or patio, plus its legs are made of durable wood from the rubber tree.
The ceramic-coated BBQ Grid 40 is perfect for grilling all types of meat and vegetables and there's a removable pot stand for use with your own pots and pans or Cadac's range of interchangeable modular cooking surfaces, which can be bought separately. These include a pizza stone, chef pan, and paella pan.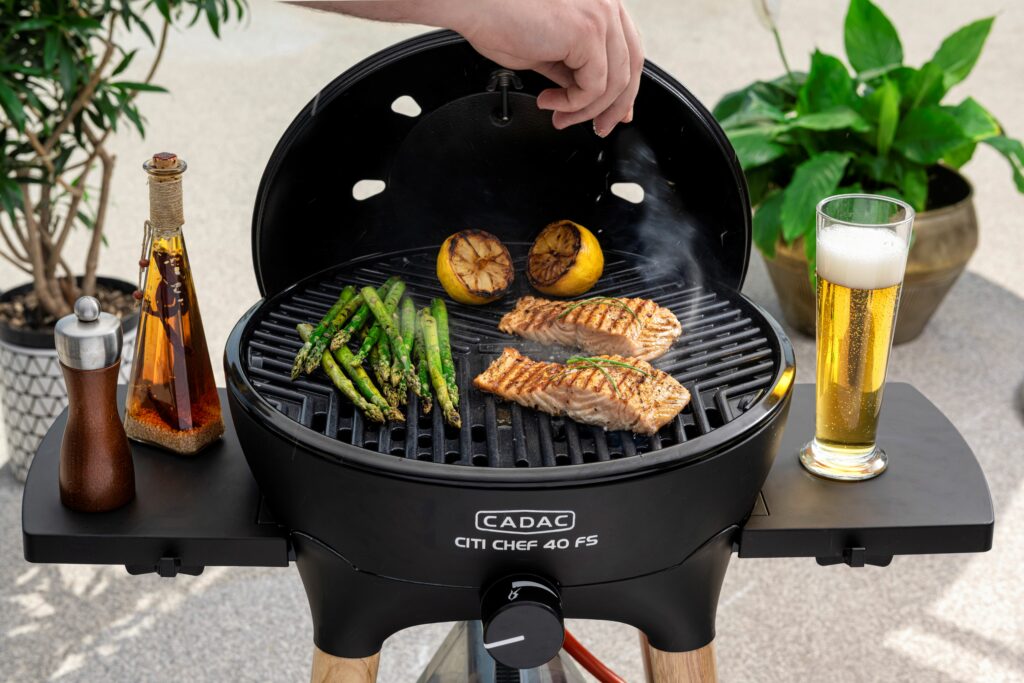 The Citi Chef 40 FS also has two handy side tables plus a utility tray underneath for condiments and the Cadac Power Pak gas supply (not included).
The domed lid has a built-in temperature gauge and a stay-cool handle.
Key features: Porcelain enamelled removal fat pan, automatic piezo ignition, removable side tables, lightweight at 15kg. Dimensions: 95cm (H) x 72cm (W).
Price from: £195
For more info: www.cadacuk.com
2. A budget barbecue – Argos Home 2 burner BBQ
This entry-level gas barbecue from Argos, is great if you're not wanting to spend too much but want the ability to barbecue on your caravan holidays.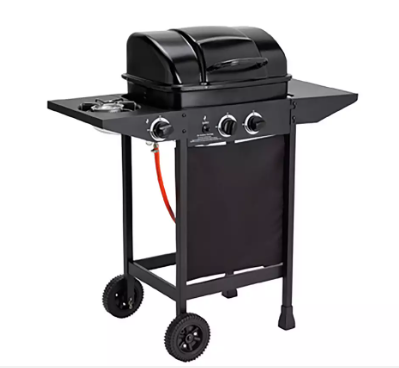 It has two burners, plus a handy side burner for frying or boiling and a folding side shelf . It has a good-sized cooking area to comfortably feed a family of four at 48.8cm x 34.3cm. Overall dimensions are 96 x 112 x 44 cm (H x W x D).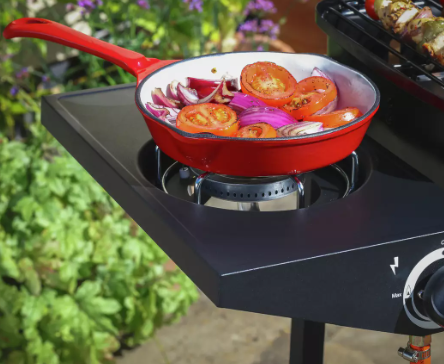 This gas barbecue has a chrome cooking grill over a fire bowl, with a grease cup hanger to catch excess fat.
Key features: Piezo ignition, self-assembly, storage shelf, dual control burner, hose and regulator included and two wheels for moving it around.
Price from: £110
For more information: www.argos.co.uk
3. A cool looking barbecue: Cadac Citi Chef 50
If you want a sleek and cool-looking barbecue then look no further than the Cadac Citi-Chef 50.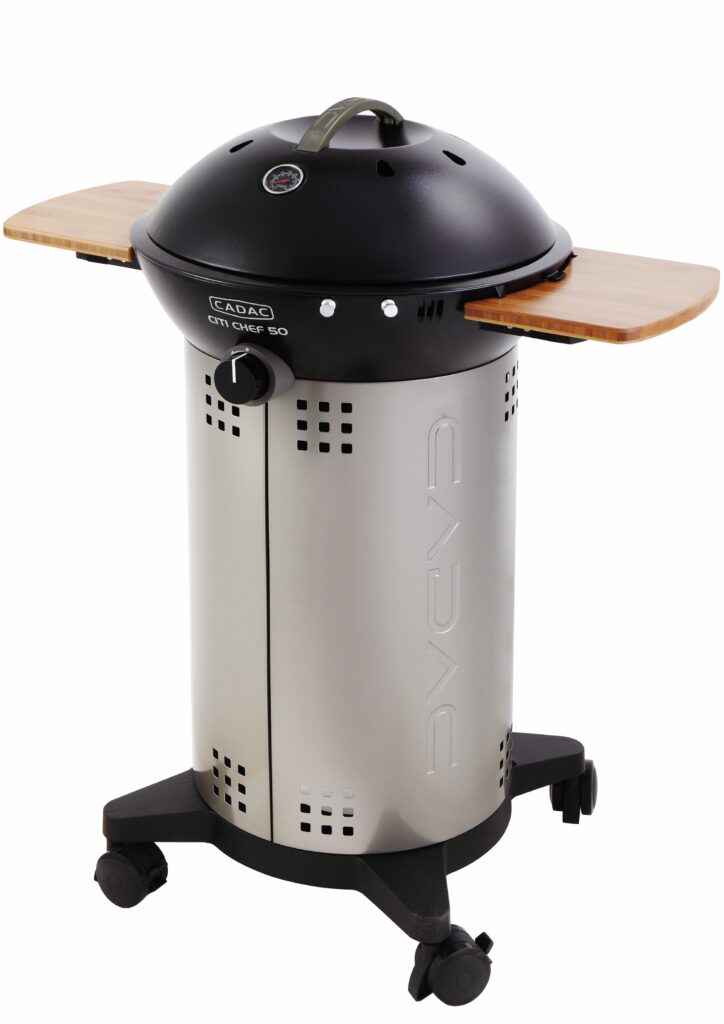 It's also pretty compact, so perfect if you don't want a big barbecue and something you can stow away in a storage shed when you're away from your caravan. Measuring 105 x 85cm, complete with space underneath for a small gas cylinder. Plus it's very portable with four casters for moving around with ease.
The two wooden side tables clip on and off and the large high-performance burners should produce some serious heat for serious grilling on its ceramic-coated BBQ grid!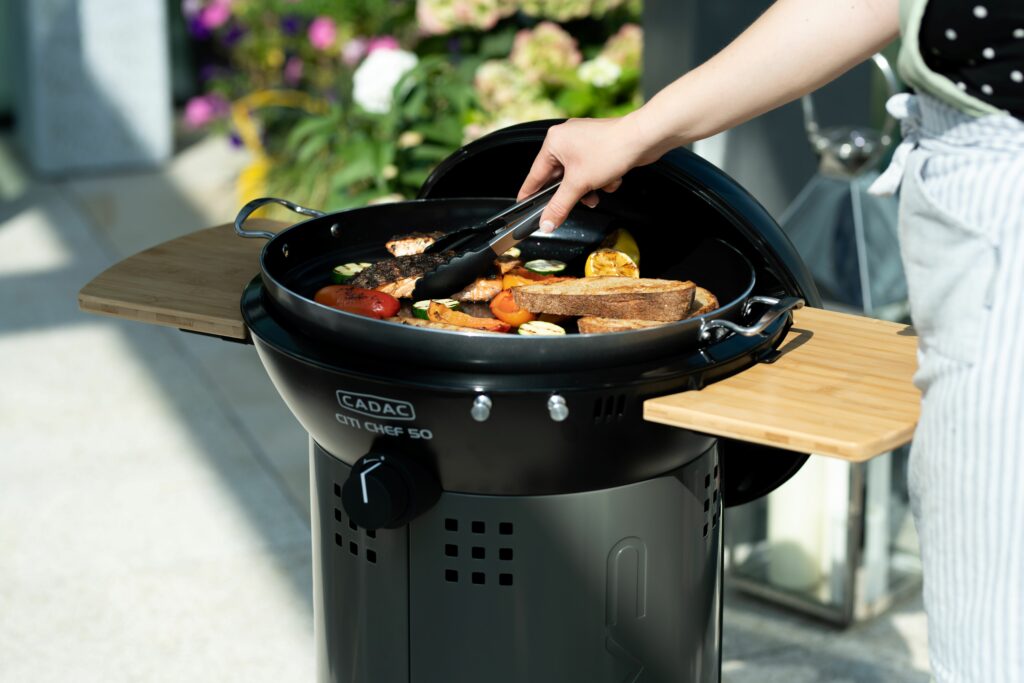 Key features: Easy-to-clean porcelain enamel fat pan, automatic piezo ignition and adjustable temperature control, bib cover included, and two tool pins, modular design means it can be used with Cadac's cooking options. Dimensions: 105cm (H) x 85cm (W).
Price from: £385
For more information: www.cadacuk.com
4. An infra-red barbecue – Char-Broil Performance Power Edition 3
Char-Broil is a big US brand and this gas barbecue uses their TRU-Infrared cooking system, which promises to cook food evenly, making it super juicy, without any flare ups. Plus it's supposed to use up to 30 percent less gas.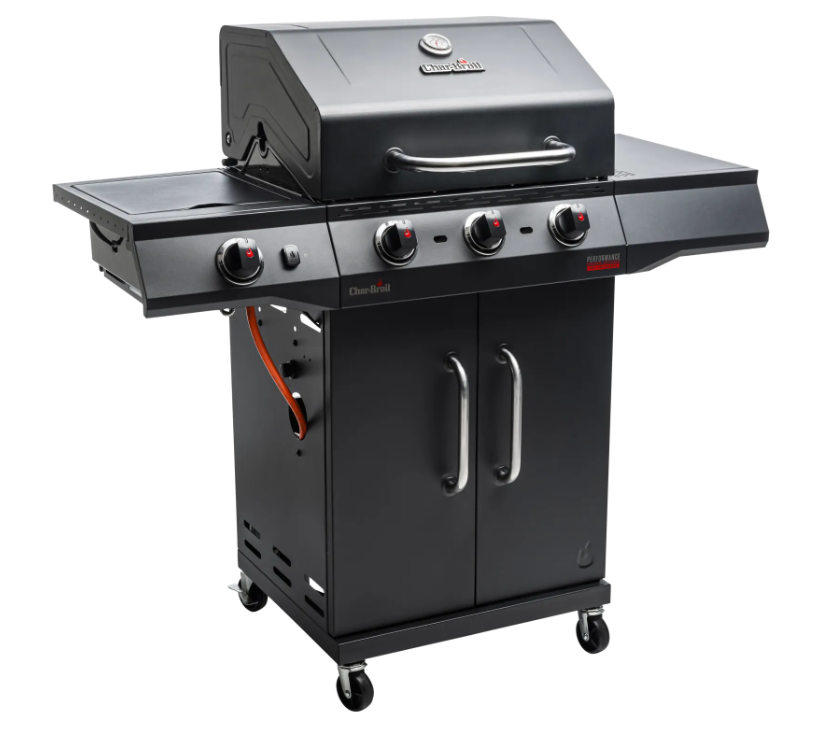 The three stainless steel burners on the Performance Power Edition 3 barbecue promise to quickly bring the grill up to temperature and there's a high-performance ceramic sear burner on the side, which can reach temperatures up to 900℃!
There's a temperature gauge in the lid so you can see when it's hot enough for some serious grilling, and its construction makes the emitter plate, grate and firebox easy to clean
The cupboard beneath has room for a 5kg patio gas bottle and other barbecuing accessories
Dimensions 115.3 com (H) x 119.3 (W)
Key features: Stainless steel burners, two large wheels for easy mobility, Surefire® Electronic ignition,  warming rack, side burner with drop down lid.
Price from: £399
For more information: www.charbroil.co.uk
5. Top end gas barbecue – Weber Spirit E325S GBS gas barbecue
If you're an expert on an outdoor grill then you'll love this gas barbecue from the prestigious, worldwide, brand Weber.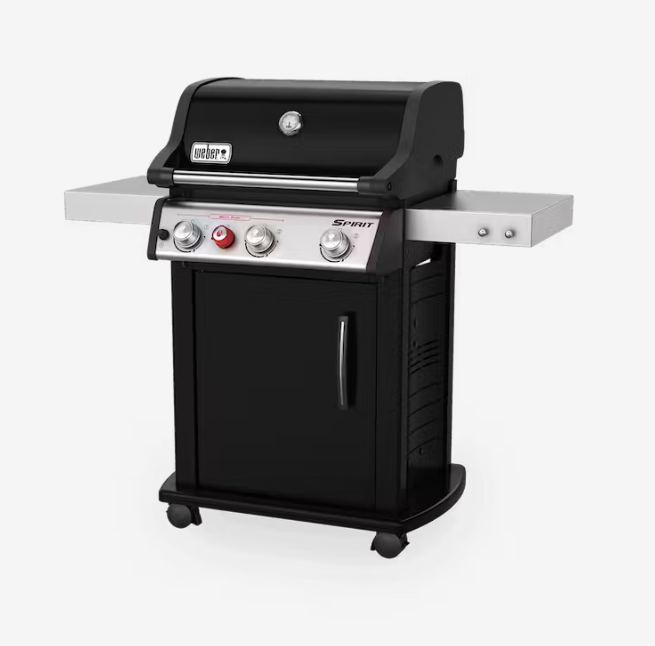 It not only looks great it also has a range of innovative features, which promise exceptional flavour as well as bags of practicality.
The Weber Spirit E325S GBS gas barbecue has three stainless steel burners and a cooking area which measures a mighty 61cm x 45cm. The Gourmet BBQ System grates has a sear grate insert with a 2.2kw "sear zone" burner for high heat to quickly sear marks on your food.
The burners can so be regulated for direct grilling, or if you want to have a go at roasting or baking. There are also two handy stainless steel side tables, utensil hooks, and a warming rack
It's all very stylish with a handy storage cupboard below and it's finished in a durable porcelain enamel to help prevent rusting and cracking.
Dimensions 116 cm (H) x 126 (W) x 61 (D)
Key features: Built-in thermometer, warming rack, 10-year warranty, swivel casters, range of accessories available, weighs 53.64kg
Price from: £929
For more information: www.weber.com
Over to you…
Want to tell us about your BBQ? Got any gas barbecue buying or cooking tips to share? Feel free to add your comments below.
Get a static caravan insurance quotation today by clicking here.