As you spend more time at your holiday park it can be easy to let your guard drop when it comes to protecting your static caravan or lodge from thieves.
Although crime on caravan parks is relatively low we do see a handful of claims for theft at this time of year and more so in the closed season.
A holiday park can attract thieves who are on the lookout for some easy pickings so it's important to always be on your guard and considering adding that extra layer of protection.
Be security conscious
Always lock your doors and windows and make sure all locks are working correctly
Never leave keys hidden near your caravan or lodge
Close curtains at night and never leave valuables on view
Use a padlock on your outdoor sheds and outbuildings to protect the valuables you keep inside
Look for a park's membership of local "park watch" schemes
In winter, when leaving your caravan remove all valuables and leave curtains and cupboards open so would-be thieves can see there is nothing worth stealing
Fit an alarm to your static caravan or lodge for that extra peace of mind and extra security
Here we look at some different kinds of holiday caravan alarms – which will act as your first line of defence against criminals intent on stealing – but will also send out a warning to you, and others, that a break-in has taken place, as well as deterring the thief.
Some alarms can be fitted yourself but it's best to seek professional advice and always use an NSI or SSAIB Accredited company to make sure they're installed in line with industry standards. And always speak to your park owner first to check if they have a particular system they would recommend for a static caravan, lodge or park home and if they're happy for you to install an alarm.
Some holiday parks also have facilities to monitor alarms and activations.
Top holiday caravan alarm tips
If you have a holiday caravan alarm, get into the habit of setting it when you leave your static caravan or lodge – even for a short time.
Simple alarms can be cheap and easy to fit, but can often be disabled in seconds. Also, if your neighbours hear a siren for only a few seconds they usually assume it's been accidentally set off.
Adding stickers to your window will help to warn criminals that you have a holiday caravan alarm system fitted and can be a good visual deterrent.
Features like "sleep mode" and/or "pet setting", mean you and/or your pet won't set off the alarm when you're inside.
Check power consumption and battery levels. You'll want to make sure any batteries won't run flat when your caravan is left for long periods.
Park monitored holiday caravan alarms
Effective alarm systems are the monitored varieties that alert the manager or holiday park security that there's been a break-in, either by radio or mobile phone text technology. On receiving an alert the park's security can check out what's happened and take the necessary action.
Monitoring equipment is bought by the park and then the park will sell individual alarm units to its customers. Many of these devices can even detect other hazards such as water, gas or carbon monoxide leaks and alert the park operator or static caravan owner.
In our recent poll, most owners who had a static caravans alarm had a park monitored one.
Star Player 1
Ramtech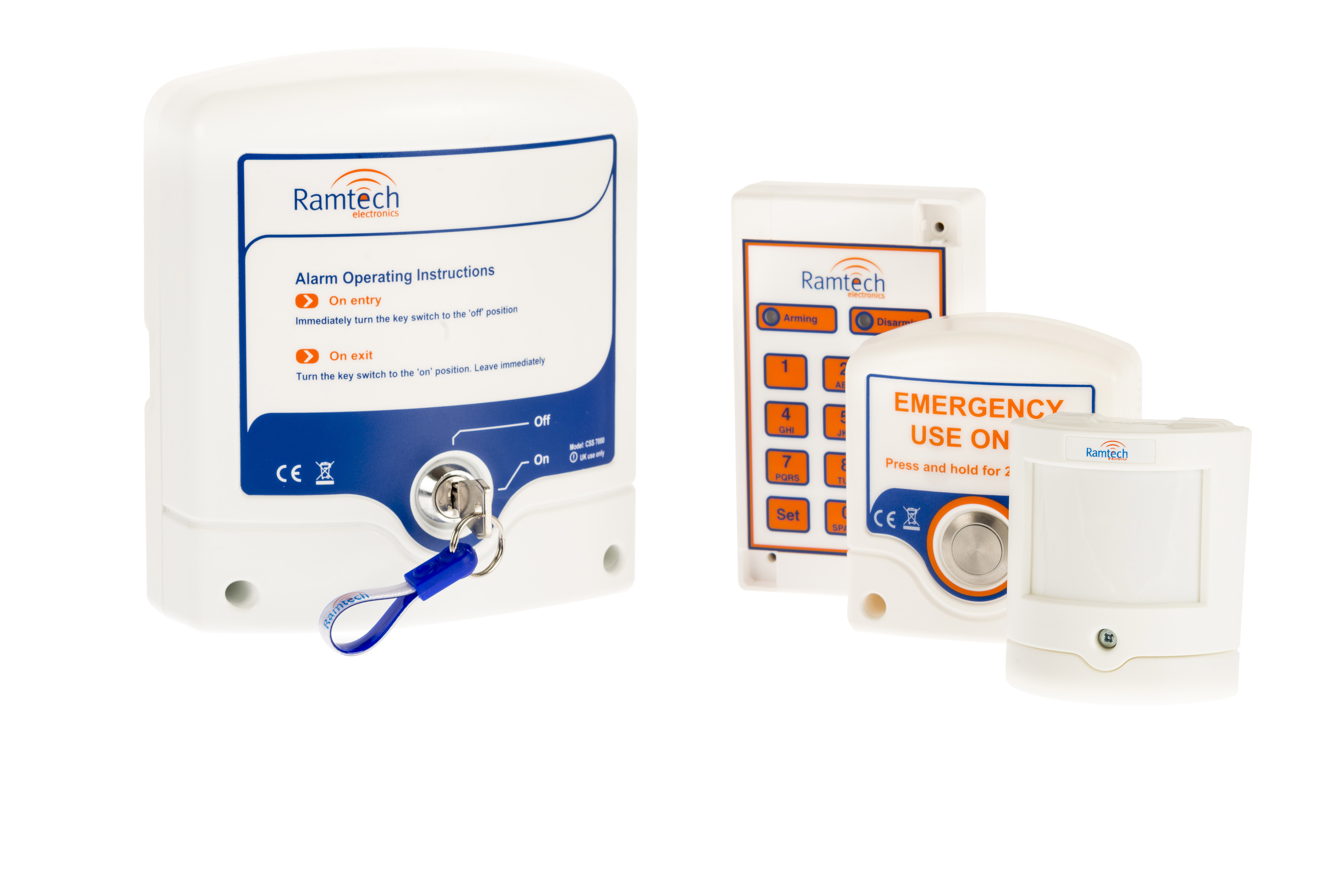 Ramtech says it's been setting the standard in holiday caravan monitoring systems for more than 25 years and has alarm systems on a number of large holiday parks in the UK.
For those parks that have a Ramtech WiSE connected alarm system installed, it provides a centrally monitored alarm network, monitoring every single alarm installed in holiday caravans on their park, 24-hours-a-day and seven days a week.
You simply pay to have a wireless alarm installed and connected to the park's system and once installed by a certified engineer, if your alarm is tripped, it will send a silent signal to your park's security staff, so they can investigate immediately.
Features also include A silent alarm so your neighbours aren't disturbed, the system detects any errors, such as a low battery. Simply key fob operation. Systems to suit your holiday caravan or lodge.
Expect to pay: Speak to your park owner for costs.
Star Player 2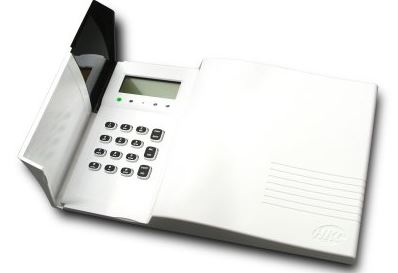 Crosby Intruder Alarms
Crosby Intruder Alarms offer a range of wireless security alarm systems aimed at caravan parks to provide intruder and fire protection to holiday lodges and caravans. All their alarm systems can be controlled by their owner as well as sending alerts to a central base station if there's a problem.
Radio-based passive infra-red detectors are fitted to your holiday caravan and magnetic contacts can also be fitted to the doors and windows. The holiday caravan alarm can be operated from outside the caravan or lodge by using a handheld digital key.
The HKC Quantum alarm system can be programmed to alert the holiday caravan owner and park security if the alarm has been activated via SMS text message or phone call, or if there's a mains electric failure.
Crosby also says their system is ideal for lodge or static owners who let out their holiday caravan. A computer tablet can be installed in the holiday park's main office which records the alarm system's activities and sends a notification to a Cloud Based App for the park manager, warden or security to respond to.
Features also include Wireless smoke, heat, and carbon monoxide detectors, plus internal and external sounders. Individual configuration of the App.
Expect to pay: Contact Crosby alarms or your park operator for costs
Self-monitored holiday caravan alarms
There are a number of alarms that will send you an alert via a landline or mobile phone, or even text message (SMS) if triggered. This allows you to contact the park, or have an alert sent to them (if agreed), or get back to your holiday caravan and check everything is okay. At the very least the alert will allow you to act quickly and re-secure the property to protect it from further damage.
Star Player 3
Photo Express GSM Alarm
This GSM camera alarm will see who and when someone has entered your holiday caravan with images and alerts sent to a mobile phone.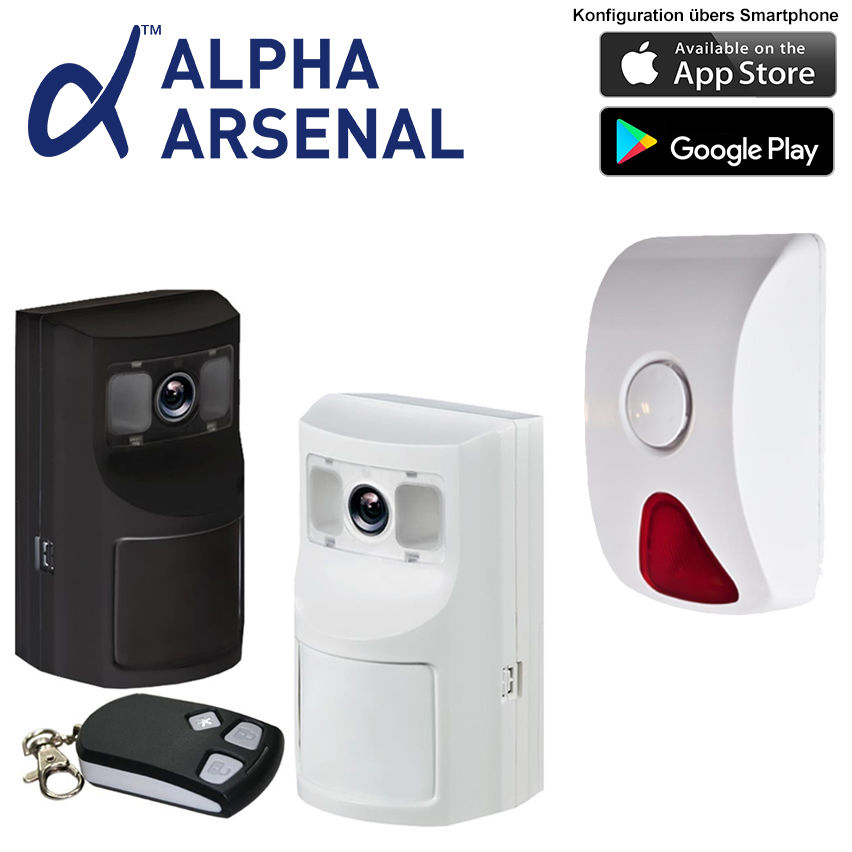 A camera is built-in to the PIR movement detector, so when an intruder is detected it will send a text message to a mobile phone, take one or two pictures of the protected area and send them to an email address for viewing on a Smartphone. The wireless siren will also sound to warn off the intruder and alert your park security or nearby owners. The alarm is set using a wireless key fob which has a 15 metre range.
The system includes a Security SIM card, specifically for alarm systems, which means the camera will take photos when triggered, without the need for Wi-Fi access. The SIM offers mobile network coverage along all major and minor roads. Subscription is included with the SIM for the first 12 months but can be renewed at an annual cost of just over £40 for subsequent years.  The alarm is also battery-powered so perfect to leave in a static caravan, with a battery life of up to six months.
Features also include Free Smartphone APPS for Android and iPhone, free programming so ready to use, wireless keyfob and six telephone numbers stored
Expect to pay £347.98
Star Player 5
3G Ultra PIR GSM alarm

This battery powered alarm uses 3G mobile phone technology to contact up to three mobile phone numbers by text and phone, if someone activates the PIR sensor from up to 10 metres. There's also a built-in 130 decibel siren and an option to add extra wireless detectors or magnetic door contacts.
The alarm uses a standard pay-as-you-go or contract SIM card to contact the key-holders. When they receive a call to alert them to an activation they can disarm the PIR and turn the siren off from their phone saving neighbouring caravan owners from the noise.
The ULTRA PIR alarm is battery-powered by three AAA batteries with a typical battery life of up to seven months. If the batteries are running low it will send a text message to the keyholder.
The system is armed using the remote control from up to 100 metres away.
Features also include: Ability to operate PIR silently and add extra sirens, 30 second exit delay and easy programming with video support.
Expect to pay: £89.95
Audible holiday caravan alarms
A basic alarm system will make a noise to alert nearby people to an unauthorised access and can be a cheap way of stopping a thief. However, as already mentioned the majority of break-ins happen when you're away from your static caravan, meaning you're relying on somebody being nearby to hear and react to the alarm, that's why monitored versions make more sense.
Star Player 5
Ultra Secure Direct – Smart Battery BC Alarm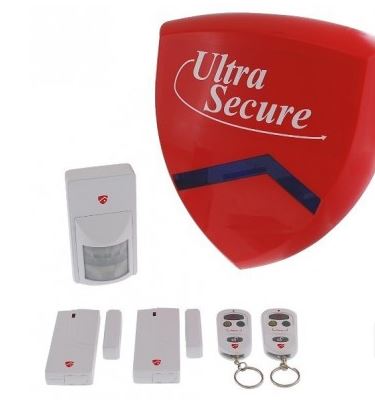 This battery-powered wireless alarm system has a siren and flashing strobe when activated and looks like an easy alarm to install. A PIR sensor will detect movement inside your caravan, from up to 15 metres, and the kit also comes with two internal wireless magnetic door or window contacts, which will activate the alarm's siren if a thief attempts to break in through your caravan windows or doors.
No power supply is needed for this alarm. There's a built-in warning system to alert you if the battery power is running low on the window/door sensors and PIR.
The alarm is activated by the two remote controls provided, and there's an option to buy an additional wireless keypad.
The siren is powered by 4 x D cell batteries (supplied), which will last approximately two years, and when triggered will transmit a 120-decibel alarm, plus bright flashing strobe lights. You can set how long this goes on for when it's installed.
Features also include Panic button on the remote control, tamper protection, service mode and easy-to-follow installation and user instructions. Options to add more door and window contacts, PIRs, dummy sirens and wireless keypads.
Expect to pay: £145.82
Of course, even with good security in place thefts can still happen, which is why it's important to have specialist static caravan insurance cover in place.
Over to you…
Do you have an alarm system in your holiday caravan or lodge? Share your comments below.