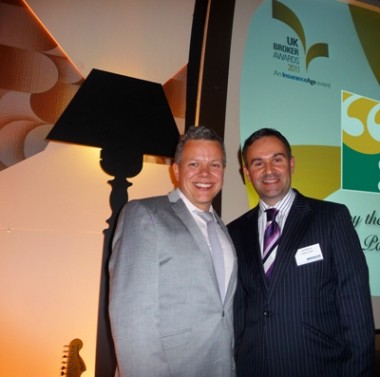 Pictured: "Leisuredays' Neil Menzies (right) with awards presenter and comedian Rob Deering"
Leisuredays (and sister brand Caravan Guard) have been "highly commended" at the 2011 UK Broker Awards, which took place at a glitzy event in London on Friday 9th September.
We were named finalists in the "Customer Service Provider of The Year" category, a category we won in 2008 and 2010, and highly commended in the "Marketing Campaign of the Year" category.
We were up against stiff competition from some of the biggest insurance brokers in the country, so to gain recognition is a massive achievement and testament to our ongoing commitment to further improve the service offered to our customers.
Our award entry was largely based around a new and improved personal review service which ensures customers get the best possible deal at renewal, with the benefit of speaking directly to one of our highly trained insurance advisers.
Sally Wilby, Director at Leisuredays, had this to say about being finalists,
"To be a finalist for the Customer Service Award was great as we won it last year and back in 2008. It is a massive achievement as each year we have to prove what we've done to further improve our already top notch customer service. We really stay on our toes when it comes to providing the best possible service."