We have awarded Dorset based Dolphins River Park with the 2014 Leisuredays Risk Management Award to celebrate its work in reducing flood risk.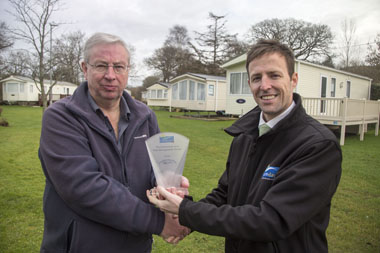 Terry Gilbert (L) is presented with the 2014 Leisuredays Risk Management Award
The annual award commends leisure parks that demonstrate superb risk management and help reduce threat to park home owners and residents.
Dolphins River Park is situated in Bridport close to the banks of the River Char. The park was severely flooded back in July 2012 but has since undergone numerous land surveys and installed raised bases on many of its units to help prevent the same  happening again.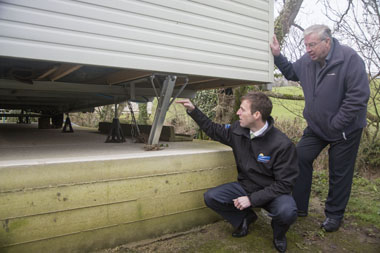 Alan Dixon from Leisuredays, presented the award to Park Manager Terry Gilbert congratulated the park telling us:
"Dolphins River Park's risk reduction success is undeniable. The park was devastated by the summer floods in 2012 which damaged multiple units. Now in 2014, thanks to continuing commitment and ongoing investment, Dolphins River Park is the perfect example of how risk management can help protect parks from the threat of flood and adverse weather."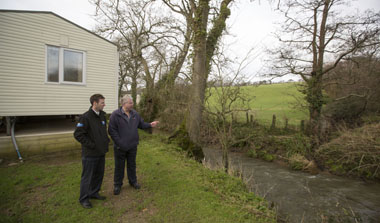 Our Flood Consultant, Lawrence Waterhouse – who recently appeared on ITV's 'Tonight' flood documentary – has been working closely with Terry and our Leisuredays development team to monitor flood risk on the Park since 2012. The success of raised bases ensured that no units were damaged by flood in 2013 and earlier this month.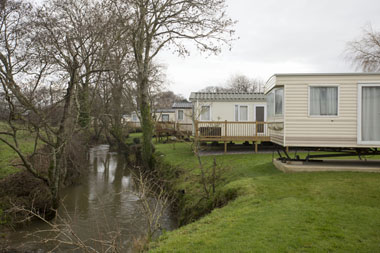 Commenting on the Award, Terry told us: "It is an honour to receive the award in recognition of all our hard work. We have worked with Leisuredays and the Environment Agency to raise concrete bases and reposition units back from the river. Risk management is important for the safety and wellbeing of caravan owners, and it helps to keeping insurance premiums down."
Dolphins River is just one example of where Leisuredays have worked closely with a holiday park to ensure its customer's continue to get extensive static caravan insurance cover at competitive prices.
Congratulations Dolphins River!