Following last month's report on the risks of Carbon Monoxide poisoning, we were interested to find out how often you test the alarm in your static caravan or lodge.
Fitting a Carbon Monoxide alarm is one of the easiest ways to protect against the deadly gas, so it's no surprise that most new models come with an alarm or detector fitted as standard.
We gave you five options to choose from for this one, and now it's time to reveal how you voted.
The results are in…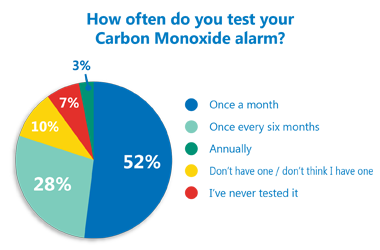 It's great to see that most of you are extra cautious when it comes to checking your alarm; a whopping 52% check once a month and 28% once every six months.
3% of you told us you check your alarm annually, but worryingly 7% admitted to having never tested their alarm.
Even more concerning, 10% of voters admitted to not having an alarm, or to not knowing if they had one fitted. If this is you, our guide has details on how to book a Gas Safe engineer.
Remember, fitting a Carbon Monoxide alarm is a reactive measure; the proactive approach is to get your gas appliances checked annually by a Gas Safe engineer.
You should replace the battery in your alarm annually and replace the whole unit every 5 years.