Like standard home owners, static caravan and holiday lodge users are at risk of carbon monoxide poisoning. Understanding what Carbon Monoxide (CO) poisoning involves isn't always straightforward; in fact a recent poll (Gas Safety Trust May 2014) revealed that only 13% of people surveyed were able to identify the main symptoms and characteristics of the deadly gas.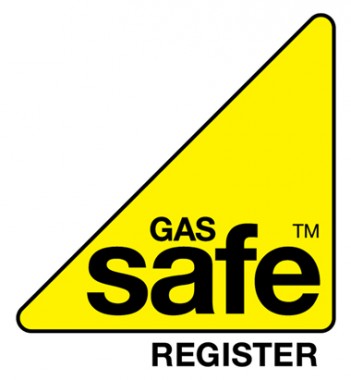 If like 87% of people you'd struggle to explain the dangers of carbon monoxide, this simple information guide should help.
What is Carbon Monoxide?
A colourless, odourless and highly toxic gas that's formed when fuels such as gas, oil, coal and wood do not burn fully.
What is Carbon Monoxide poisoning?
Carbon Monoxide poisoning can be fatal. It occurs when carbon monoxide gas is inhaled. Breathing even low levels of the gas can be extremely dangerous.
What causes Carbon Monoxide poisoning?
Poorly installed or maintained appliances, enclosed or unventilated spaces and paint fumes can all generate Carbon Monoxide fumes.
Statics, lodges or holiday caravans often use gas appliances including gas ovens, hobs and fires which all emit CO gas.
What are the symptoms to look out for?
Similarly to flu, Carbon Monoxide poisoning causes headaches, dizziness, nausea, breathlessness, collapse and loss of consciousness. Because of the nature of the symptoms, it can be quite common for people to mistake poisoning for something else.
How to protect against Carbon Monoxide poisoning in a static caravan or lodge
There are a number of things you can do to reduce the risk of Carbon Monoxide poisoning:
Start by checking to see if there's an NCC (National Caravan Council) approval badge on display in your caravan or lodge – these badges signify that holiday caravans have been built to comply with specific safety standards.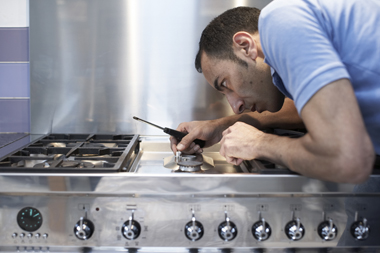 Ensure ventilation airways are clear to avoid Carbon Monoxide blockages building up. Gas-burning appliances require a constant supply of air so that the fumes can burn fully.
Remember to keep BBQ fumes away; burning fuel in or close to an enclosed or unventilated space increases the risk of Carbon Monoxide poisoning. And finally, always store cleaning fluids and paint removers carefully. Those that contain methylene chloride are converted into CO gas when breathed in.
Next, have a Gas Safe registered engineer check that your appliances are working safely. Damaged appliances can produce higher levels of CO gas than normal. If you let your caravan or lodge out as a holiday rental, you are legally required to have your appliances assessed annually by a qualified engineer.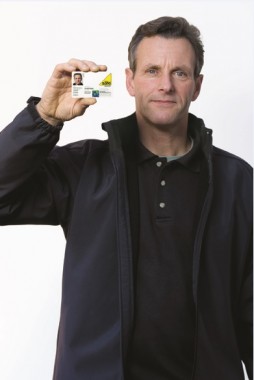 How often should I have my appliances checked?
It's recommended that you have your gas appliances serviced and safety checked at least every 12 months.
If you  make use of our hiring out cover and let your holiday caravan out for a proportion of the year, you're legally obliged as a 'landlord' to have appliances checked annually, see the Gas Safety Landlords page for details.
To sign up to a free reminder service that will send you an email when your appliances are due to be checked, visit www.staygassafe.co.uk.
Many parks can recommend a Gas Safe registered engineer to carry out checks onsite, so speak to your park operator first for details. If your park doesn't have a recommended engineer you can find a registered engineer in your area by calling Gas Safe Register on 0800 408 5500 or visiting www.GasSafeRegister.co.uk
Check the front and back of your engineer's Gas Safe Register ID card, making sure they are qualified to do the specific type of gas work you require.
Carbon Monoxide detectors or alarms
A secondary measure to protect against Carbon Monoxide poisoning is to fit an audible detector and/or alarm. As CO gas has no smell or taste, these alarms are the only real way of knowing when the potentially fatal gas is present.
Many new or recent static caravan and lodge models have carbon monoxide detectors fitted as standard as manufacturers must comply with UK and European law. We spoke to two leading manufacturers to see what they do to reduce the risk of Carbon Monoxide poisoning.

Willerby Holiday Homes told us , "Carbon Monoxide safety is something we take very seriously. All Willerby products built to EN1647 or BS 3632 specification are fitted as standard with Carbon Monoxide detectors which conform to the requirements of BS EN 50291-1:2010 and A1:2012 – 'Electrical Apparatus for the detection of Carbon Monoxide in domestic premises, test methods and performance requirements'.
"These audible alarms constantly monitor CO levels, providing early warning of the gas well before danger levels are reached. All detectors are installed in accordance with the specified manufacturer's instructions."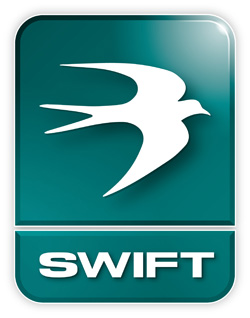 Swift Group seconded this saying, "All Swift holiday homes BS EN 1647 and park homes BS 3632 products comply with the relevant European standards."
"We provide high and low level ventilation in accordance with the British standards. All our homes are inspected by the NCC and we fit Carbon Monoxide alarm(s) with a 5 year life."

How to fit an alarm to an older static caravan or holiday lodge
If you own a older home and you're still keen to fit an alarm, choose a audible model that will wake you up when you're asleep or you may not be aware of early CO symptoms until it is too late. It's worth pointing out that smoke alarms do not detect carbon monoxide.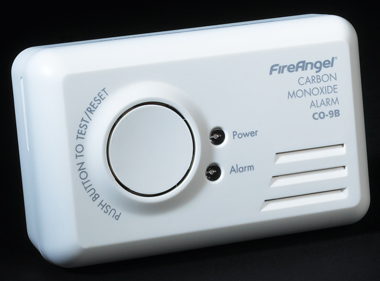 CO alarms are available from DIY stores, some supermarkets or directly from energy suppliers for around £15. When you buy a carbon monoxide alarm, look for one that's marked with the 'EN50291′ standard. This may be written as BSEN 50291 or EN50291 and with the 'CE' mark – both should be found on the alarm and its packaging. Once you have your alarm follow these simple steps to ensure it's working correctly:
Pull down the alarm's tab
Press the alarm button to test the sound
Hold the button down and the Carbon Monoxide level will appear on the display
The alarm will sound if the gas is present
Place the alarm in a central location (e.g. on a shelf or mounted to the wall)
You should replace the battery in your caravan or lodge carbon monoxide detector once a year, and replace the whole unit every 5 years.
Remember, if you smell gas or think there might be a gas leak, call the free 24 hour national gas emergency number immediately on 0800 111 999.