An innovative glass wave wall flood and storm defence scheme has earned a Welsh holiday park this year's Leisuredays Risk Management Award.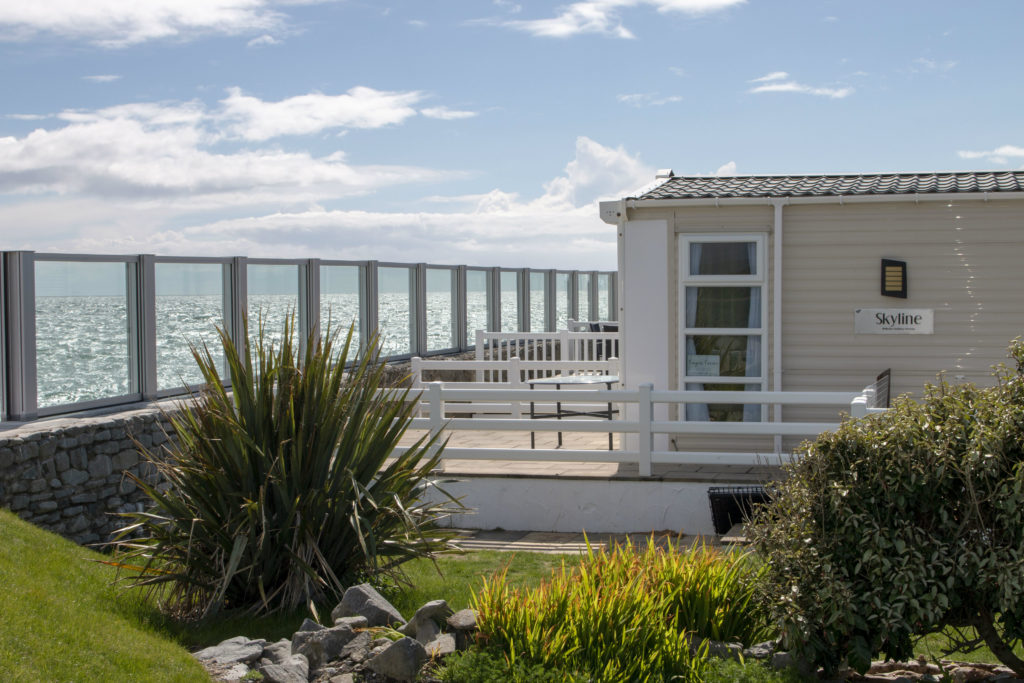 The award was presented to Haulfryn's Gimblet Rock Holiday Park in Pwhelli, Wales, on completion of its £650,000 flood and storm defence scheme – the UK's largest privately-funded flood defence barrier.
The coastal holiday park suffered £2 million of holiday caravan insurance claims after tidal storm surges struck in 2014 and again in 2017.
Over the last three winters, huge tidal surges overtopped the existing sea defence wall at Gimblet Rock Holiday Park, smashing dozens of static caravans and lodges on the seafront. Seawater surged through the park, devastating more holiday caravans, and customers and staff had to be evacuated.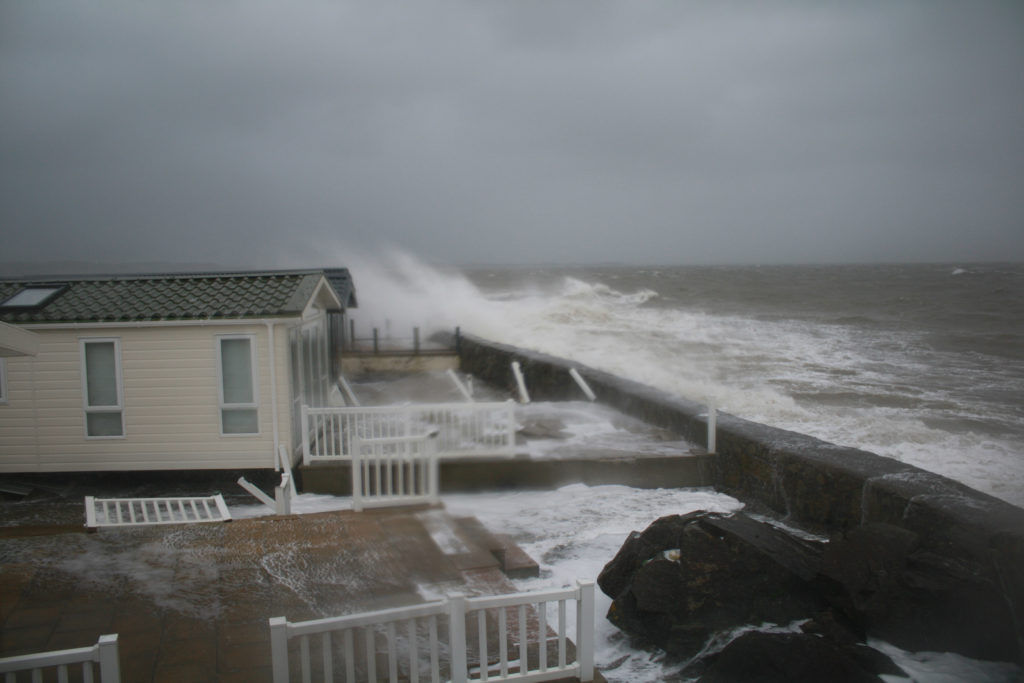 Leisuredays insures many Gimblet Rock customers on a block scheme basis, and has worked closely with the park group, Leisuredays' Flood Consultant and Lambe Planning & Design Ltd, to come up with an innovative solution to protect the park from future tidal surges, whilst making sure seafront customers can still enjoy the magnificent coastal views. The state-of-the-art flood protection scheme sees a 1.3m high glazed wall along a 170m stretch of the Welsh coastline.
Many units have been replaced by Leisuredays on a new for old basis after these extreme weather events and the insurance specialists have played an integral part in getting the park and their customers back to normality.
Leisuredays and RSA have met the bill for more than £2 million to cover the damage caused by the two storms. Ground rent for the period when customers were unable to access their holiday caravans was also paid by RSA.
The glass wall defence system has been fitted to the top of the existing granite sea defence wall to provide protection to 17 seaward-facing holiday caravans and lodges, but also to preserve as much of their sea view as possible.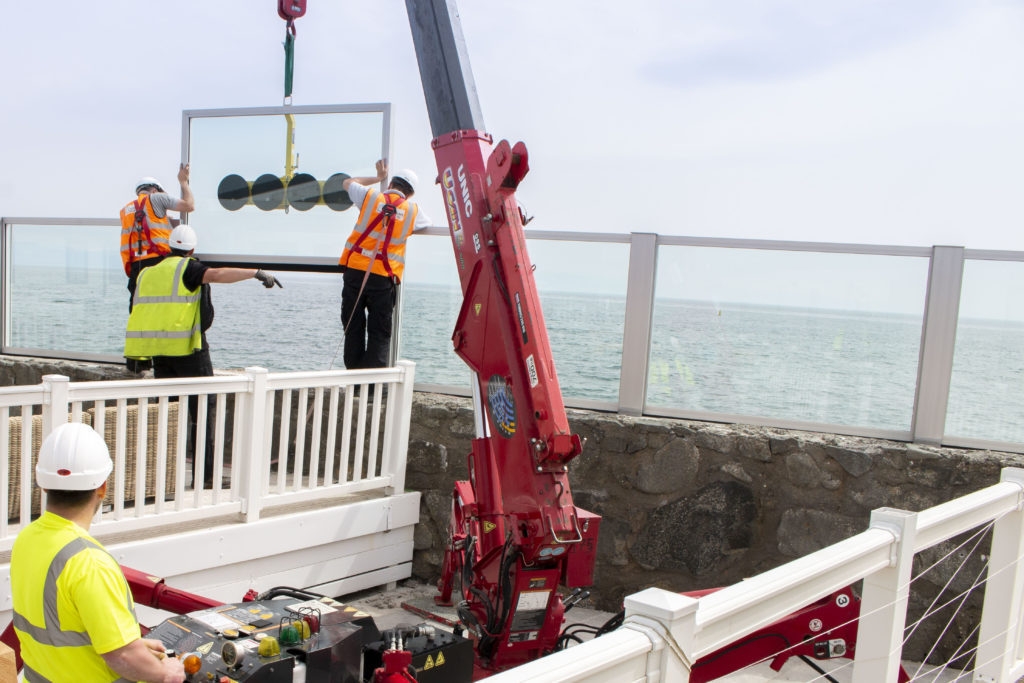 Metal hurricane shutters have also been installed to the front row holiday units – at no cost to the customers – to offer even more protection during rough seas and high winds.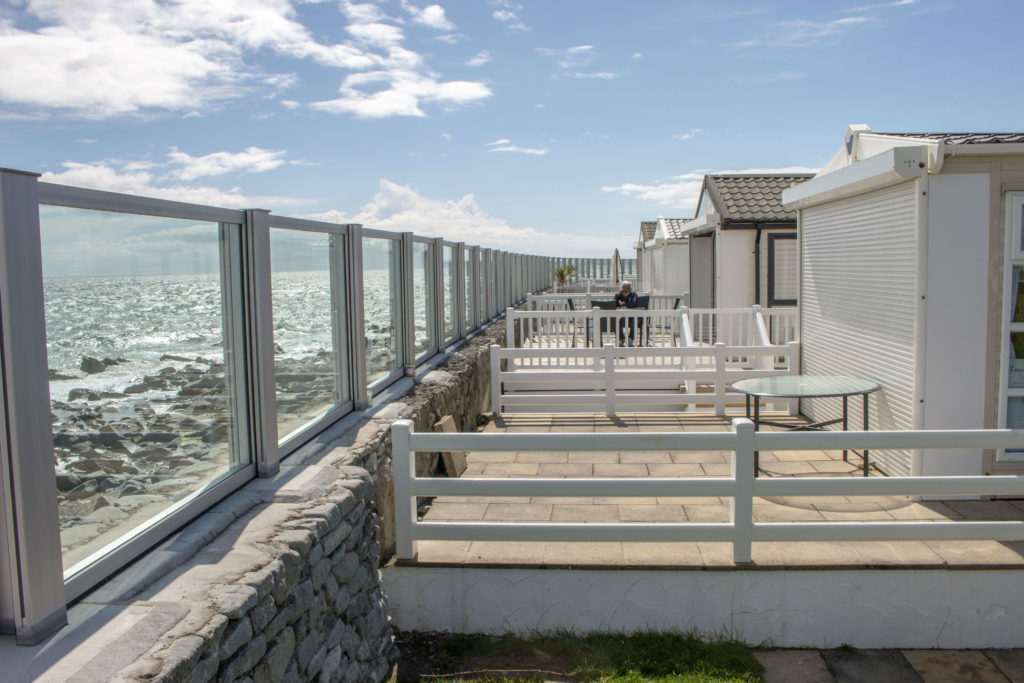 "Haulfryn and the project team have worked extremely hard to bring everything together and I'd like to thank all involved. Everyone has invested an enormous amount of time and money to protect Gimblet Rock Holiday Park and reduce the risk of future flood and storm damage," said Chris. "A specialist team, including flooding engineers, planners and contractors were used. This huge investment and innovative and professional approach to risk makes them the worthy winner of the 2019 Leisuredays' Risk Management Award."
Haulfryn's Chief Executive, Bobby McGhee (left), was presented with the Leisuredays' Risk Management Award on completion of the work by Chris Nettleton, Director of Leisuredays insurance.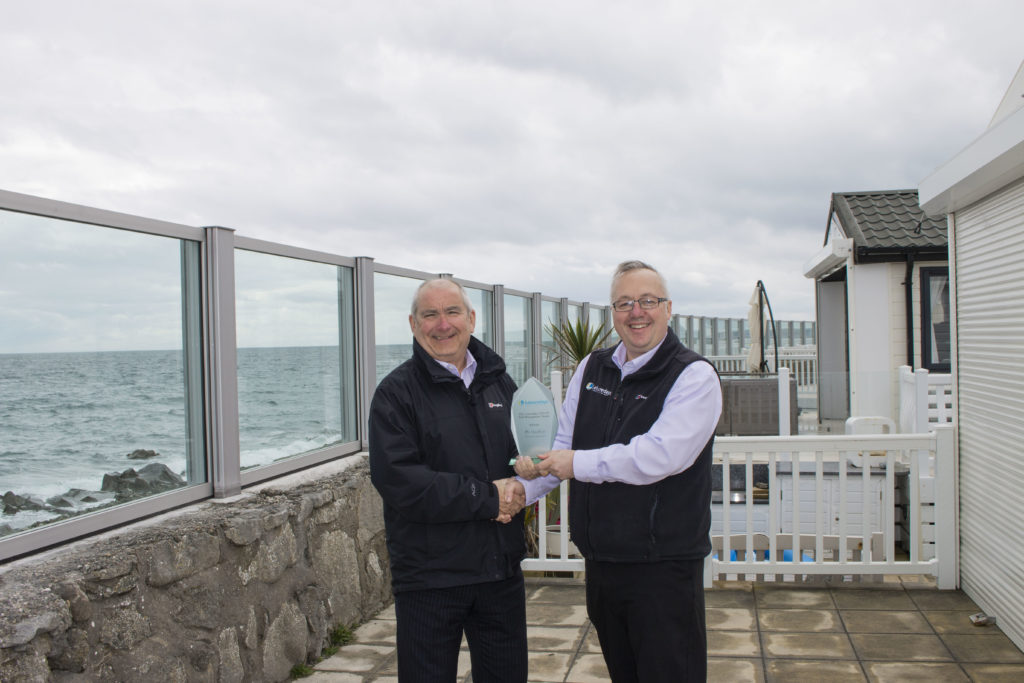 Bobby said he was delighted to receive this award and thanked Leisuredays and RSA for their tireless support during this extensive project.
"We have been equally impressed by the ongoing support and guidance we've received from the Leisuredays team," he said. "Leisuredays' insurance cover and claims processes have been brilliant and they have supported our customers every step of the way. Now Gimblet Rock is a much lower risk, Leisuredays can continue to provide extensive insurance cover to all owners – and at a discounted premium."
And Gimblet Rock holiday home customers are delighted with the new glass spray wall.
Carl Smith has holidayed at Gimblet Rock Holiday Park for 60 years – firstly with his parents and then he's owned a static caravan since 1994 which is sited at the front of the park, enjoying spectacular sea views.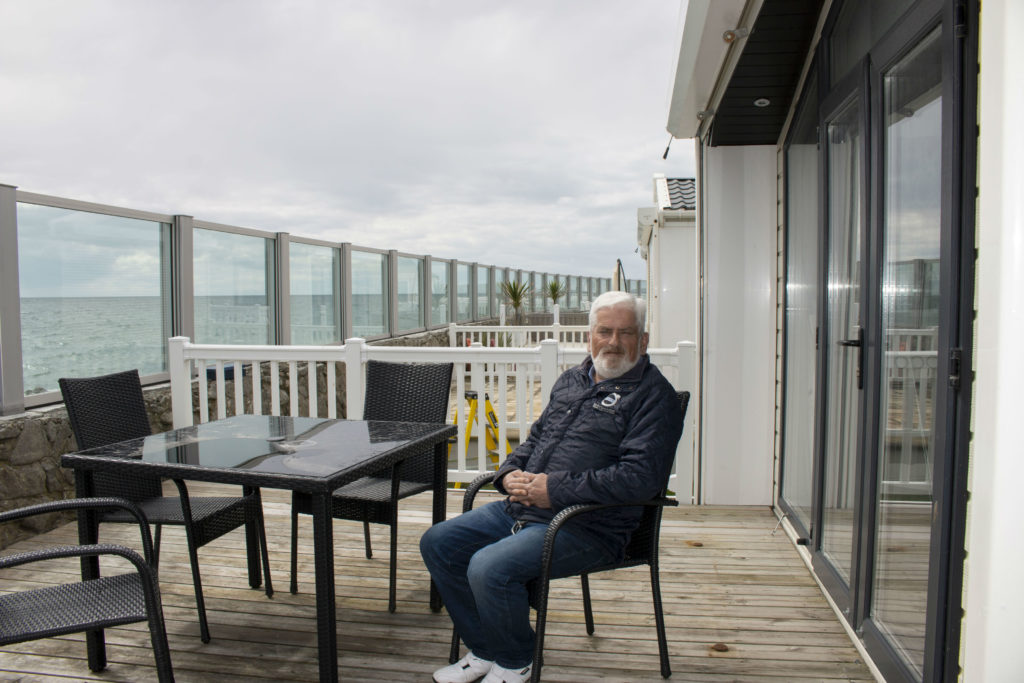 He's insured with Leisuredays and has suffered at the hands of Storm Ophelia in 2014 and Storm Brian in 2017, which both destroyed his Pemberton holiday homes. Both times Leisuredays replaced his caravans on a new for old basis.
"When I first saw the posts of the wall going in I didn't think I was going to like it," he said. "Now the glass panels are in it couldn't have been anything better. It's a fantastic sun trap and windbreaker and I can still enjoy the sea views. It's the best possible alternative to having nothing there at all.
"It's a great job and all credit goes to the designers and the workmanship," added Mr Smith "It's a really nice feature."
When asked why Carl chose to insure his static caravan with Leisuredays he said: "They're a reputable company for service and competitive on price."
To find out more about Leisuredays holiday caravan insurance click here.