Trend setting for 2019? We check out some of the holiday lodges and static caravans which have caught our eye
Design in the modern world is vital to many manufacturers' products being a hit or a flop. Those that dare to be different sometimes face criticism or praise. Trends are then often copied and improved upon too, and it's no different in the lodge and static caravan industry.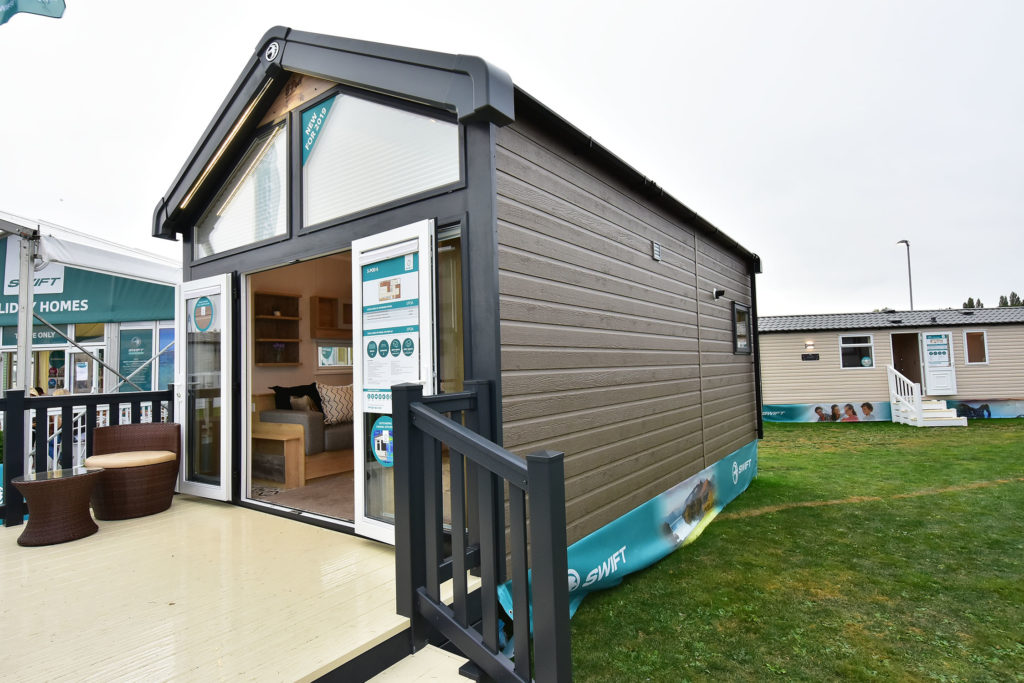 Since the late 1950's, the holiday caravan would see advances in design being influenced by domestic trends. With widths and pitches being made larger and on hard standings the trend in larger models took place. Fast forward to 2019 and many of those trends can still be traced back – including upstairs rooms being added.
Willerby set about being brave a few years ago with its compact Hive models and mainstream maker Swift with its S-Pod 4, and new for 2019 S-Pod 6. It's always a good sign when the large manufacturer add this type of lodge or holiday caravan as it encourages others to add and develop new trends.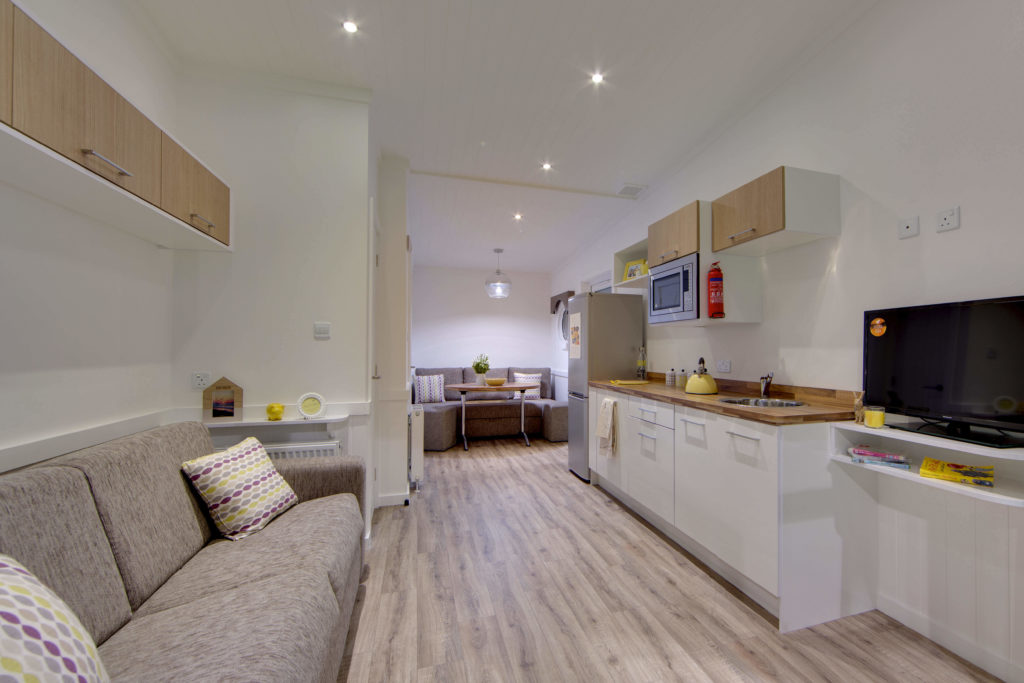 At the Stoneleigh Show we spotted Grandeur Park homes with some very interesting designs. Based near Beverley in East Yorkshire they had two new lodges on show – firstly the Zen, with its large porch overhang front roof with good sized front French doors, this lodge also comes with an upstairs bedroom.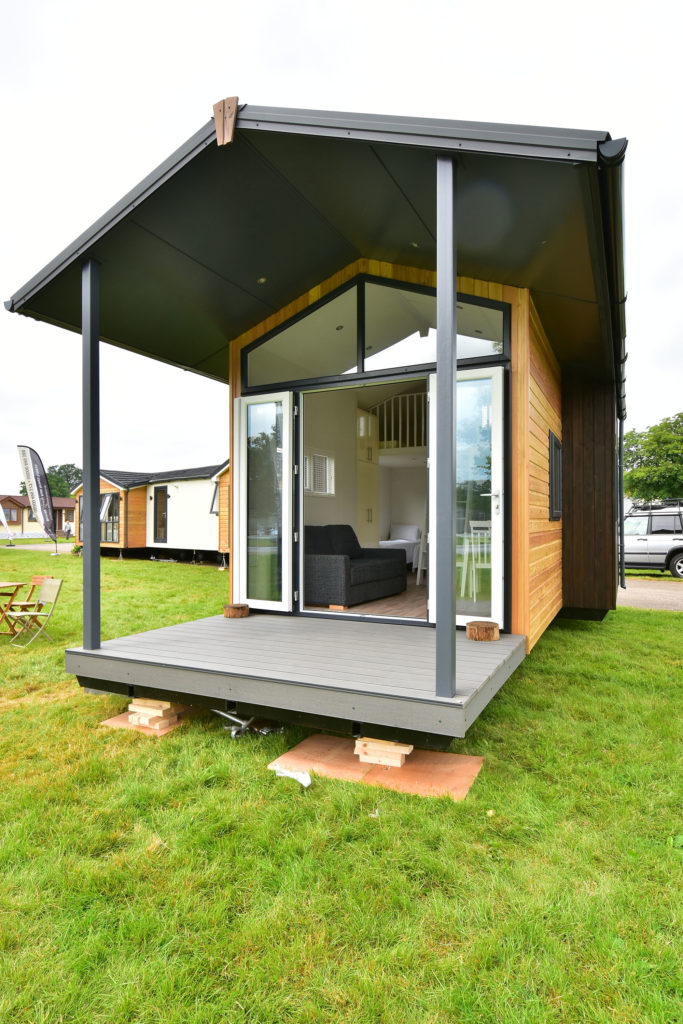 Finished in white and having a front lounge area and rear end bathroom the Zen is another alternative to the S-Pod 6.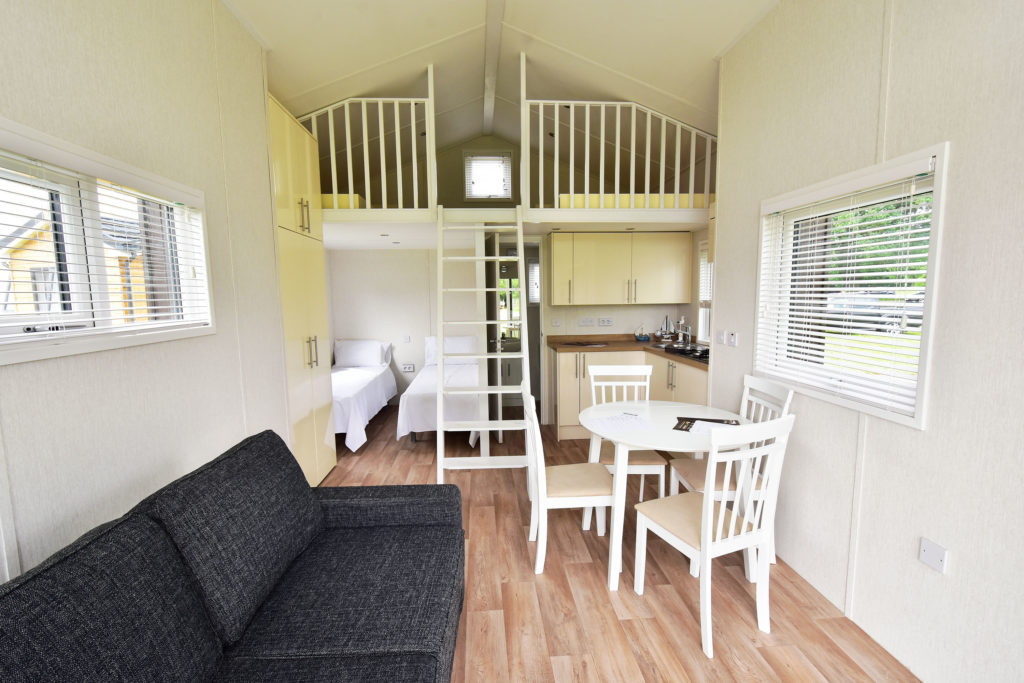 Grandeur also produces the new Oceana lodge, which looks completely different to the Zen on the outside, but also comes with a contemporary interior.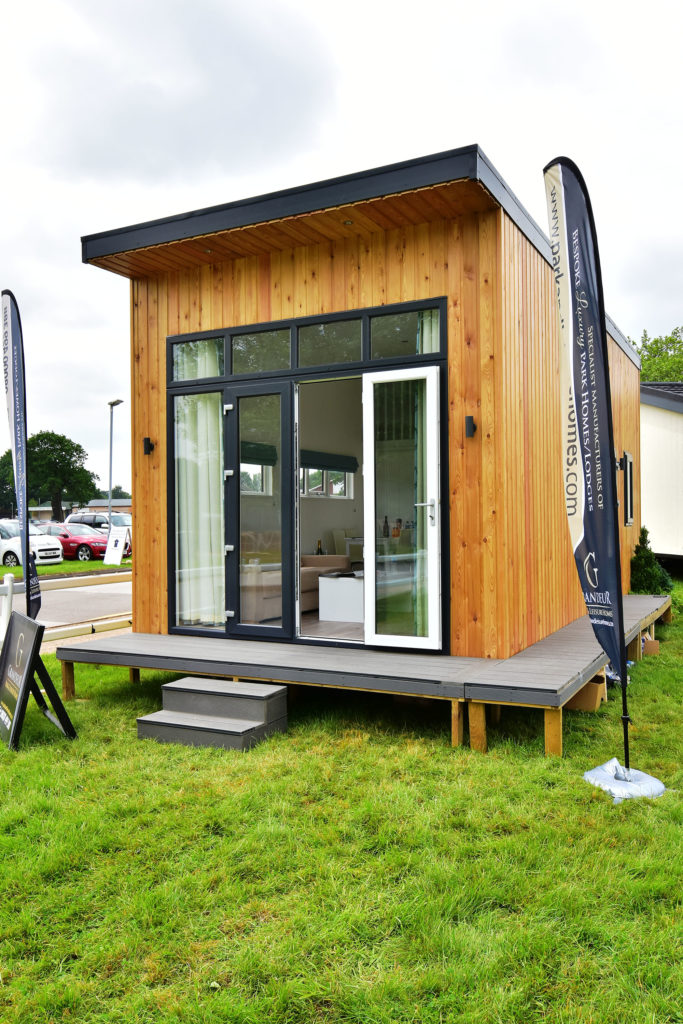 There's a bathroom, kitchen dining lounge area as well as an upstairs bedroom with twin beds.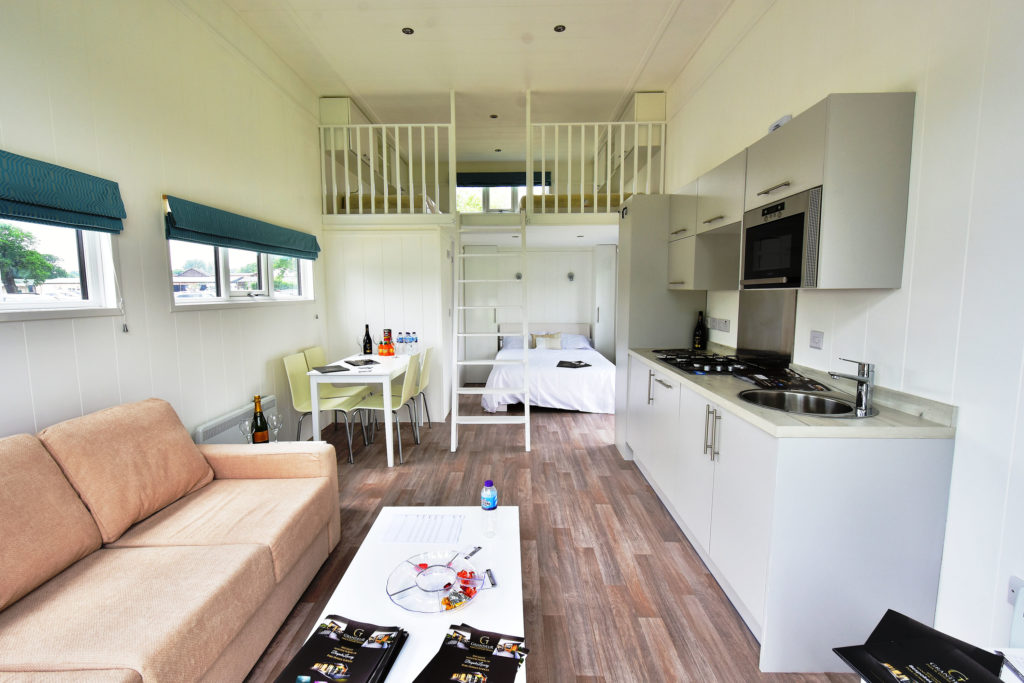 We also found this upstairs trend but in a lodge that was, well quite different and would it begin a trend? Named the Tiny Eco house, this is a tow-able – yes that's right – a tow-able lodge. Now before you think this is a basic shed on wheels you would be wrong!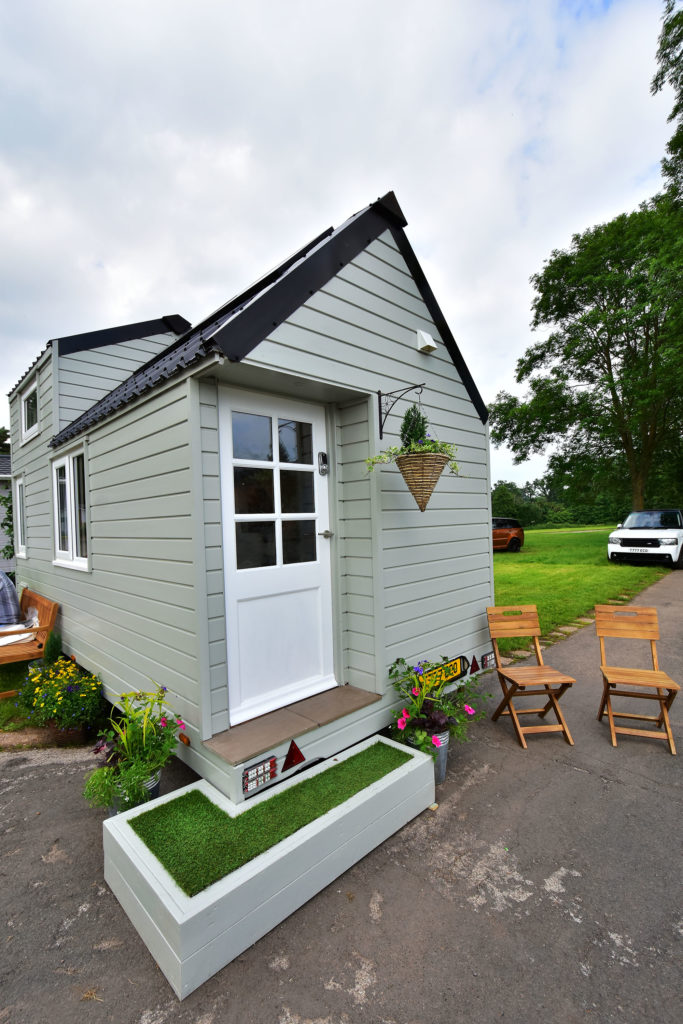 The Tiny Eco House is well equipped, and comes with an upstairs bedroom with double bed, and has a lavishly equipped shower/toilet room as well as a lounge and kitchen. This mini house on wheels is designed to be easy for the owner to move to another park for a season, it's not a touring caravan but it's a real idea that the manufacturers have told us seems to be attracting attention, with several sold over the last 12 months.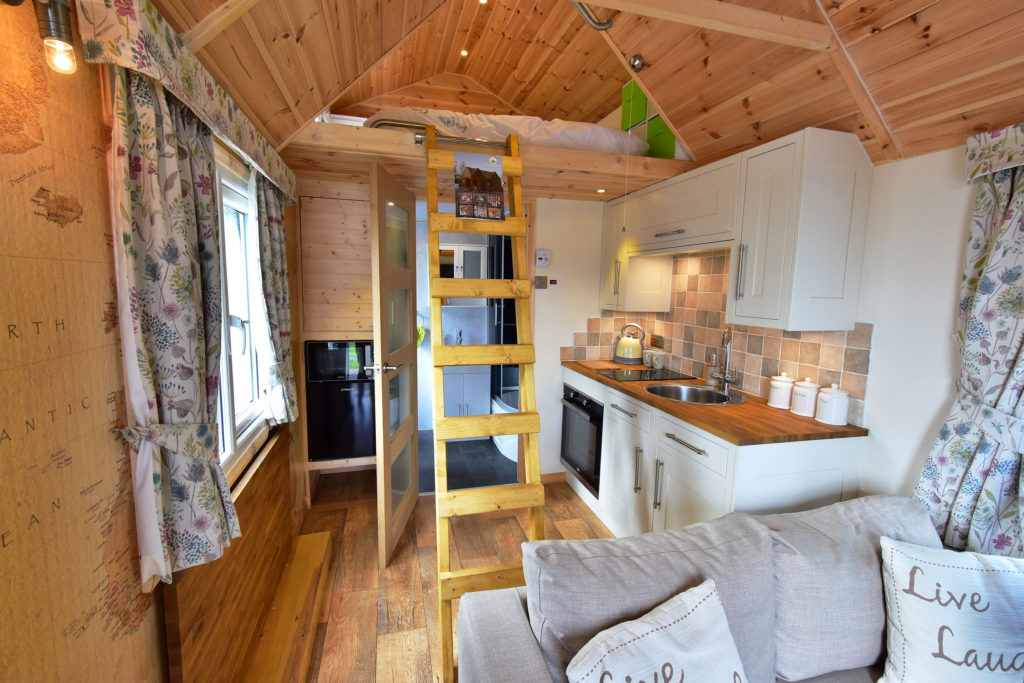 The company also make a bigger version too that's just road legal. Will anybody else follow this trend? Well it remains to be seen – but the upstairs bedroom trend is one that certainly seems to be gathering momentum.
The above compact models might be innovative but we're yet to see them take off in terms of private ownership, more often used by holiday parks as rental fleet units. But what about innovations in full size static caravans and lodges?
The Watchtower lodge is from Cambrian and again pushes design to the limits in various ways.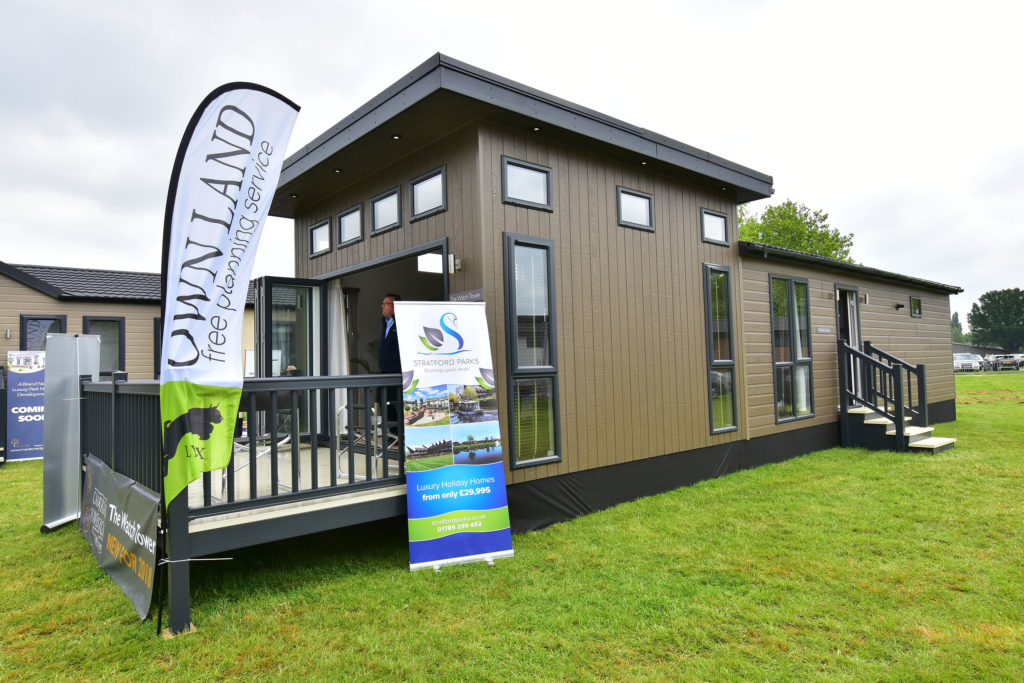 The main hall and lounge is incredibly large and the design had a retro feel – but the company's forward thinking with this outlandish lodge couldn't stop them from ceasing production a few months ago.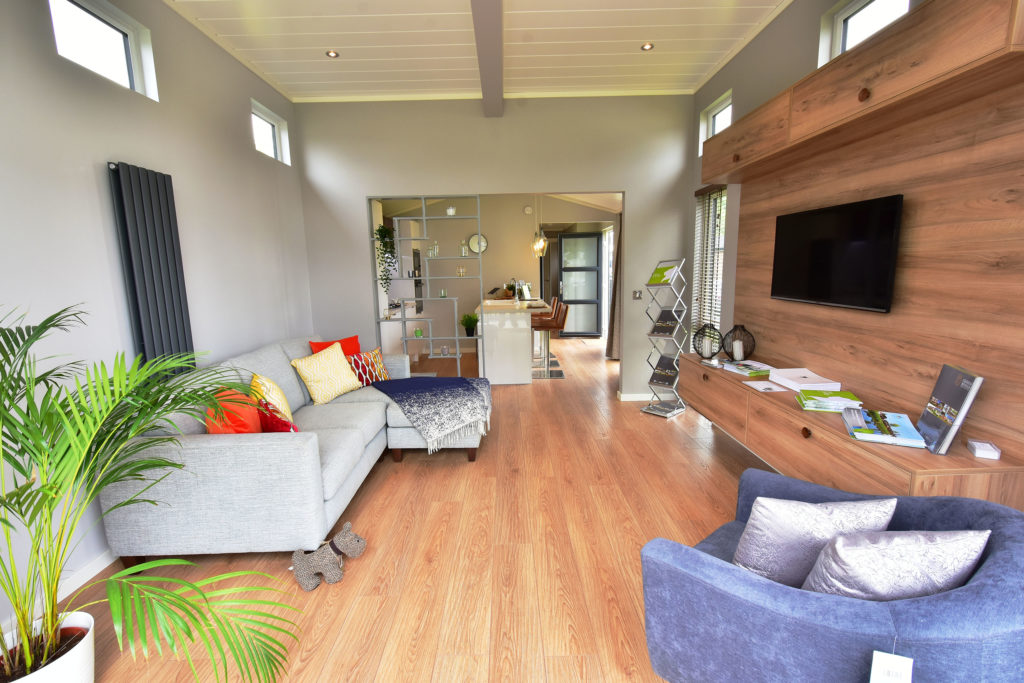 The idea of rustic interiors isn't totally new; it was a big idea in the 1980's but it's come back into being, though in a more stylish trend.
The Wessex Spinney boasts a "country cottage" lounge area with free standing retro chairs.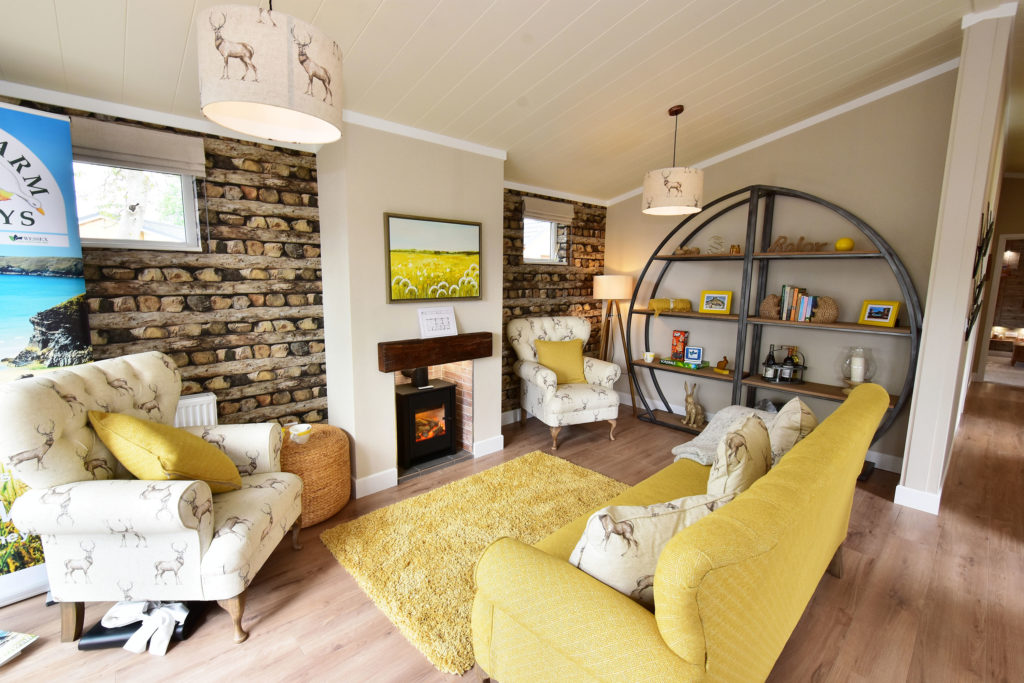 It also comes complete with four poster bed, another trend that seems to have been making a comeback in luxury lodges.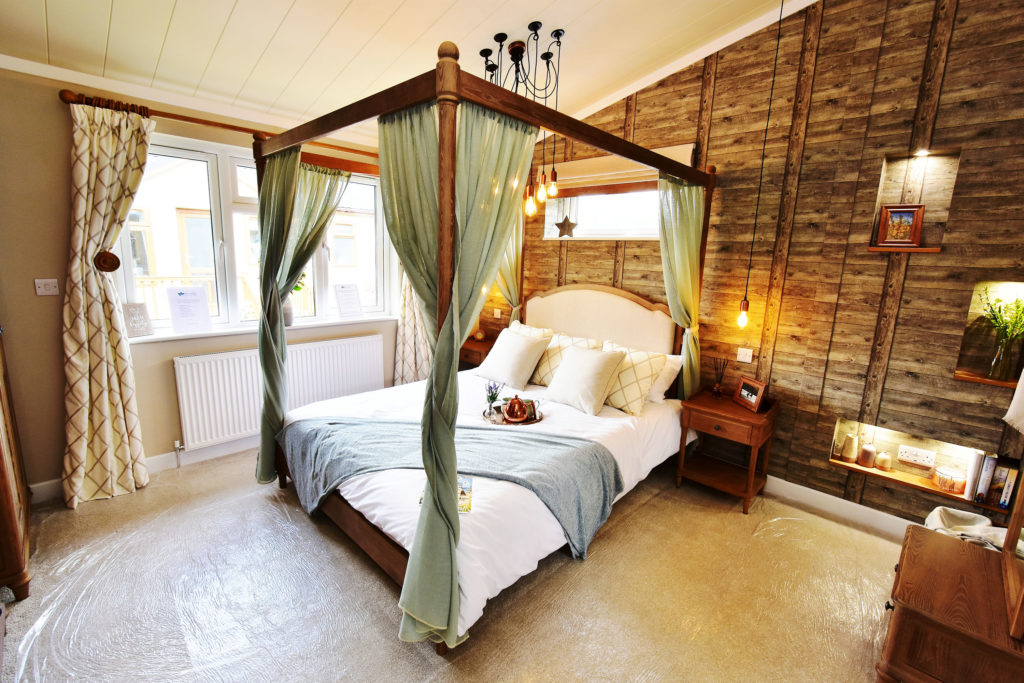 Retreat Lodges right from their early beginnings were always thinking out of the box with their lodge designs – being very architectural in exterior and interior appearances. One of their lodges on display at The Lawns Show in Hull also came with its own indoor patio area, complete with table and chairs!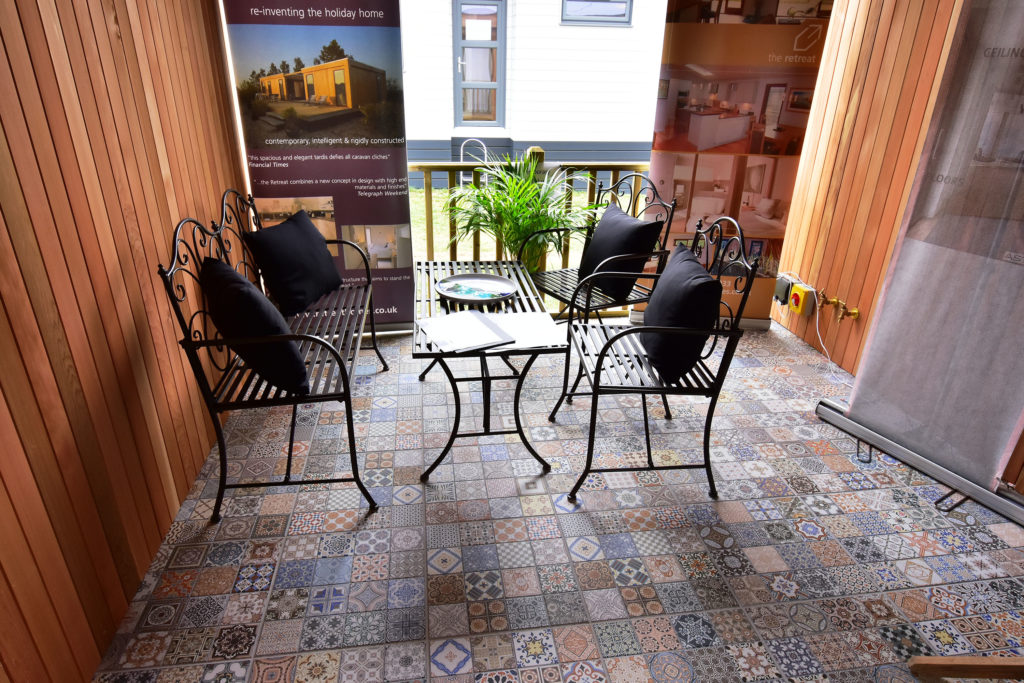 Prestige has used this idea with a Jacuzzi also cutting a corner into the lodge's rear corner.
Pastel shades and copper fixtures are another growing trend in the holiday caravan market with new models from Swift and Atlas being launched in February 2019.
The Atlas Heritage adds contemporary design with pastel shades and Swift have also followed this trend too with their latest Vendee single lodge.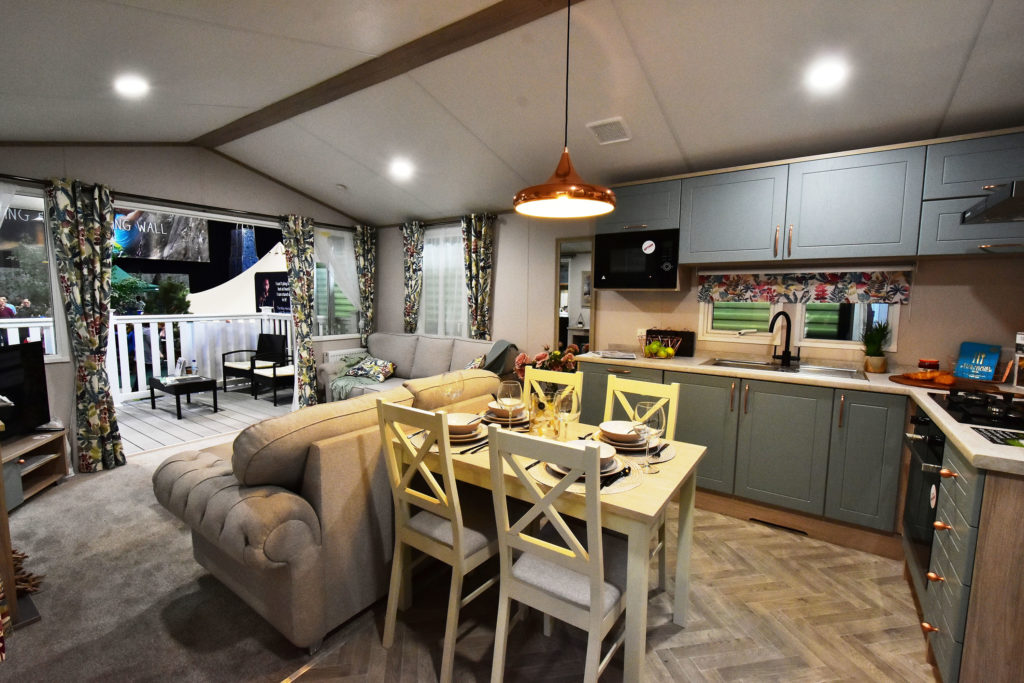 A departure from Swift's holiday caravans interiors, the Vendee also has pastel furniture in a yellow colour and coloured cupboard doors.
Carnaby may have begun a new trend, this is with its integrated TV mount, so when the TV isn't in use it drops down into the back of the cabinet, using a motor to then also bring it back into watching mode. A simple but great idea and one which we feel will possibly start a new trend!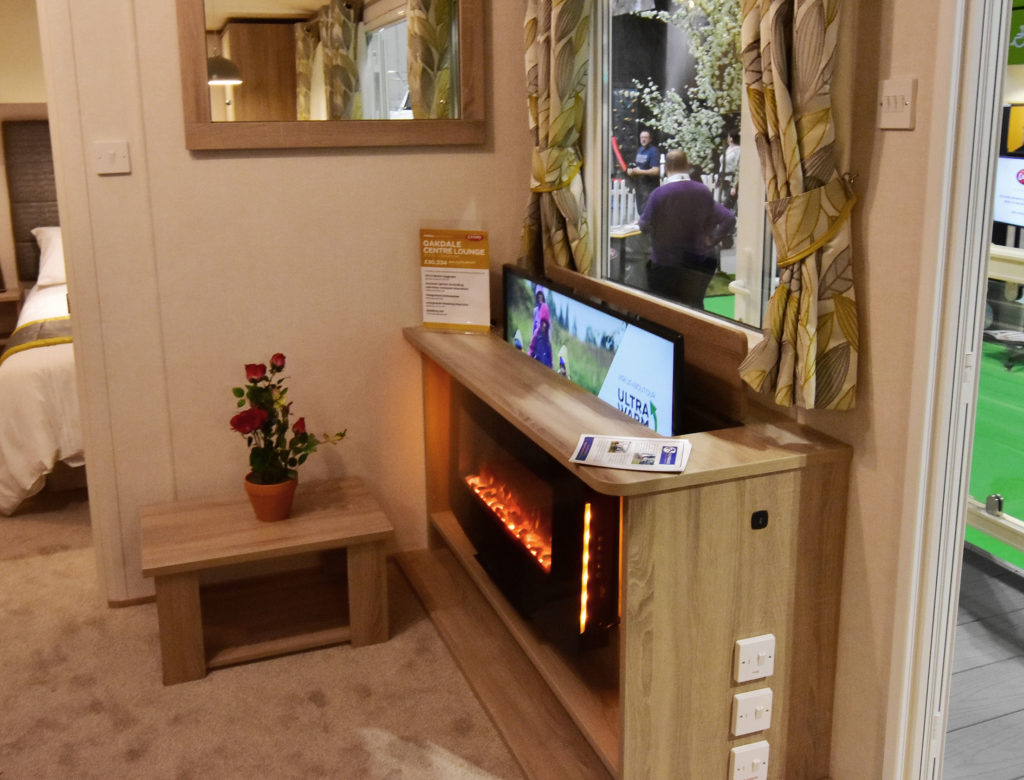 Over the years the trend for wider holiday caravans has taken place and the 13ft wide looked like the benchmark. For 2019 ABI took their Westwood up another notch to make it 14ft wide, adding even more floor space and storage too.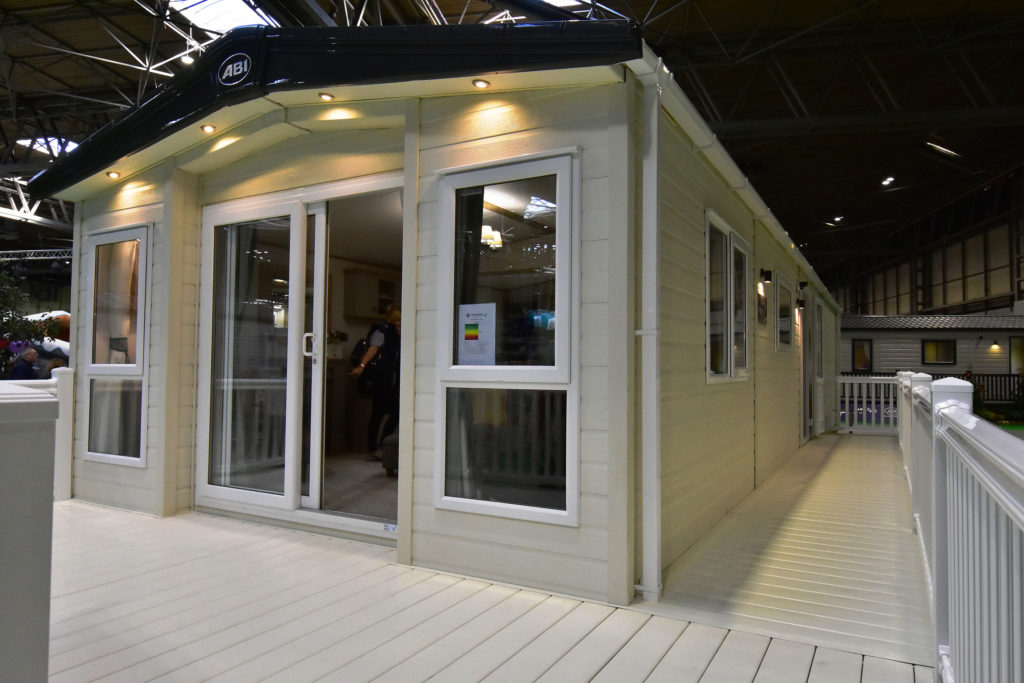 Will there be others following these trends over the next couple of seasons as the extra width allows more living area?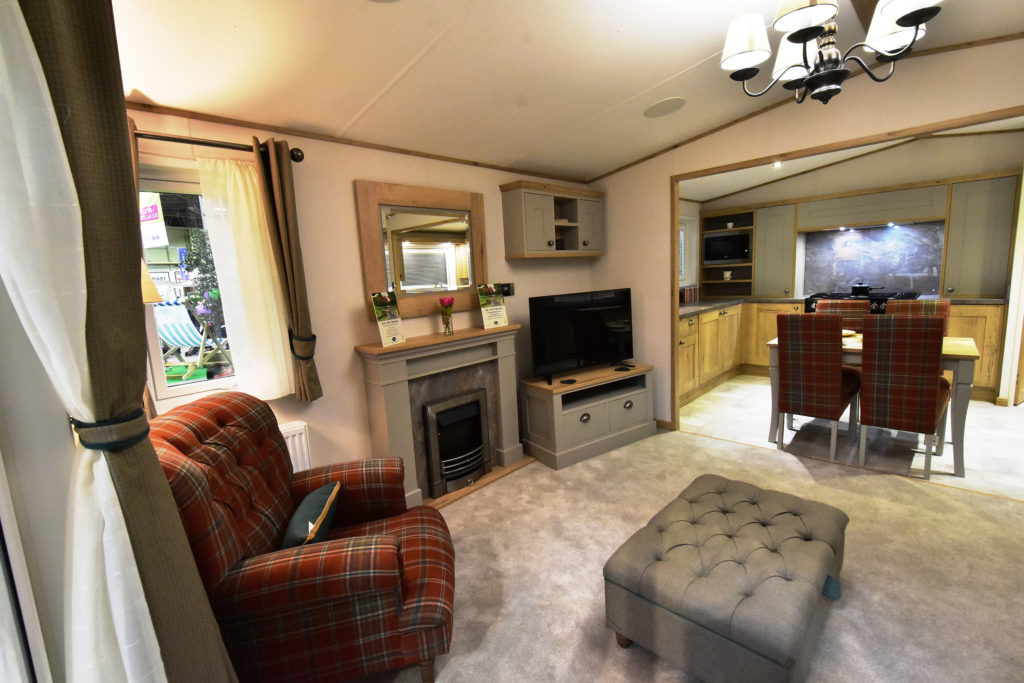 Willerby launched their Castleton holiday caravan at the Manchester Show, with its front side door and L-shaped seating at the front and a retro styled interior, including a side dining area with stools.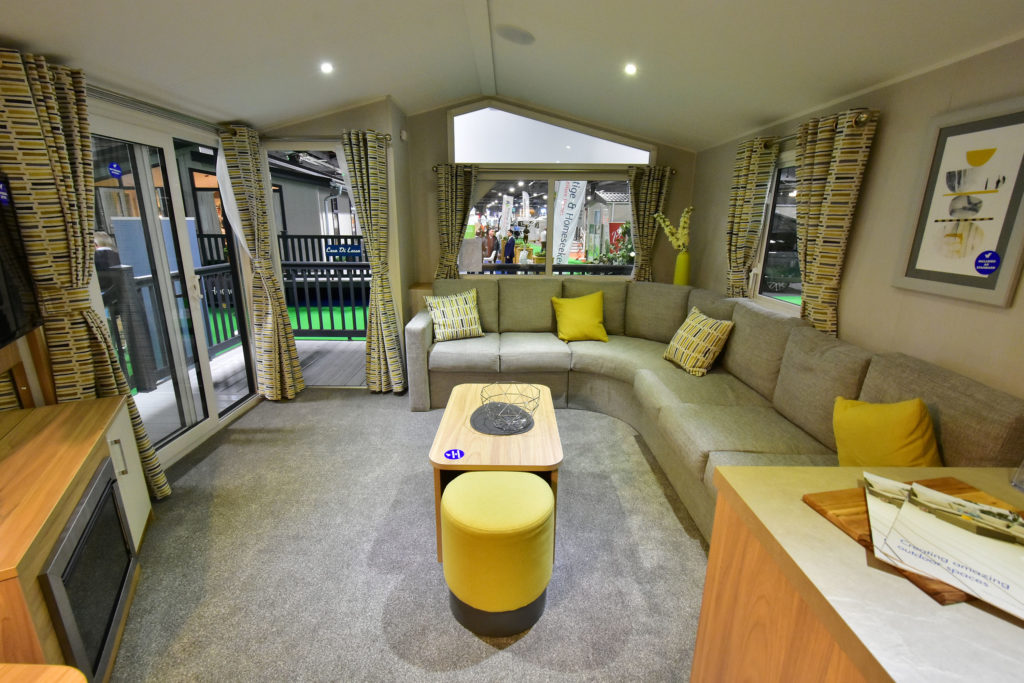 So we've just mentioned just a couple of trends for 2019 and we don't yet know what 2020 will bring, but we're sure there will be some new ones just around the corner!
Get a holiday home insurance quotation from Leisuredays today by clicking here.