Hoping for an Indian summer this autumn so you can enjoy more outdoor time at your static caravan or lodge? We think it's great to be able to sit outdoors even when there's a bit of a chill in the air, so in last month's poll we asked if you used outdoor heating so you could extend your time outside in the autumn months.
The results
With lots of gear to choose from we were surprised to find that a huge 84 per cent don't use any kind of outdoor heating at their static caravan or lodge.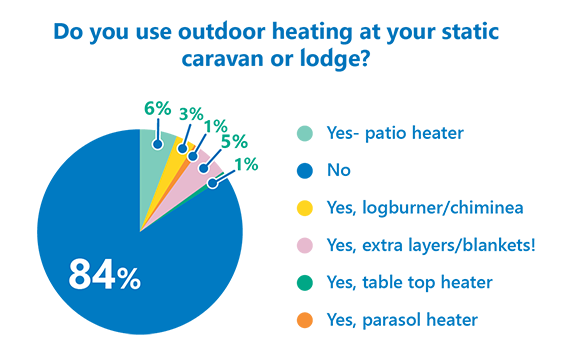 The most popular was a patio heater – but this only secured six per cent of the votes, followed closely by the warmth of extra layers and blankets with five per cent – probably the only option for many static caravan owners. It's likely that some holiday parks won't allow electric or gas fuelled heating on the veranda to reduce the risk of fire.
This was highlighted in the rest of the results with only three per cent using a log burner or chiminea and only one per cent using a parasaol heater or table-top heater.
If you're looking for something to take the outside chill off this autumn then check out our gear guide and top tips for static caravan outdoor heating.
Your comments
Barbara Fisher said outdoor heating wasn't allowed on their site and Glyn preferred to go inside when it was chilly.
"Who wants to sit outside when it's chilly enough for needing heat?" he commented. "We go inside and if cold enough turn on the fire or central heating."
And let us know what you make of the results in the comments box below.