A modern lodge with classic overtones and luxury as standard
If you're after a lodge that has a touch of luxury with a contemporary interior, yet a country feel, then Willerby's recently launched Juniper could be right up your street!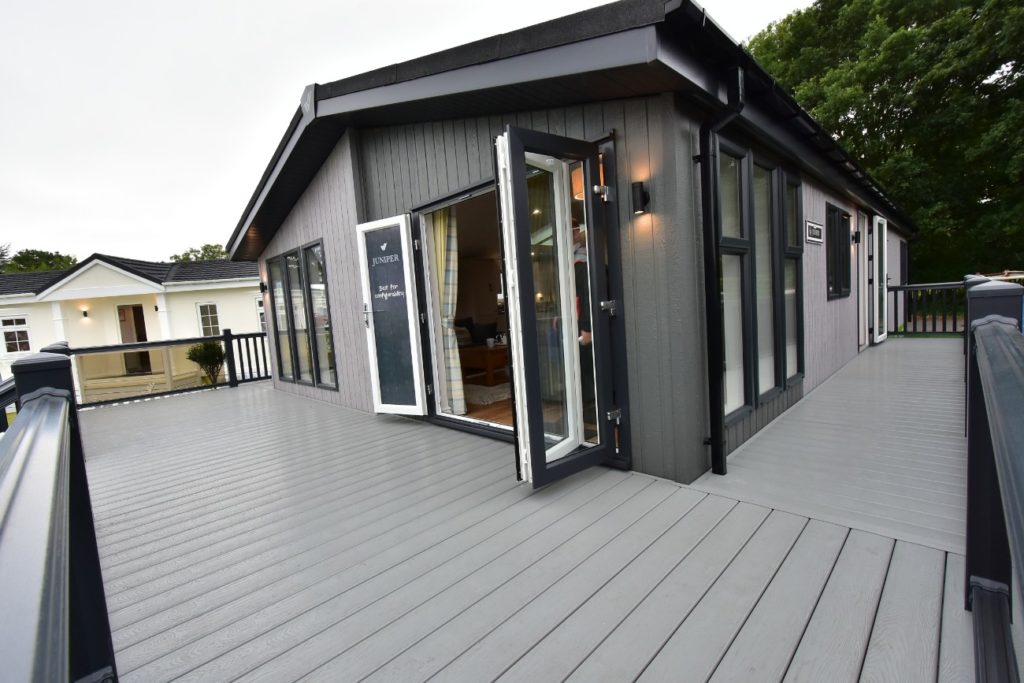 With more than 70 years in business, Willerby are no strangers to producing quality holiday caravans and lodges, and more recently park homes.
The Juniper is part of Willerby's Botanical Collection and was launched at the NEC Caravan, Camping and Motorhome Show in February this year.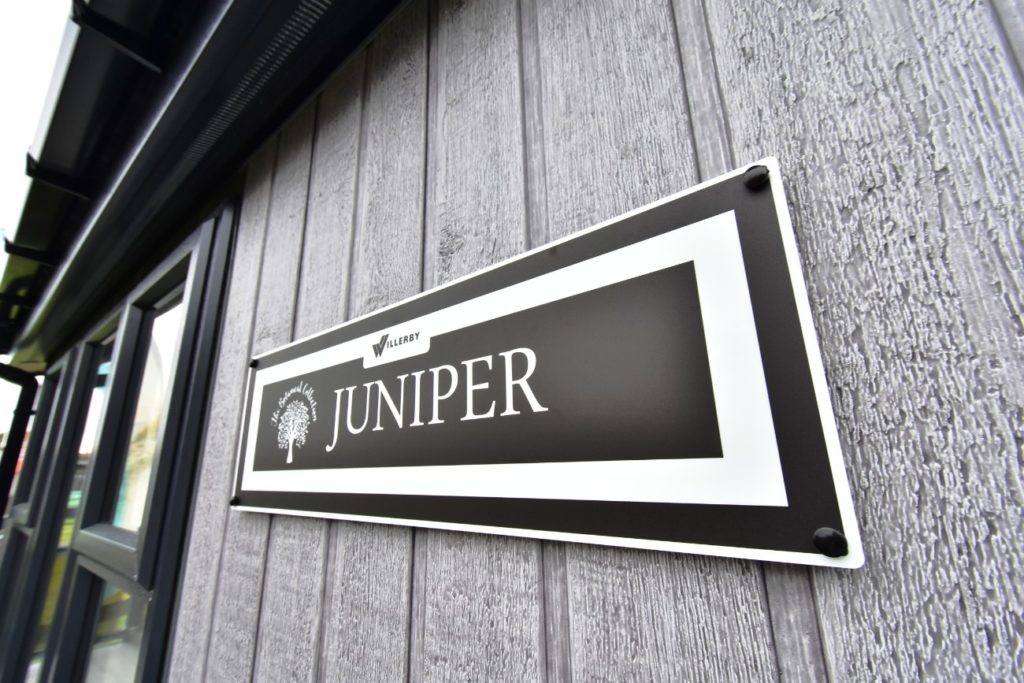 We were impressed not only by its looks, but the newly developed Oslo Wall System, which means you can screw through the wallboard and hang all manner of things without breaking it – durable enough to hold up to 40kg from one hook! You can also paint, plaster and wallpaper it to and the Juniper was the first lodge from Willerby to use this new wallboard.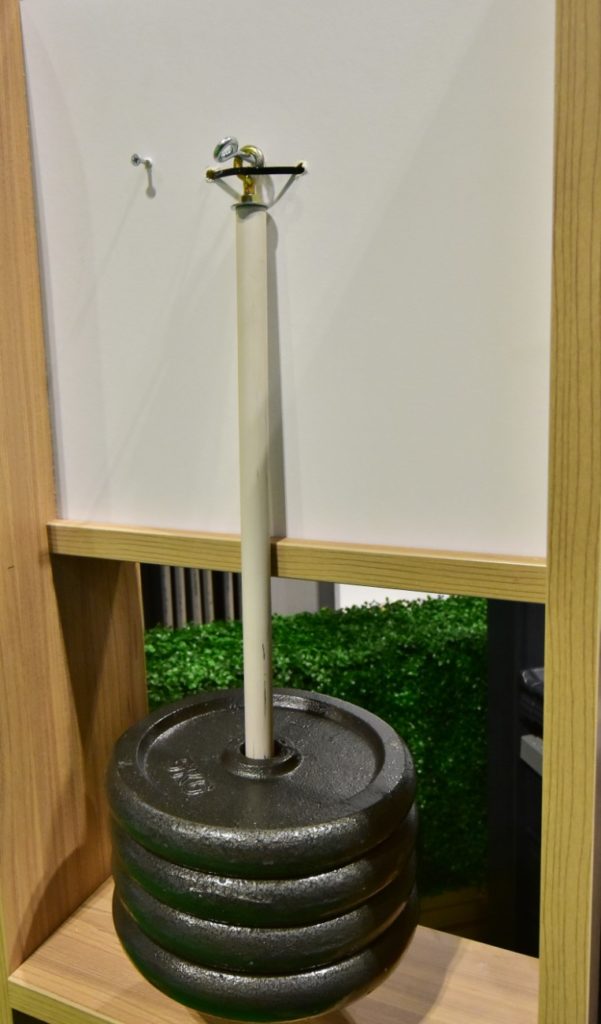 The exterior is available in several finishes, giving customer's a range of good choices, and with three large front windows, plus a bi-fold door the exterior of the apex roofed Juniper lodge has modern and classic looks. These can also be re-configured, with the option to add up to another three doors, to maximise your outlook.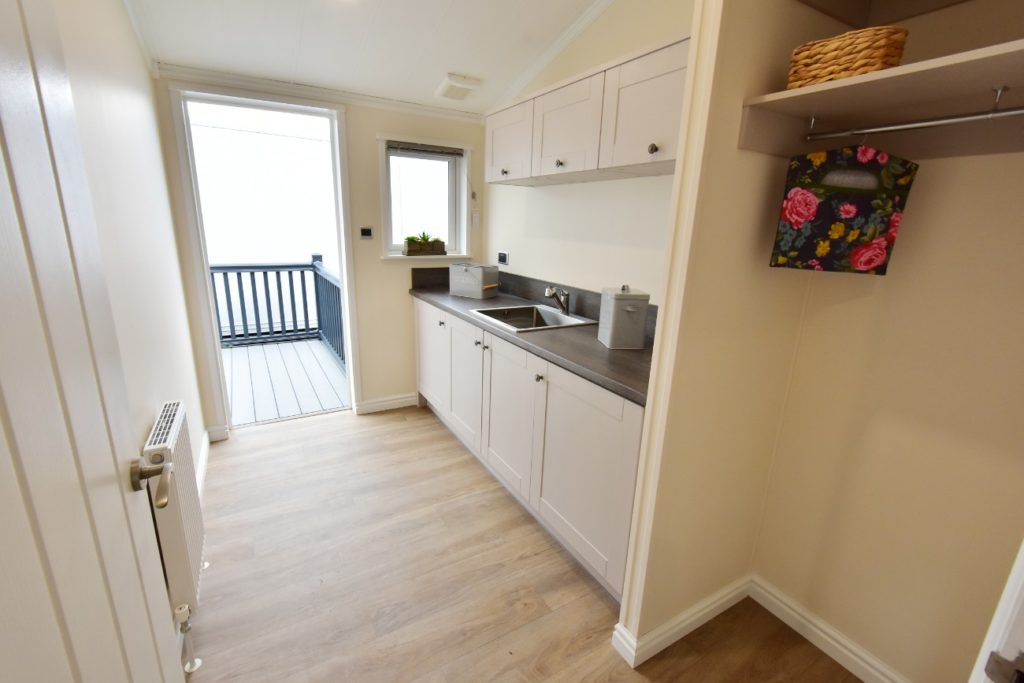 Entry can be made via the bi-fold front doors or the side door into the utility room and via the side into the hall and cloakroom area. Here can be made to be more dog friendly but essentially it's a spot to take of mucky shoes and wet coats. The side utility room on ordering a Juniper can be changed to become an extra small bedroom or study.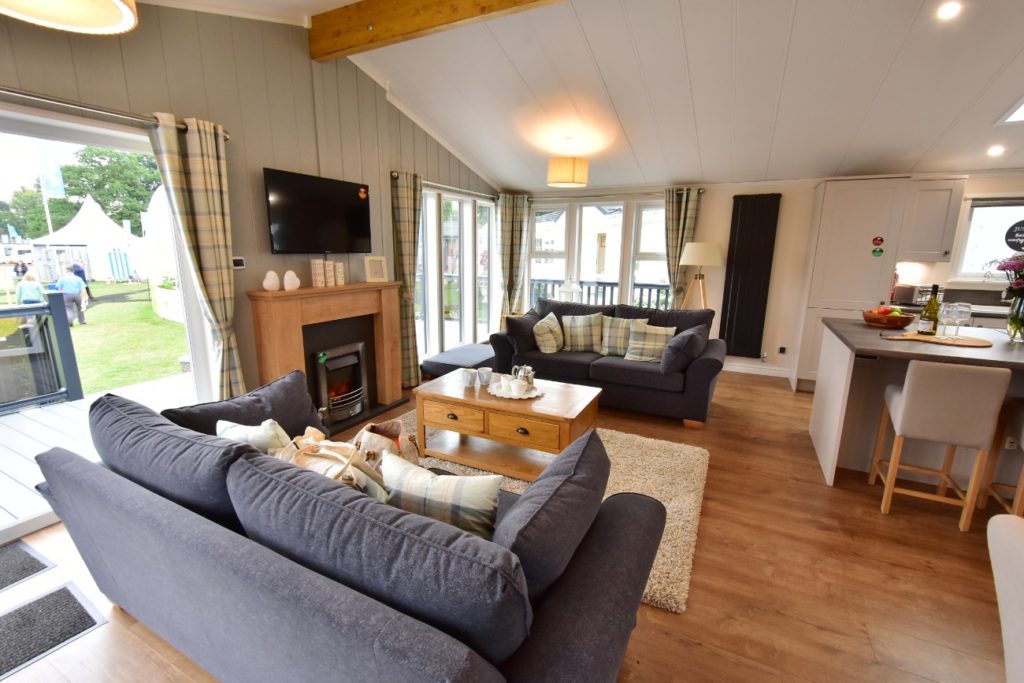 Step inside in the lounge area and you're blown away by the size, with its two – two piece suites and centrally placed fire. There's a coffee table with two storage drawers and the TV can be mounted on that Oslo wall board over the fireplace.
There's good night lighting too with integral LED spot lights and hanging ceiling lights. The Juniper's kitchen will also delight those who like to be a master chef! You won't be wanting for much equipment wise with integral fridge / freezer, microwave, extractor fan and dishwasher. It's all very practical and the designers have added a central island, complete with two barstools.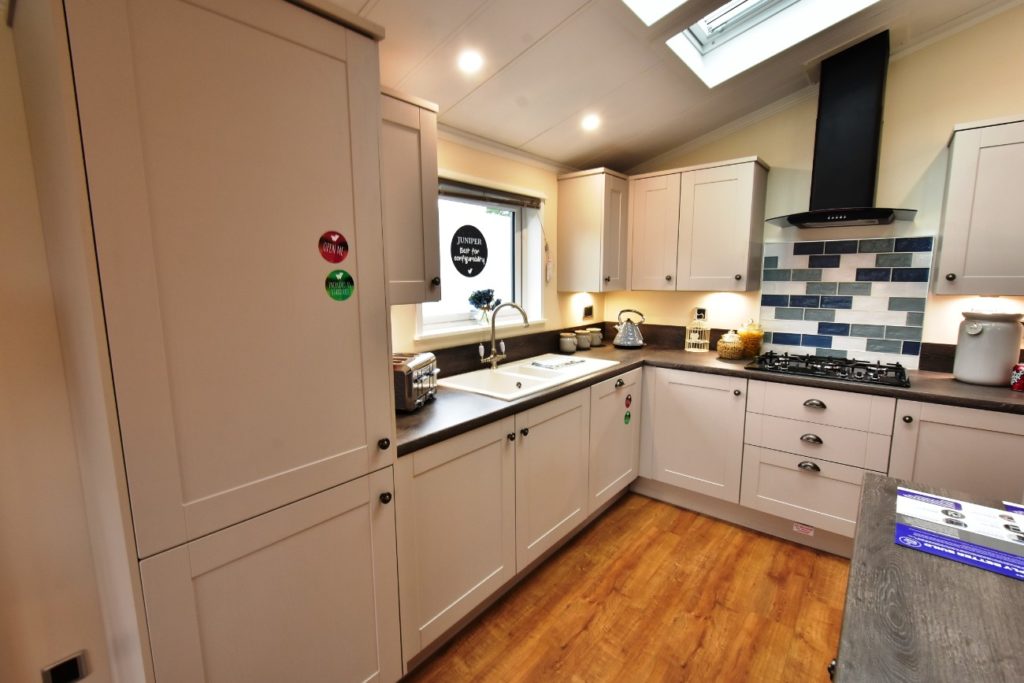 The dining table (seating for six) is placed opposite the kitchen area which just one of several gas powered radiators close by. Six will be a little squeeze but four will have plenty of room.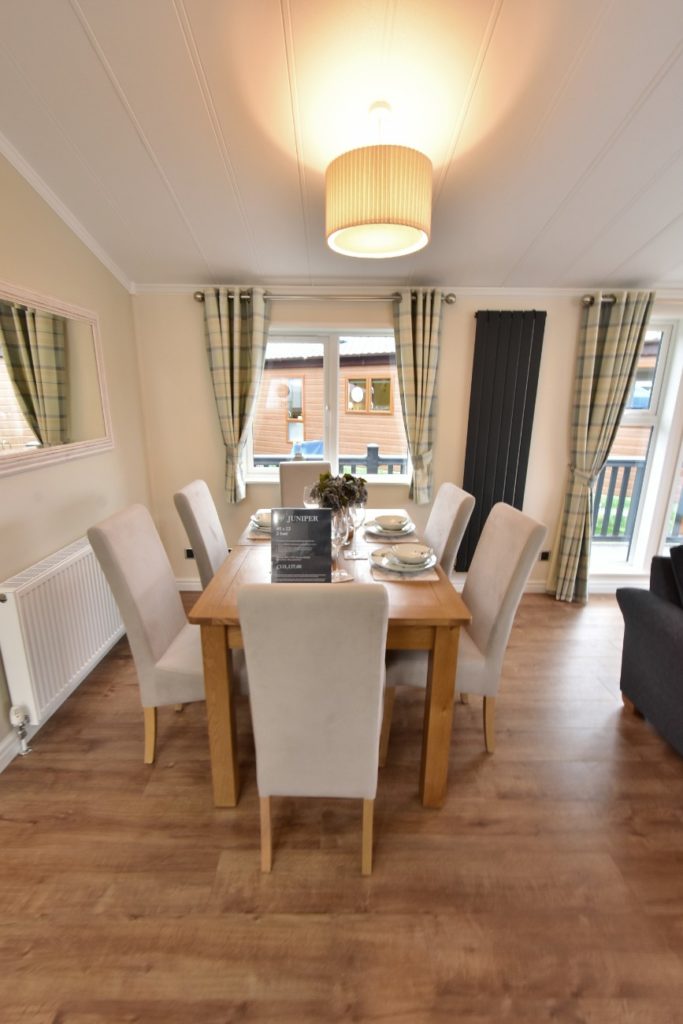 Move into bedroom number two and you have twin beds. It's spacious and users won't feel cocooned as in smaller lodges or static caravans – this room is an ideal for two. It's also domestic in size and offers a high ceiling and light interiors, whilst having a large wardrobe.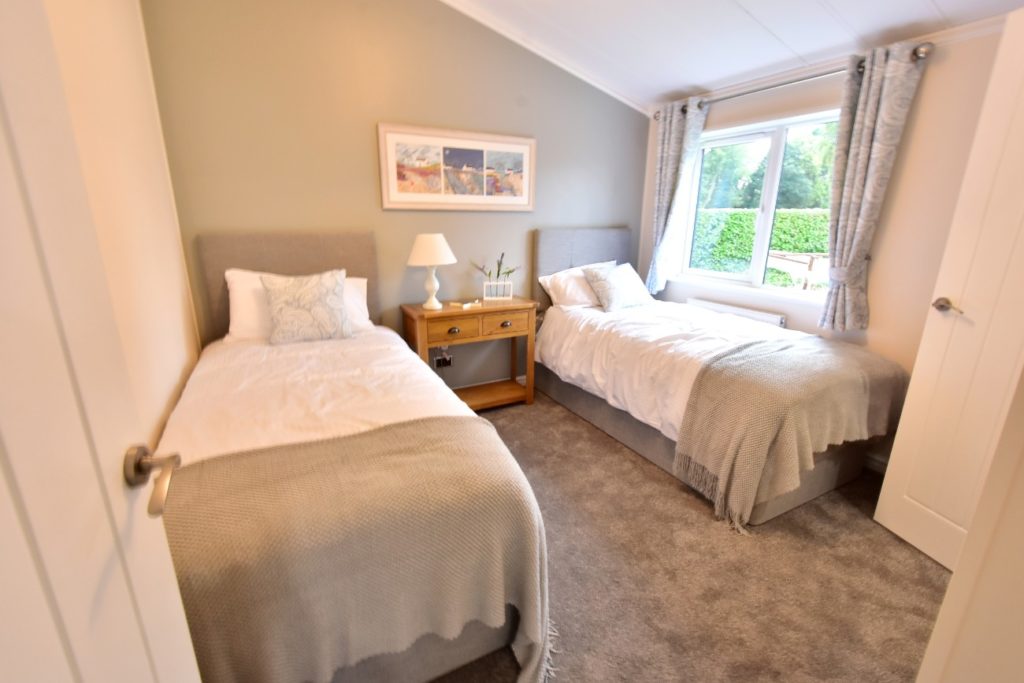 The master bedroom has an adjoining shower cubicle plus walk-in wardrobe, and there's twin small bedside cabinets, plus a dresser unit. There are also two windows nicely placed at either side of the bed.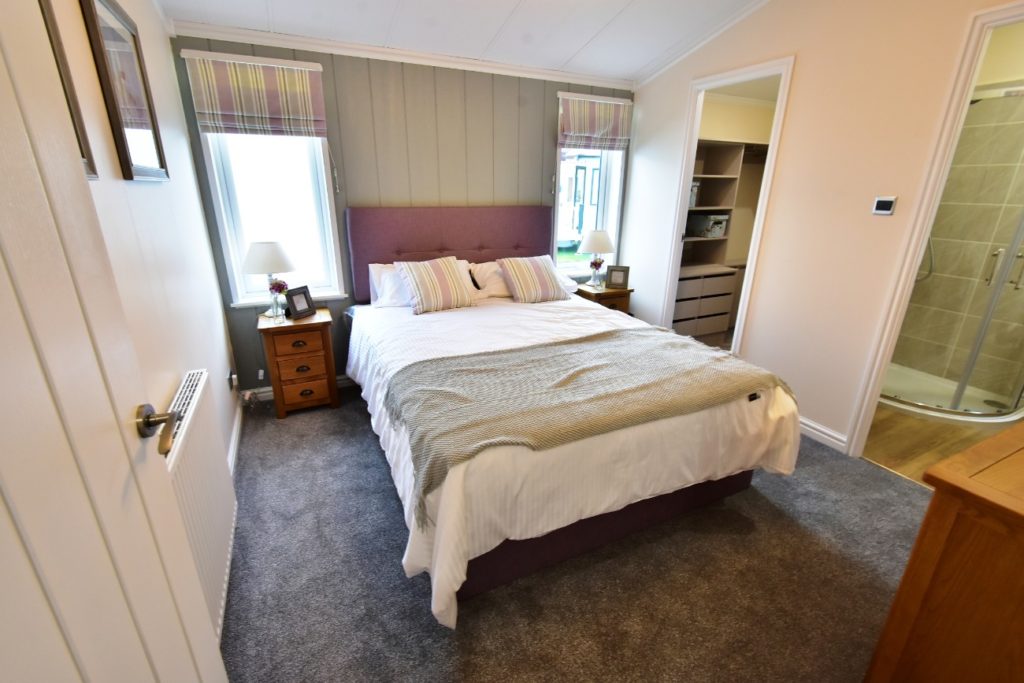 Again good night lighting is provided and though a dull day when I reviewed the Juniper, natural light really does flood in making it feel bright and airy. The en-suite comes with large walk-in shower along with hand basin and loo. A side window allows for light and ventilation, helped by a wall extractor fan.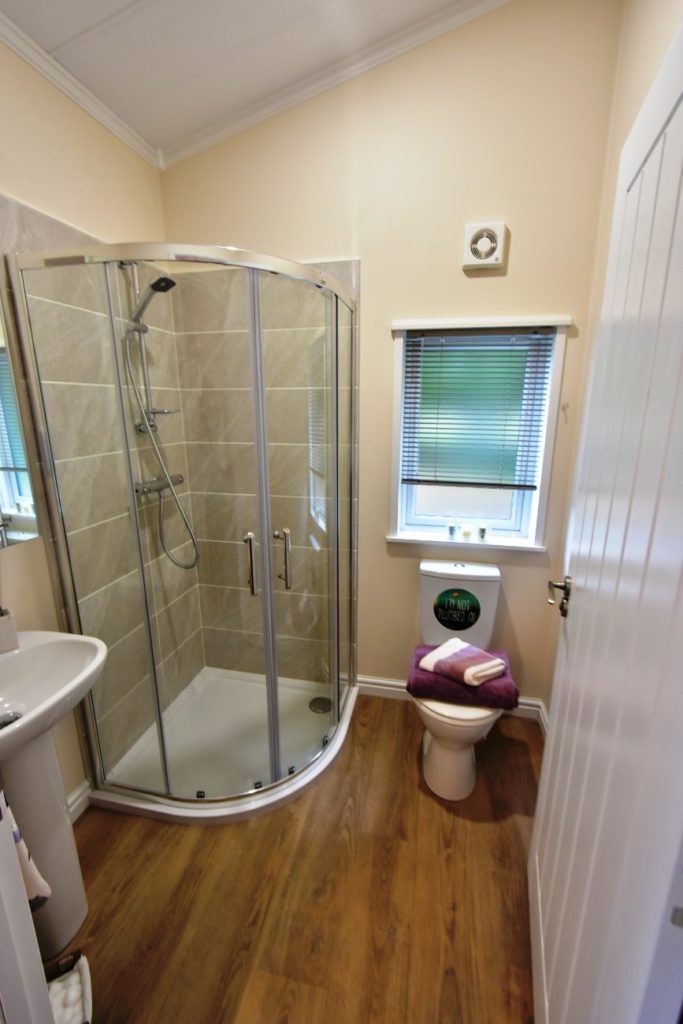 The main washroom is situated through the hallway, just to the right as you head for the second bedroom. It too has a large, if not larger, walk-in shower with more floor area and a side window. The hand basin is quite large with a toilet opposite. A large chrome finished radiator doubles up as a wet towel dryer too.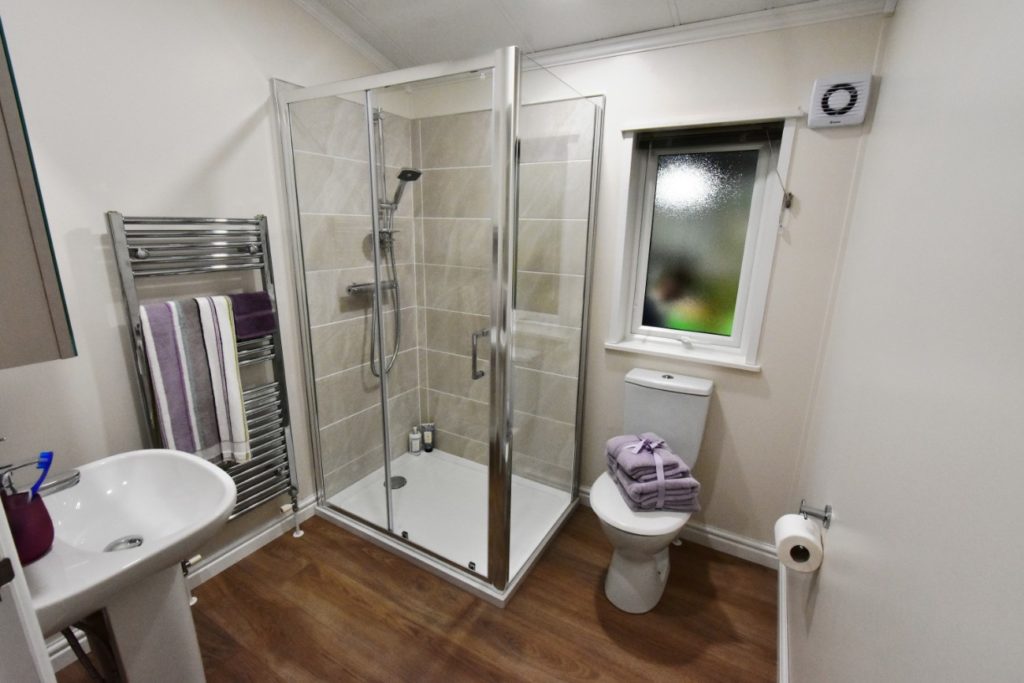 Verdict
This lodge is full of luxury, offering plenty to its owner, including good quality fittings and a well-planned out, which can be tailored to meet your needs. The Juniper would be ideal for new lodge owners, or for those upgrading from a static caravan to the world of lodge ownership and want to relax in space and style.
Plus points: excellent washrooms, stylish kitchen with great storage, easy wheelchair adaptability, pet friendly options
Minus points: Very little really
In a nutshell: Launched to much praise, the Juniper has lots going for it. A great start to lodge ownership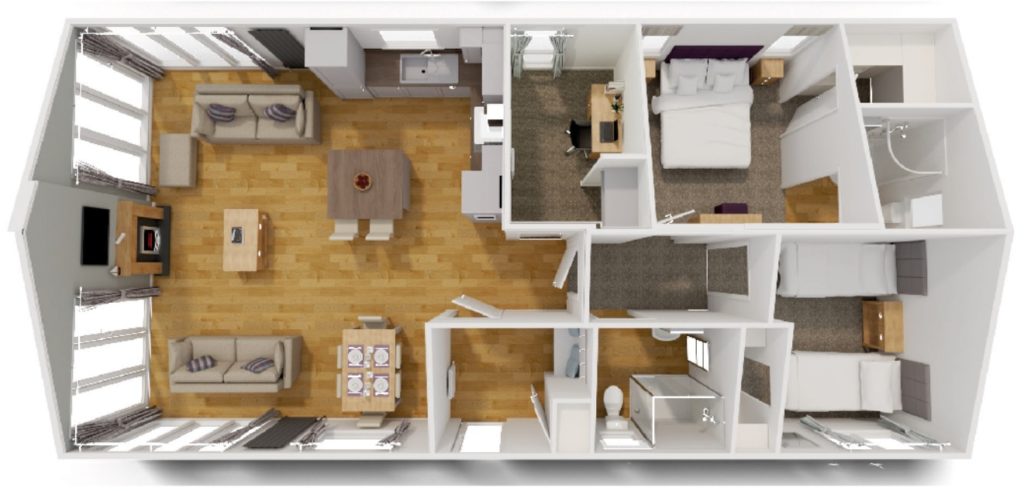 Factfile
Size: 45ft x 22ft
Build Standard: Residential BS3632
Sleeps: Four
Bedrooms: Two
Other models available: Only one 45ft x 22ft. Or look at the Swift Toronto, Pemberton Rivendale or ABI Harrogate.
Key optional extras: exterior colour choices, add extra doors, extra bedroom options, pet friendly, wall board colour combinations, wheelchair user options, Deluxe pack, Canexcel cladding, wet room into bathroom, luxury pack,
Ex-works price: £151,127*
If you're looking to buy this holiday lodge why not get a great deal insurance quote from us today. Click here to get your quote online.
For more information visit www.willerby.com.
*Extra charges will be made by park operators and/or distributors for transport and siting and annual maintenance. Please check the price carefully before you commit to buy as prices vary considerably dependant amongst other factors, on the geographical location of your chosen park.