A stunning twin unit with a stunning re-worked master bedroom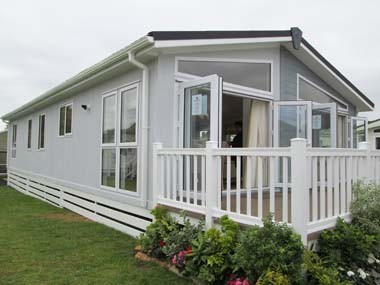 The Glendale from Pemberton Leisure Homes is classed as their flagship unit and, for 2016, has had a two bedroom model added to the range, featuring a new master bedroom layout.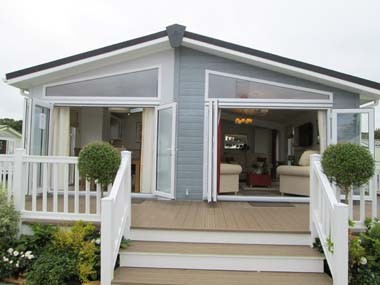 From the outside, the Glendale is immediately attractive,  with its pitched roof clad in pantile effect plastisol coated galvanised steel, with front overhang and feature blue-grey cladding to the right.
The home benefits from two sets of tri-fold doors to the front elevation which opens up the lounge to the outside. Long, triangular windows are sited above these doors making the front almost entirely glazed! Obviously a large decked area here would be essential to get the best out of this feature – and Pemberton  does also offer a range of decks in a variety of colours and styles.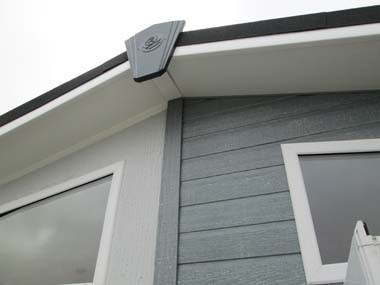 The Pemberton Glendale static caravan is mounted on a pre-galvanised twin axle chassis and is available in a range of cladding and colours. Pemberton offers four different types providing a great choice for the customer ranging from vinyl and aluminium to timber and the ever-popular Canexcel. There's also a special stucco cladding option that Pemberton now offer on all twins.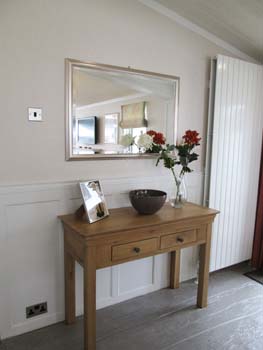 Insulation in walls and under the floor is 60mm of fibreglass with the roof having a beefy 150mm. There are uPVC gutters and drain pipes and the flooring uses moisture-resistant boards (always a good thing to prevent water ingress) and all exposed pipework is fully lagged. All windows and doors are uPVC double-glazed and external lighting and an outdoor electrical socket are also fitted as standard.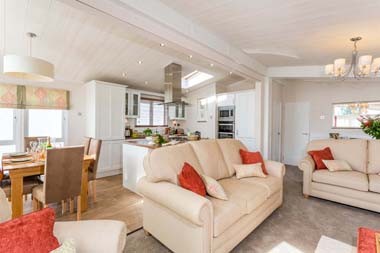 Stepping through the side access door and into the huge, open-plan lounge and kitchen, you are immediately struck by the obvious luxurious elements of the Glendale holiday caravan. Sumptuous sofas, armchairs and carpets have been used to great effect and the fully fitted carpets and scatter rugs add an extra element of style and luxury. The vaulted ceiling which has a minimum height of 2 metres, plus all those large windows, allow a massive amount of natural light to flood in and accentuate the colour scheme of browns, white and creams with an eye-catching accent colour of orange on the curtains, cushions and central ottoman-style coffee table.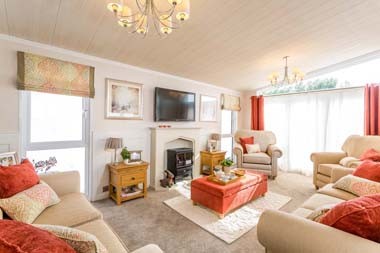 Other furniture is in solid oak and there's an impressive Gothic stone-effect fireplace which has a realistic wood burning effect stove with remote control and on the wall above there's space for a flat panel television. The ceiling is planked and has two large multi-lamp pendant light fittings. The front windows are fitted with curtains whilst the side windows have Roman blinds.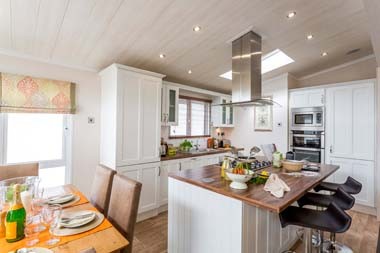 An integral part of the lounge is the kitchen, which has a fantastic island unit, with plenty of space to be used as a breakfast bar or cooking on the integrated 5-burner hob, not to mention storage on both sides. Electrical sockets magically pop up from the work top and the hob has an externally vented curved glass extractor hood. For seating, the island has three bar stools.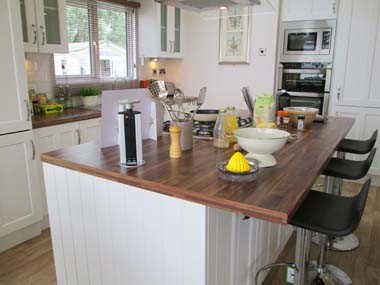 The rest of the kitchen is in the form of an 'L' and has Shaker-style white units with steel handles and soft close mechanisms to doors and drawers. There's plenty of storage and the kitchen also boasts an integrated cooker with separate oven and grill, a washer/dryer, dishwasher, microwave and fridge/freezer! All as standard to the Glendale's specification. Downlighter spotlights illuminate the kitchen and it also benefits from a skylight directly above the sink and food preparation area.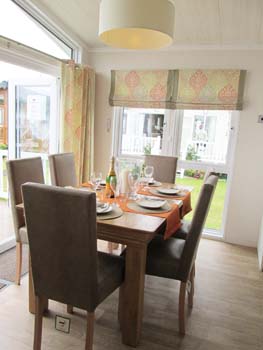 To the left of the island unit is a free standing, solid oak extending dining table and four chairs. There's an excellent amount of room for movement around these units, making the whole lounge/kitchen feel much less cramped than some homes we've seen. We also liked the way that the lounge is linked visually to the kitchen by the ingenious use of panelling in the ceiling and units.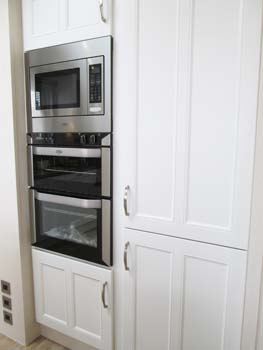 The lounge and kitchen take up about 50% of the footprint on the Glendale, which means the other 50% is given over to very spacious bedrooms and bathrooms! This extra space is apparent in the master bedroom, which Pemberton has re-modelled for this year. As you walk through the central access door, the first room on your right is the family bathroom which has a Jack and Jill door for dual access from the corridor or second bedroom.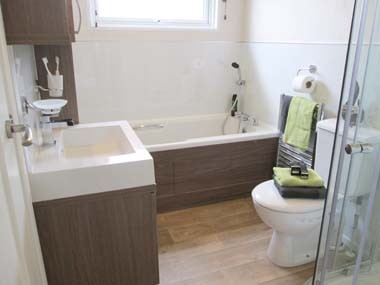 This room is fitted with a full-length bath, a corner shower cubicle, a contemporary style handbasin with storage below and a low double flush toilet. The stark white of the ceramics is contrasted with the dark walnut effect woodwork and dark trim to the ceiling and wall joints. The floor is in an easy-to-clean vinyl and there's plenty of space – always a real bonus in any bathroom.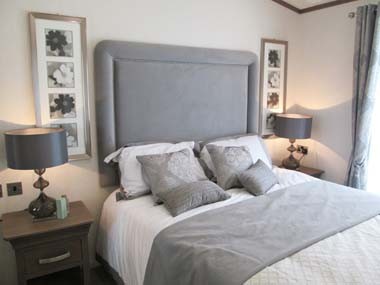 One of the doors takes you into the Glendale's second bedroom with its 5ft wide divan bed, matching duvet covers, pillowcases and throws and big, padded headboard. There's clothing storage in an L-shaped wardrobe and twin bedside tables with reading lights. On the larger 44ft x 22ft Glendale, if there's no need for a third bedroom, the space can be turned into a separate entertainment area or office.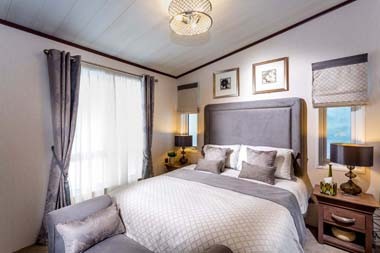 The master bedroom is luxurious and has a huge dressing room – it would be churlish to merely call it an 'area' which is accessed either from the corridor or via sliding doors in the bedroom itself.  The central feature is a vanity unit with imposing mirror, table, drawers and chair with wardrobe storage and shelves on both sides. There's also a small seat with drawers below under a tall window.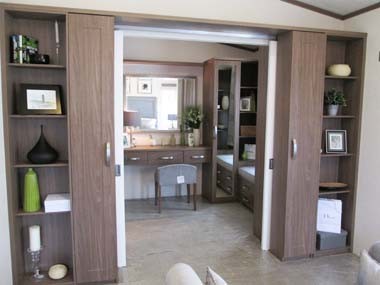 The bedroom itself is sumptuously appointed with the central divan, twin bedside tables, padded headboard and lights with a small seating area at the foot of the bed. There's more storage in the form of shelving either side of the sliding doors and coordinated bedding and fabrics in silver grey which contrast nicely with the walnut effect furniture. Either side of the bed are small windows with Roman blinds.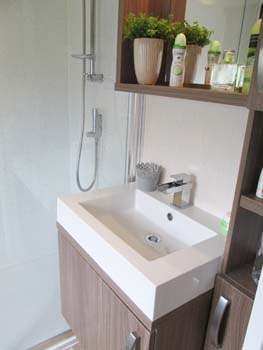 Finally, the master bedroom has its own en-suite bathroom which is accessed via a short corridor lined on both sides with more wardrobe space. The en-suite has a walk-in shower, a square handbasin and a toilet set into one corner.
Verdict
Pemberton's Glendale is a truly luxurious holiday caravan. The attention to detail in fixtures and fittings, quality materials, and the overall design, make it a stylish and attractive proposition for those looking for a little something extra which won't break the bank.
Plus Points
Attractive exterior and range of cladding options.
Superb open-plan lounge with high quality fabrics and furniture.
Excellent, well-appointed kitchen with classy island unit!
Luxury bedrooms with huge clothes storage.
Well designed shower and bathroom.
Amazing value for money.
Minus Points
Certainly nothing sprang to mind in this one!
In-a-Nutshell
With the flexible options offered in the Pemberton Glendale and by adding an extra 4ft to the length, Pemberton Leisure Homes have set the bar to a very high standard.
FACT FILE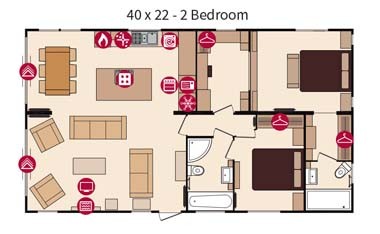 Size: 44ft x 22ft
Build Standard: BS3632 Residential Standard (review model).
Berths: 4, in two bedrooms (one twin and one double).
Other layouts available: 40ft x 22ft 3-bedroom; 44ft x 22ft 2-bedroom; 44ft x 22ft 3-bedroom. This home is also available to Residential Specification BS3632 and, in keeping with this, the option for a 44ft x 22ft format that includes a utility room.
Key optional extras: Pull-out sofa bed in lounge; recliner armchairs; safe; wine cooler; electric heating instead of gas combi system; window in place of tri-fold door; Glendale Lodge available in timber cladding.
Ex works price: £106,996 inc VAT*
For more information E-mail: [email protected] or visit www.pembertonlh.co.uk/static-caravans
*Additional charges will be made by park operators, and/or distributors for transport, siting and annual maintenance. Please check the price carefully before you commit to buy, as prices vary considerably dependent, amongst other factors, on the geographical location of your chosen park.