Last month we were keen to find out how you feel about pre-furnished static caravans and lodges.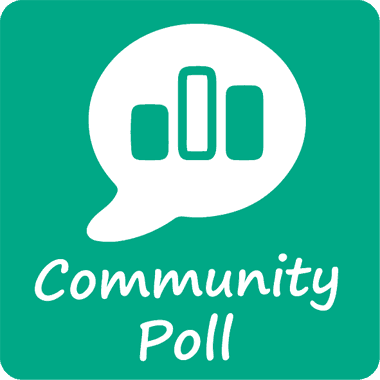 We particularly wanted to know whether you thought new units should come pre-styled with fixed and free-standing furniture included, or if in fact you would prefer to buy a unit completely unfurnished.
This poll has sparked a great deal of interest with hundreds of you getting in touch to have your say.
Before we reveal the results, lets take a look at some of your comments.
Here's what you had to say…
Like a small percentage of voters, Jonathan sees the benefits of both options: "Positives are that you can put your own stamp on it, however because it's a holiday home you don't have time to complete jobs and fittings etc."
Sally, simply says, "I'd much prefer them to be unfurnished!"
John completely disagrees telling us, "They should be furnished as many retired purchasers want to avoid any hassle whatsoever. Manufacturers give lots of options and flexibility to suit taste."
Let's see how you voted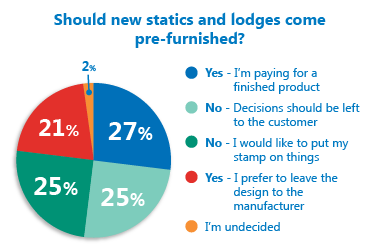 On close inspection we can see that 50% of you actually voted 'No' to pre-furnished and 48% voted in favour of pre-furnished. Although the results are very (very) tight, the slight majority of voters would like to see new statics and lodges in a completely unfurnished state allowing them to put their own stamp on things.
Just 2% of voters were undecided this time around.
It's a close one!
As you can see the results were incredibly close, but the slight majority of those who got in touch agree than unfurnished units could be the best option.
Mel & Jean Nevitt told us, "In 2011 we purchased a Pathfinder Thorverton and we had the advantage of choosing the free standing furniture with the expertise of their in house interior designer. This option was also economical because we gained the benefit of Pathfinder's buying power." 
Jocelyn commented, "My lodge came already furnished, yes it looked nice but there were problems with a damaged dining table, coffee table and fittings not finished off properly – I would have rather put my own stamp on it."
Vicky says, "As an interior designer who specialises in holiday homes, I have found that over the last five years our clients have tripled. A lot of owners want to have something individual, especially if they are letting where there is stiff competition. Or if it is just for family use, they like to add their personality into the design." 
Kim agrees, "Although we have just bought a brand new van complete with free standing furniture, maybe a "half way" solution would work giving purchasers different options for furniture and soft furnishings."
A manufacturer's verdict
We thought it wise to get a manufacturer viewpoint on this debate so we spoke to leading caravan maker Willerby Holiday Homes to see why they pre-furnish their units. It's clear a lot of thought goes into interior design and there are still factory fitted options available that allow buyers to tailor their units to their own tastes.

"We supply fully fitted units for a few different reasons. We are selling a lifestyle and the quality and style of the furniture we provide also allows us to differentiate ourselves from other manufacturers.  
"We monitor leading highstreet design trends through international exhibitions, events and through publications and selected manufacturer design research.  
"Our current soft furnishings supplier also services Next, John Lewis, M&S and Barker and Stonehouse. This gives us access to fabrics and styles adopted by top high street brands. We also allow our customers to easily add their own personal touches and accent colours to make the product individual to them. In addition, fixed furniture is difficult to replace without reupholstering so neutrals are the obvious choice so as to appeal to as wide an audience as possible." 
Do you agree with the pre-furnished verdict?
Share your views and stories in the comment box below – we would love to hear from you!