We saw ABI's stunning new 43ft x 13ft, 2 bed Westwood for the first time at The Lawns show in Cottingham, near Hull last year. Immediately we were impressed with the overall design, the no compromise feature list and the fact that it comes in two layouts – an open-plan or separate lounge version.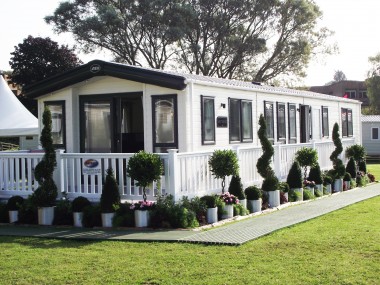 Outside, the first impression is one of a long, low lodge-style caravan with shallow pitched roof. The exterior walls are clad in sandstone colour hard PVCu with plenty of Thermaglass double glazed windows down all sides in contrasting graphite grey frames. Textured aluminium cladding is also available, as is the ever-popular CanExcel cladding; the roof itself is clad in dark steel pantiles.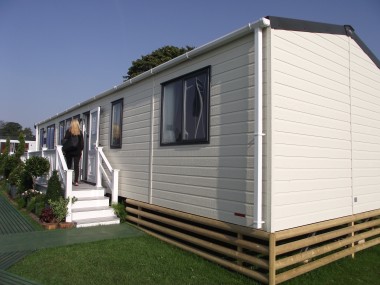 The caravan sits on a fully galvanised, heavy duty chassis and features all the usual exterior equipment: drainpipes, guttering, barge boards and, to the front elevation, a fine set of French style patio doors. The walls have 50mm insulation whilst the roof boasts 100mm insulation as standard. There is full central heating fitted throughout.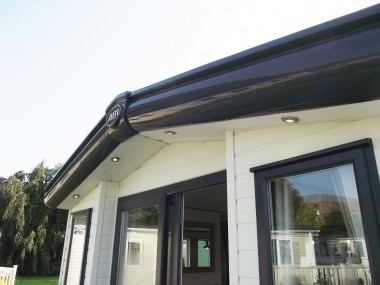 With a caravan of this size and specification there is of course an option to upgrade to Residential Standard (BS3632) which incorporates enhanced insulation, 'Low E' high performance glass, tanalised timbers and a condensing boiler along with 9mm plywood to the exterior to meet sound insulation standards.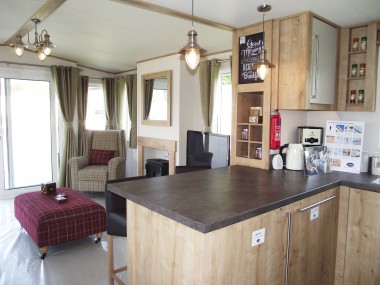 Walking into the Westwood's lounge from the front deck we were immediately struck by the sophisticated and understated use of fabrics in furnishings and curtains. Light beige and browns have been used for the furniture and carpet, with accent colours in blood red on cushions and the central pouffe.
All this contrasts very nicely with the extensive use of timber that surrounds not only the fireplace, mirror and TV cabinet but also forms a narrow cornice around the top of the walls as well as down the centreline of the shallow pitched ceiling. This detailing is carried on throughout the caravan (even in the bathrooms) which gives the Westwood eye-catching style real continuity.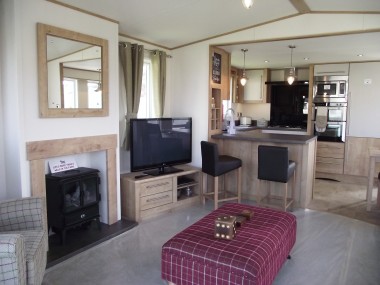 Two comfy wing-back chairs are positioned either side of the patio door with a large three seater sofa to one side. This can be converted to make an occasional double bed, expanding the sleeping capacity of the Westwood to six. Opposite is a star feature of this caravan – an electric log burner set into a small niche fireplace on a black granite effect hearth at the side of which is the TV and DVD unit. The TV is an optional extra although all TV points are prewired including the bedrooms.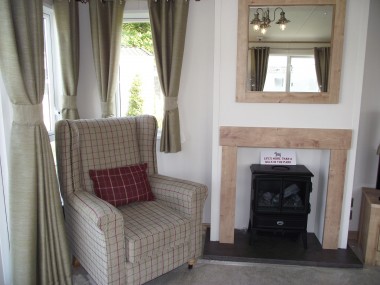 If you've opted for the separate lounge version of the Westwood, a door will take you into the kitchen; if you've gone open-plan – which could be the smarter option as you benefit from the extra space – you get a couple of stools at one side of a unit that forms a large breakfast bar. To your right is a free-standing dining table and four chairs with window directly behind and across from this the kitchen itself.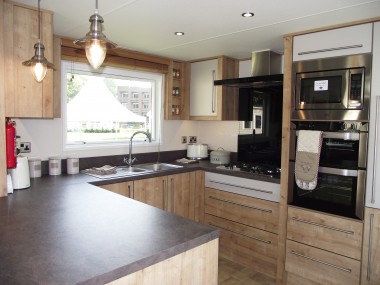 The kitchen is a real study in timber; wood has been used to great effect here with floor to ceiling units, contrasting 40mm black worktops and long metal bar like handles to cupboards and drawers. The floor is also wood block. There is plenty of storage space in the built in cupboards – all of which feature lovely, silky soft-close mechanisms – and light floods in from the window strategically placed, as is common practice, behind the sink unit.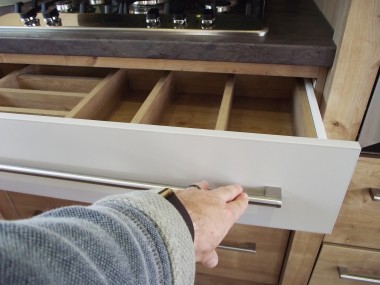 Standard equipment includes eye level cooker and grill, externally vented powered cooker hood, four burner hob, integrated microwave, fridge freezer and dishwasher. The overall look is one of modern farmhouse rather than New York loft kitchen and it works well in the Westwood.
A brief word about lighting. The Westwood features rather nice pewter coloured metal and glass pendant lights in both the lounge and kitchen (along with inset ceiling lights) which remind us of those fabulous Victorian cabin lights from old sailing ships.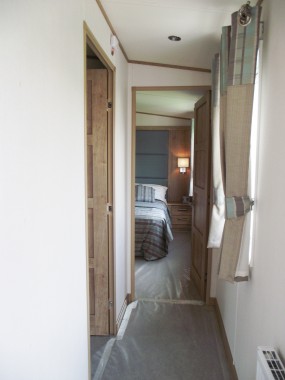 A door from the kitchen leads one to the short corridor off which the bedrooms can be accessed. To your immediate right is the central (front) door which we suppose makes this the hall of the caravan.
To the left is the family bathroom with full length bath, over-shower, flushing toilet and handbasin.
Once again the timber detailing is very effective here on the window frame, mirror and under-basin storage unit.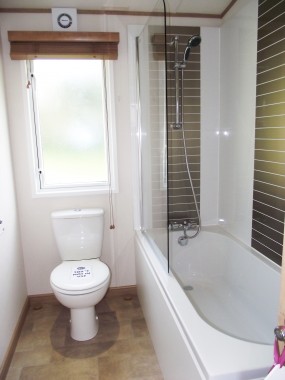 Into the corridor and again on the right is the Westwood's twin bedroom – it's amazing just what can be accommodated in a limited space! As well as the twin beds, ABI has managed to pack in a vanity unit with stool, mirror and drawers, a central bedside table and a large wardrobe!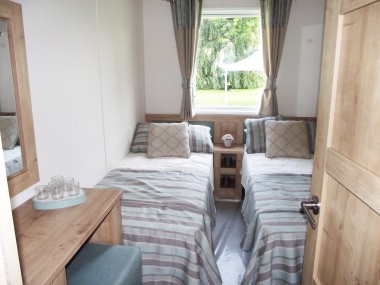 This is a comfortable room, enhanced by muted colours in bedding and curtains but with warmth coming through from that ever-present timber detailing. A single window at the bedheads lets in a reasonable amount of daylight and a bedside lamp and ceiling light provide illumination at night.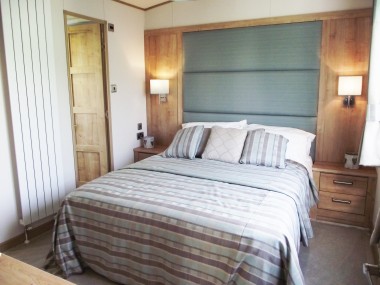 The final room in this holiday caravan is the master double bedroom accessed from the end of the corridor at the back of the unit. This is a very spacious and stylish room with a large double bed, centrally positioned with plenty of room down each side and crowned by a padded headboard in grey fabric horizontal panels.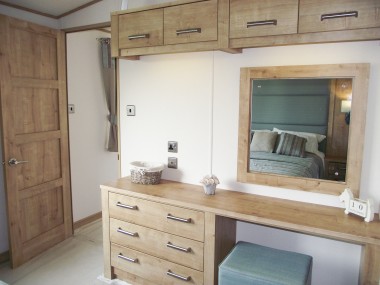 There are tall wood panels either side with bedside lights and drawer storage below. At the foot of the bed sits a vanity unit and stool with a long worktop and three large double drawers. There is a mirror above and space for a free-standing TV if required. Above this at ceiling height are further storage cupboards with caravan style lift up doors.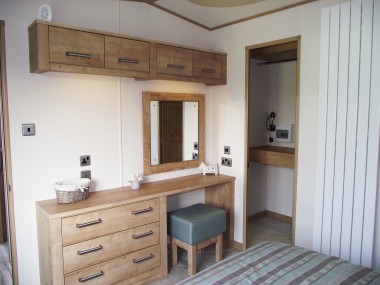 Adjacent to the vanity unit a narrow door opens to reveal a walk-in wardrobe with hanging rails etc. A tall, flat, designer radiator comes next then the door to the neat en suite bathroom featuring flushing toilet, handbasin and walk in shower. You can see a virtual tour of the Westwood online on the ABI website.
Verdict
With the Westwood, ABI has gone the extra mile with a thoughtful and eye-catching design. The simple use of wood to delineate the join between the walls and ceiling and the extensive use of wood in all rooms gives this static caravan a really classy look. It would suit those who are looking for a caravan with more traditional styling whilst not compromising on either contemporary features or high specification equipment.

ABI Westwood open plan layout

ABI Westwood closed lounge layout 
In summary: 
ABI Westwood
43 x 13
2 Bedroom
Please refer to the park licence and associated planning conditions prior to confirming your order
Ex works price: £55, 893 inc VAT*
Visit the ABI (UK) website for further information
*Additional charges will be made by park operators, and/or distributors for transportation, siting and annual maintenance. Please check the price carefully before you commit to purchase, as prices vary considerably dependent, amongst other factors, on the geographical location of your chosen park.