Here at Leisuredays we handle a range of different insurance claims for static caravan or park home customers. Some are extremely uncommon like static caravan theft, machinery damage and  even suicide, while others claims are more peculiar such as animal damage.
As we investigate these obscure claims in detail we'll explain how you can spot possible hazards in the future.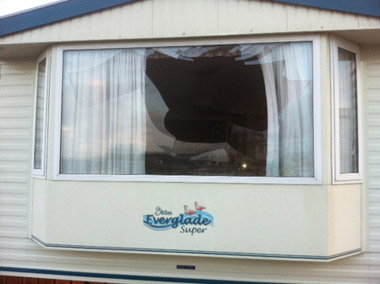 Instances of all kinds and severity can occur on any park in any area so it's useful to be aware of less obvious risks and how they could affect your static caravan or holiday caravan.
Whether you're covered against such claims depends on the insurance you choose.
With Leisuredays your unit is protected by a number of policy features that offer superb benefits in the event of a claim and throughout the lifetime of a policy too. So if you want to be free from weird and not so wonderful claims this spring, here's what you need to remember:
Look for "all risks" static caravan cover
All risks insurance is a good way to cover yourself  for accidental damage, theft, storm and flood.
Less common claims also fall under these categories; accidental damage for example, covers you against damage caused by machinery, third parties and even animals as well as breakages, spillages that are normally associated with these types of claims.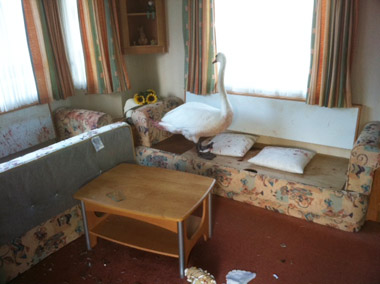 In the past one Leisuredays customer made an accidental damage claim after a swan (yes, swan!) flew through the window of their static caravan. The swan badly injured itself and caused a lot of damage inside the unit as it tried to escape. Even though the probability of something like this happening is small, animals do pose a genuine risk to your unit.
If this were to ever happen to you, the Leisuredays claims team is available to deliver a smooth and efficient claims handling service.
Theft
Theft of static caravans and holiday lodges is incredibly rare but break-ins and attempted thefts of contents can be quite common.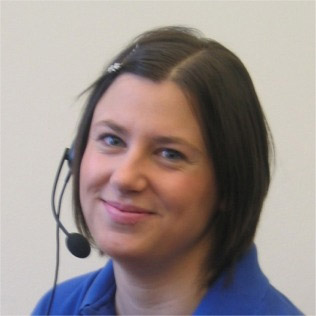 Leisuredays Claims Manager, Teresa Smith tells us, "Although thieves usually target the inside of the unit, namely valuable contents, some look for copper piping, gas bottles and water pipes as we've seen from our claims database. We also know that on average, theft of this kind normally amounts to over £300 per claim."
Thieves usually damage locks or smash windows beyond repair during break-ins so having replacement cover will always prove a handy policy feature.
Less common claims in everyday circumstances
In spring and summer we sometimes hear from customers needing to make an accidental damage claim after landscaping or construction work has been carried out on their holiday park.  We've heard from those affected by flying debris claiming for smashed windows, damage to paintwork, panels and roofs.
Some customers have even reported landscapers driving into their holiday home causing rocks and stones to shatter glass and scratch panels. 

Round-the-clock claims line
With any claim, whether unusual or not, having a 24-claims helpline is crucial. Check out the latest reviews of Leisuredays on the Review Centre website to read how we've helped customers recently.
To find out more about our static caravan insurance policies click here and for our park home insurance policies click here.
Have you ever had to make a peculiar claim? Share your story using the comment box below.