The weather hasn't been particularly kind to caravan and holiday parks recently. As we reported recently, storm, tidal surges and wind have caused severe damage to units in a number of areas.
With this in mind, last month we wanted to get your opinion on whether more could be done to protect units from the effects of bad weather.
Let's take a look at the poll results…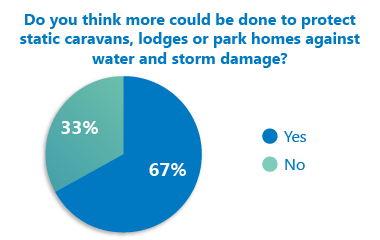 A massive 67% of you said that yes more could done.
One reader got in touch to say, "Of course theoretically caravans could be built to be more robust, but that would put the price up beyond what was affordable for many people for whom a caravan is the perfect way of achieving a holiday home. Most of the time the weather doesn't merit additional protection, so it's a compromise. I would, however, advocate spending on solid construction and stability rather than on fancy aesthetic features which serve no real purpose!"
What do you think?
Join the debate using the comment box below.