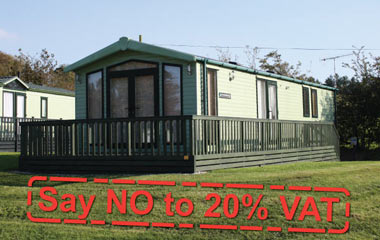 As you may already know, the Government's latest budget revealed plans to apply VAT on static caravans and holiday homes at 20% from the 1st October 2012 – but with your help it's not too late to stop it.
Stop higher priced caravans
With static caravans and holiday homes currently being exempt from VAT, the proposed change would likely mean that from the 1st October
2012 new 'vans will become 20% more expensive to purchase.
Stop higher insurance costs
The proposed VAT change would force customers to increase the amount they have their caravans insured for so as to avoid being underinsured. This would increase insurance premiums.
Sign the petition to stop VAT on statics
Leisuredays and the National Caravan Council (NCC) are putting pressure on the Government to reverse their decision and to keep Static Caravans exempt from VAT.
To support us please take a few seconds to vote against the new tax proposal via the eGov petition here: http://epetitions.direct.gov.uk/petitions/32781
Please vote by Friday 11th May
For further information read our  previous blog post on the proposed VAT change to static caravans.