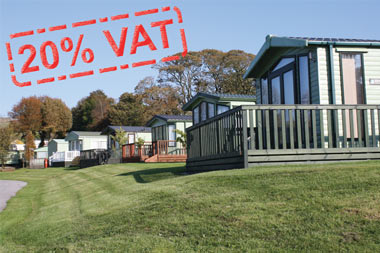 In the 2012 budget, which was released yesterday, it was announced that from the 1st October 2012 VAT (Value Added Tax) will be applied to static caravans, which could make your next holiday home 20% more expensive to buy.
Previously, static caravans were in what the government has referred to as a 'Tax Loophole', meaning that they were 0% tax rated. The new budget will bring static caravans in line with touring caravans, meaning they will be taxed at the current VAT rate of 20%.
Labour MP Diana Johnson (Hull N) has been quoted as being against the new tax rate as it will affect the economic strength of the Hull area, where many of the UK's static caravans are made,
"This will have a real impact on the economy in Hull because we manufacture a great deal of the caravans in this country."
She also added that the increase in price could have a negative effect on demand for statics,
"I understand it could almost reduce demand by 30%, another hammer blow."
If the extra cost of VAT is passed on directly by the manufacturers then parks will have to buy static caravan holiday homes at a much higher price, and this cost could be passed on to the end user.
If you're thinking about buying a static caravan for the first time, or upgrading your current one, then it might be a good idea to do so before October 1st in order to avoid the VAT hike.
Also bear in mind that the VAT rise will affect the amount of static caravan insurance cover which you need to have in place. Whether you have cover on a "New for Old" or "Market Value" basis, should your static caravan be damaged beyond economic repair and written off, from October it will cost more to replace. This means that you need to ensure you have a "sum insured" which is adequate to cover the new retail price (which includes VAT at 20%).
We want to know your thoughts on this one: If a static caravan which previously cost £50,000 now cost £60,000 would you be put off buying it?
To view the budget in full visit the HM Treasury website.
Update (12/04/12)
Leisuredays are proud to be supporting the National Caravan Council's bid to stop the proposed VAT rate for holiday homes. We have also written to our local MP (Linda Riordan, Halifax) and asked for her support in the House of Commons.
If you don't want the VAT rate to come into force then there is still time to stop it by contacting your local MP and asking them to fight against it on your behalf.