Liz King gives us the lowdown on Swift's latest static caravan offering.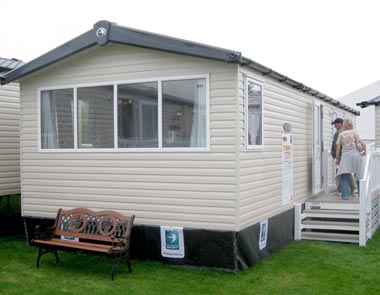 There are seven models in the Soleil range from the 28×10 with two bedrooms to the 35×12 with three bedrooms and with two interior colour schemes available. However it was the 35×12 two bedroom model which caught my eye and a very helpful chappie from Swift explained the Soleil design rationale to me. In short, it's a base range model built on a standard floor plan but with a long list of optional extras available so customers can customise their unit according to their budget and needs.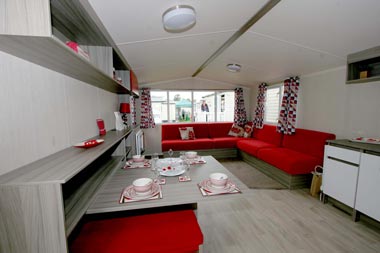 First impressions, on entering via the side door was one of surprise at the spaciousness of the lounge/dining and kitchen area; so much so that I didn't baulk at the red Impala stain resistant, wipe clean fabric on the huge L shape sofa and the multi colour curtains with a contemporary check design.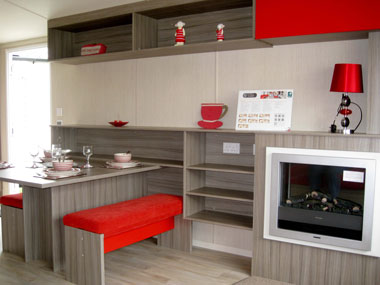 I did like the square fixed dining table and the bench style seating as there was plenty of space for crockery and cutlery for four people; in fact you could seat a fifth person quite easily. Practicality hadn't been forgotten in the design as only the lounge area is carpeted. I did like the shelf units which reach up the ceiling so no traps for dust.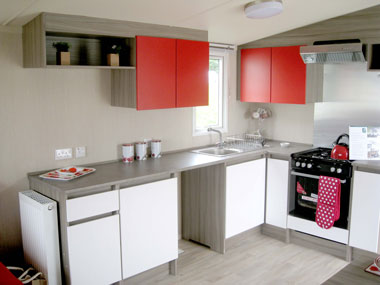 There's plenty of work top space in the kitchen, with under counter space for a fridge and a large storage cupboard to boot. Add a microwave and along with the cooker you could follow holiday-style recipes with ease.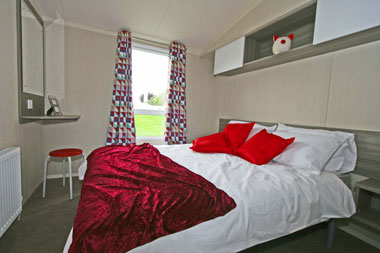 The master bedroom has full length curtains but despite that you can still walk around the double bed with ease. There are a couple of over bed cupboards but I was amazed at the size and capacity of the wardrobe. There's a small vanity area and a dinky en-suite, ideal as a night time toilet.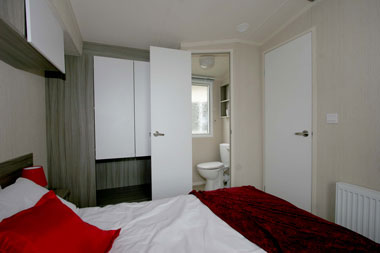 The second bedroom has twin beds, a bedside cabinet and a wardrobe, but a space saving slide under bed is available as an option and would maximise the space available. The shower room is a maxi version of the en-suite cloakroom with a rectangular shaped shower and more storage space.

Specification
Built to EN1647 temporary holiday accommodation standard, and is not designed for extended sub zero winter use or residential purposes.
Price: the model as seen had certain optional extras, like double glazing, central heating, a cooker hood, carpet to the lounge and bedrooms but would be priced at £22,000.00 as seen*.
*The price quoted is ex-works, includes VAT, but excludes delivery, installation and any other costs as determined by the manufacturer, distributor, dealer or park owner.
Verdict
It's an ideal starter static. You don't get a bespoke model in this price bracket, and it lacks frills, but this is as near as you will get to designing your own static, given the price and options available. Bright finishes inside the caravan certainly make the Soleil stand out and Swift should be complimented for the this bold approach. Of course bright red kitchen cupboard doors and soft furnishings may have the Marmite effect dividing opinions of prospective buyers.
For more information: www.swiftholidayhomes.co.uk