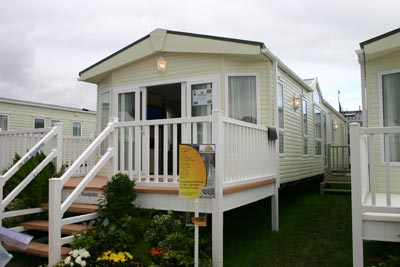 You will have to go a long way to find a better built and equipped holiday home for similar money than the two bedroom Pemberton Knightsbridge. It's built to BS EN 1647 leisure standard and has a galvanised chassis, aluminium plank sides, plastisol galvanised steel roof tiles, and PVC-U double glazing.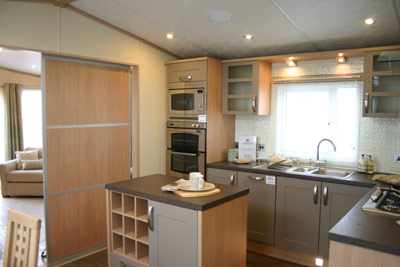 The entry door leads into the dining area, the suite comprising a table and four chairs. The area is separated from the kitchen by an island unit. The wall adjacent to the entry door is fully glazed making the area bright and very pleasant for dining. But is it the fully equipped kitchen which is the most impressive feature. It has a five burner gas hob and overhead extractor, a wall-mounted oven and grill, fridge/freezer, dishwasher, washing machine and microwave – all as standard. Additionally, the walls are fully tiled – unlike many holiday home kitchens.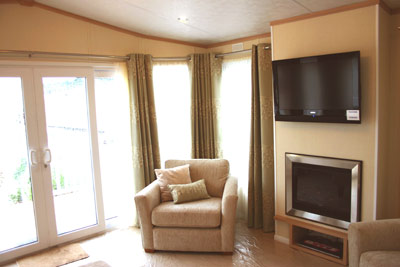 A pair of sliding doors separates the kitchen/dining area from the lounge. This is light and airy due to the patio doors and tall window units in the end wall plus other tall window units in the adjacent walls. The focal point of the room is the flame effect electric fire mounted on the wall with a 32in LCD flat screen HD TV above it. The standard furniture option comprises a two armchairs and a sofa bed.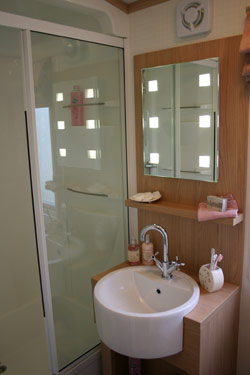 The Knightsbridge is somewhat unusual in that it has an en suite bathroom instead of an en suite shower room. The shower room is opposite the second bedroom and is big enough to have both a large shower cubicle plus a huge circular washbasin set into a base unit next to the low level toilet. The second bedroom has two single beds and is also large enough to have two wardrobes with a dressing table between them, and further storage space in a row of wall units above the headboards.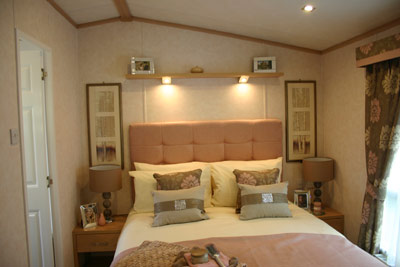 The main bedroom at the end of the home, has plenty of space for the double bed and a built-in dressing table unit. But its main features have to be the walk-in wardrobe and the already mentioned, en suite bathroom, both of which wouldn't be out of place in a home costing twice the price of the Knightsbridge.
Main features
Excellently equipped kitchen
32in LCD flat screen HD TV
Separate shower room
Walk-in wardrobe
En suite bathroom
The Knightsbridge is an excellent example of Pemberton's 60 years experience in designing and building holiday homes. From the outside, it doesn't look much different to many other holiday homes but when you go inside and see just what you are getting for your money, we think don't think you can fail to be impressed.
Specification
Type: Single unit caravan holiday home
Standard: BS EN 1647
Size: 42ft x 14ft
Bedrooms: 2 – 3 bedroom option available
For further information: Pemberton Leisure Homes, The Chequered Flag, Beeford, E. Yorks., YO25 8AD. Tel: 01262 488366. Fax: 01262 488642. E-mail: [email protected] Web: www.pembertonlh.co.uk