By Liz King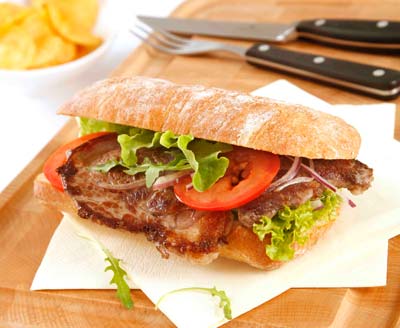 Cooking up a feast doesn't have to involve hours of work in your static caravan or holiday lodge and if you are on holiday, then do you want to spend hours in the kitchen? If you do or you don't, I think there a few basic essentials that you need to have in your holiday home kitchen. The first is a decent set of sharp knives; the second is a set of coloured, easily washable chopping boards with each colour dedicated to a particular food type – e.g. red for raw meat, green for vegetables and blue for fish. Lastly, you need quality ingredients. Now they are worth paying for, and it's often a case of "less is more" so they can be cost effective.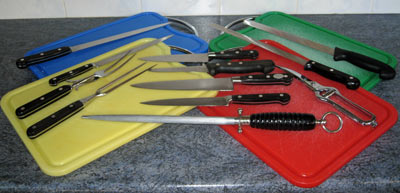 Dave, my husband, and I are dedicated carnivores; OK let's be honest we just like our food, and supermarket meat doesn't cut the mustard for us, but Scottish butcher Donald Russell, an online butcher based in Aberdeenshire, does. It was set up in 1974 and specialises in grass-fed, traditionally matured beef and lamb, reared by farmers who care about their animals.
Their head chef gave me a recipe for a Ribeye Sandwich, perfect for a little lunch outside on a sunny day with a glass of red wine, or a quick meal at the end of the day.
Pre heat a heavy base frying pan or a cast iron griddle to a high temperature before you start to cook the steak; you should hear a sizzle when the meat goes into the pan.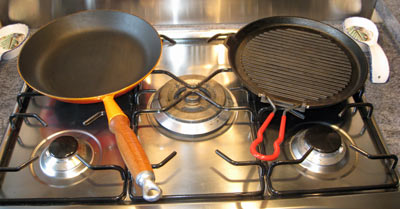 Steaks will get a shock if cooked from cold and will then be tough, so always ensure the meat is at room temperature.
Preparation time approx. 15 minutes for 4 sandwiches
Premium Beef rib eye steaks approx. 100-120g each
1 tomato
1 red onion
1/4 gherkin
8 slices dark bread
8 teaspoons horseradish sauce
1 handful of rocket salad
Salt and ground black pepper
For the marinade; 2 stems fresh rosemary and 4-6 tablespoons olive oil
Dry the steaks with kitchen towel.
Chop the rosemary and mix with the olive oil. Cover both sides of the steaks evenly and marinate for 30 minutes.
Cut the tomato, onions and gherkin into thin slices.
Spread 1 teaspoon of horseradish on one side of the bread.
Prepare 4 slices of bread with half of the ingredients and rocket.
Salt and pepper the steaks. Cook on both sides in a hot pan for approx. 1-2 minutes on a medium heat.
Place on the prepared bread slices and add the remaining ingredients. Cover with the rest of the bread and serve immediately.
Enjoy!