The Symphony is a brand new static caravan made by Dorset company Regal Holiday Homes.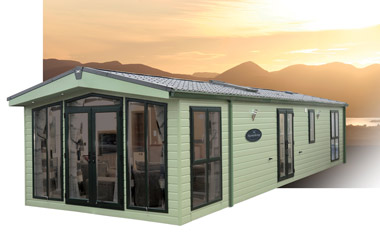 We liked the 9ft ceiling height and the outlook doors and full height windows at the front, combined with the extra light flooding into the interior thanks to two carefully placed skylight windows in the dining/kitchen area, it seemed incredibly spacious. The bold colour scheme of the soft furnishings was not therefore overpowering.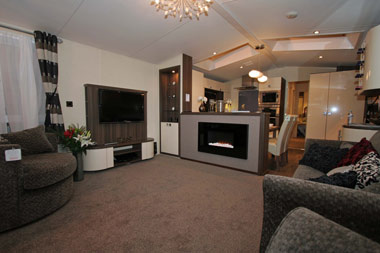 The seating was very comfortable and the round Snuggler chair could be swivelled so you could enjoy the panoramic views whilst relaxing. The contemporary electric fire was the focal point of the living space but, unusually, was situated in the room divider which also featured a pop up multi power supply and adjacent wall mounted iPod docking station.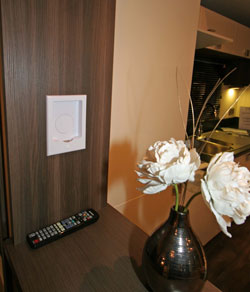 The static caravan's kitchen with cream high gloss cupboard doors was very well equipped with a five burner gas hob, a combination microwave oven, a traditional oven, a fridge freezer and a dishwasher. There's plumbing and electrical provision for an optional washing machine too. We liked the wine cooler and wine rack set within curved cabinets which we thought were stylish and functional.
The master bedroom drew gasps of breath from us thanks to its lavish looking curtains, bedding and padded headboard in shades of silver, mulberry and lavender and there was enough space to walk around the king-size bed too, without stubbing your toes. With the en-suite bathroom, it has a boutique hotel feel to it.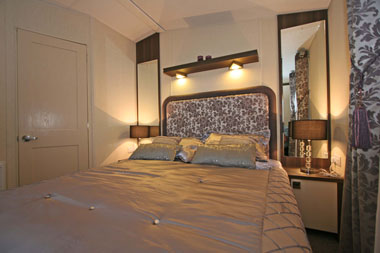 The second bedroom has 2ft 6ins single beds but could accommodate a double bed and like the master bedroom does have more than adequate wardrobe facility. The family shower room has an 800mm quadrant shower and a neat shelf unit for storing towels or toiletries.
Exteriors of static caravan units are generally unremarkable but the Symphony has four down lighters over the outlook doors and a modern exterior light by the door to the side elevation.
Specification
Single unit
41ft x14ft
Built to EN 1647 standard
Vaulted ceilings
Vinyl cladding
Two bedrooms
Verdict
It's a top-of-the-range model which just oozes class, yet is stylish and practical with a high level of attention to detail in the design. The 14ft width of the chassis has been used to good effect and this is noticeable especially in the bedrooms. It is a holiday home and not designed for extended winter or residential use.
For further details visit http://www.regalholidayhomes.co.uk/
Click here to get an holiday caravan insurance quote for a Regal static caravan.