A stunning, contemporary lodge that's really a loft apartment in the country!
The Kudos lodge from Tingdene is really something else. Designed principally as a one-bedroomed lodge, it's very different from many holiday lodges on the market at the moment.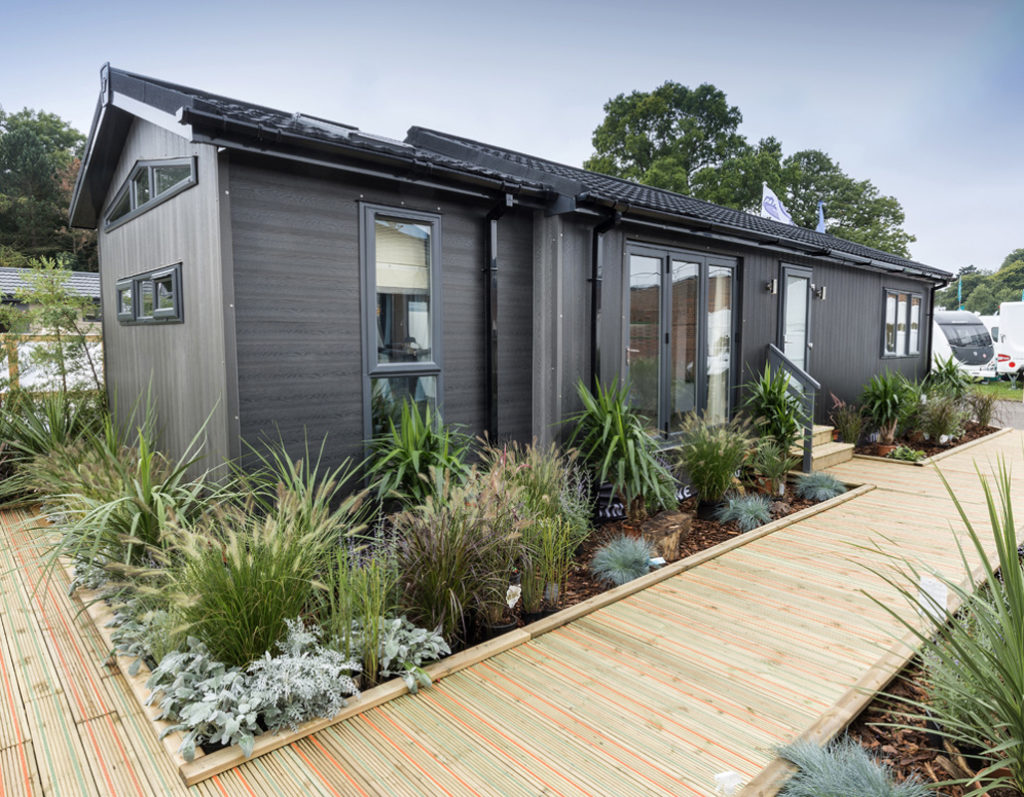 It comes in two versions – the one bed review model we saw at this year's Lawns Show in Hull and a two-bedroomed model that's two feet wider.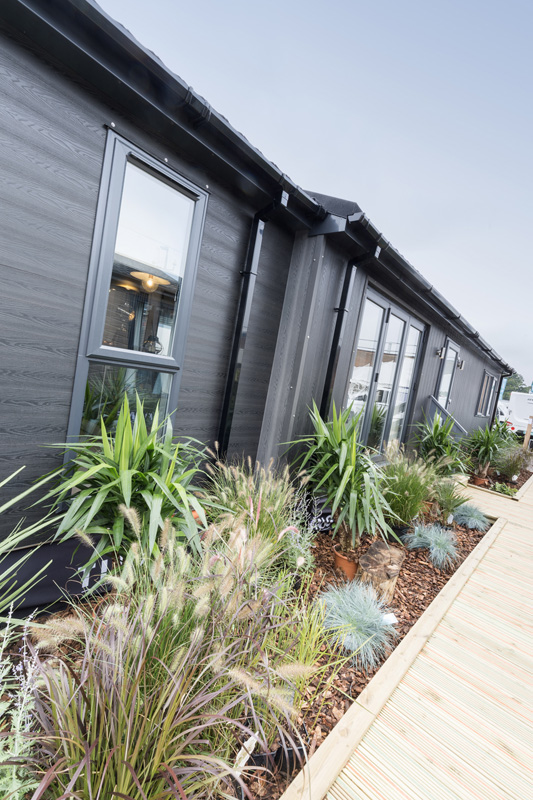 From the outside the Kudos is very striking and is clad in WPC in a combination of stone grey and Tudor black, with the panels set both vertically and horizontally to give an interesting textural feel. Trim and windows are in a darker jet black, as are the gutters and downpipes, with the roof being covered in black pantiles. You could be forgiven for thinking that there's just too much black and grey, but it really does make the Kudos stand out.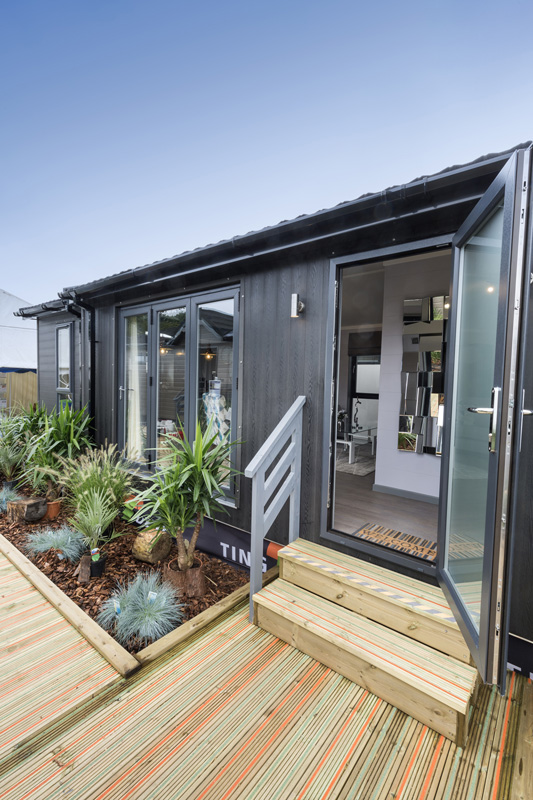 There are lots of tall, thin and slit windows down each side, as well as a slot window that mirrors the eaves in the bedroom at the back. Access is through a single side door, usefully positioned outside, with lights at either side and there's further access via a huge bi-fold door into the lounge. The bedroom also has a large patio door that leads out onto a small deck area built into the main structure. At the Lawns, we were told that the review Kudos had been sold to a park and would have an extension fitted to it that butts up to this deck.  If you don't want to extend, the deck can simply be used as a small Juliet balcony to the bedroom.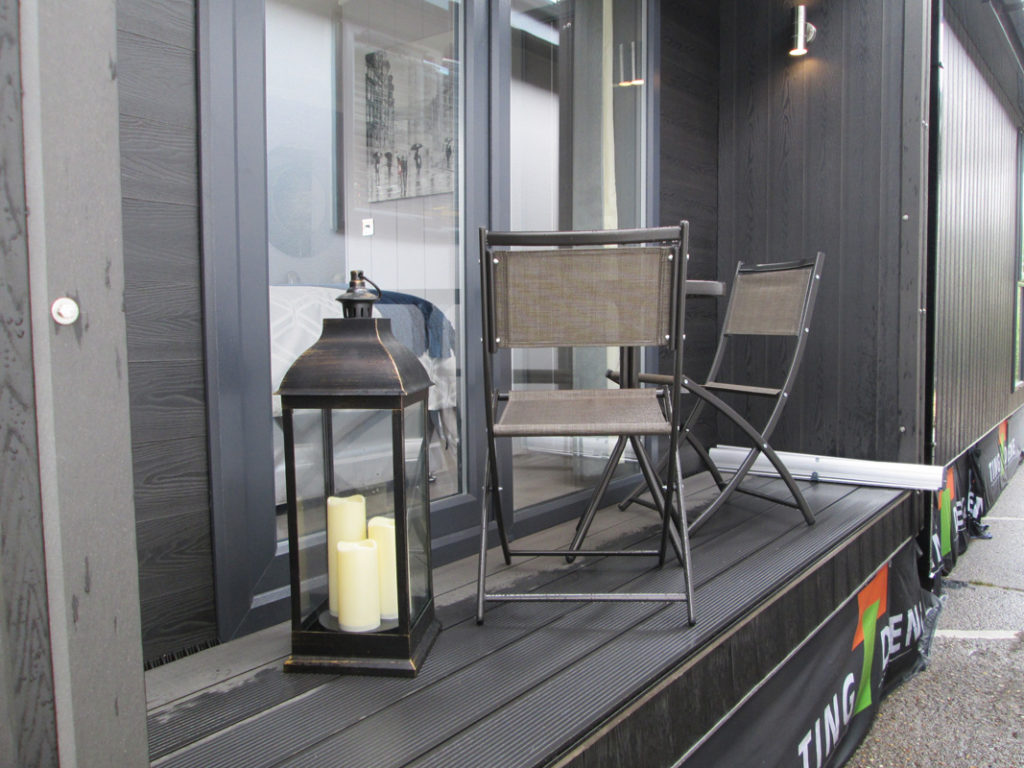 The lodge sits on the usual galvanised chassis and can have a range of deck options fitted in a variety of styles depending upon the chosen site and location. One point worth mentioning is that the cladding is one of the first lodges in the Tingdene range to receive a 'Class 0' fire rating for extra peace of mind as well as being easy to maintain.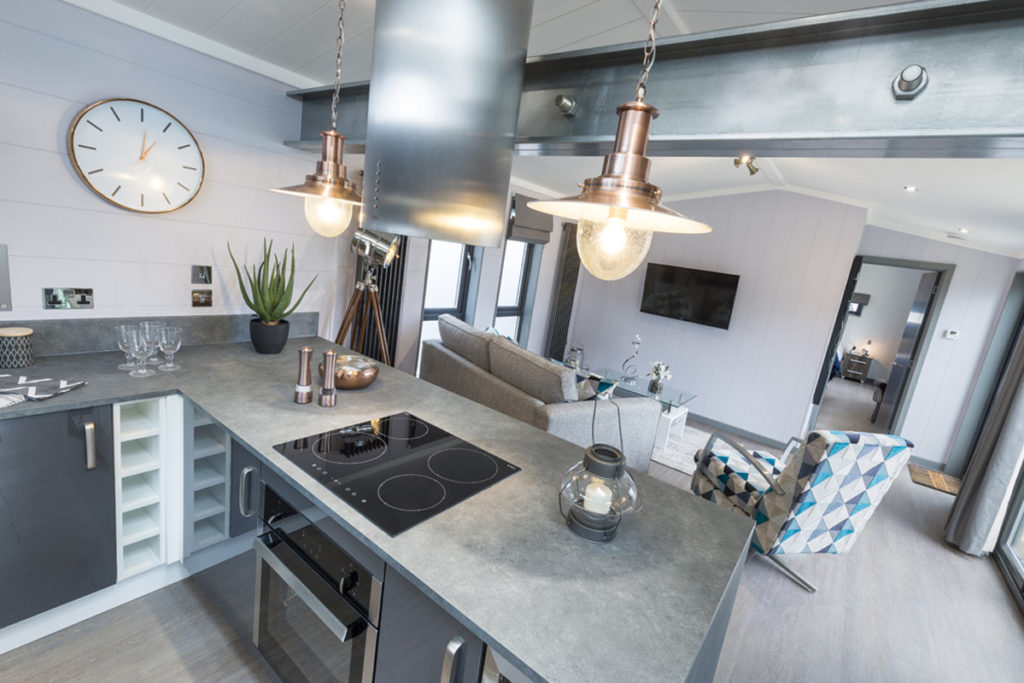 The company's range of homes are designed to offer the customer a wide selection of styles and individuality and the Kudos certainly falls into this category. Tingdene's lodges also fall into a wide range of prices to suit various budgets and each lodge comes fully furnished and is built to residential standards BS3632: 2015 as well as having a 10-year structural warranty option.
Whichever home a customer chooses, they can then personalise it by choosing from a range of furniture and furnishing options, including kitchen options, choice of lounge and dining room furniture, select from a range of curtains, flooring, bedroom furniture, etc.
Tingdene's interior design packages are reviewed at regular intervals with new furniture and design element introductions being brought into the range on a regular basis to make sure customers are offered the best available at the time of manufacture.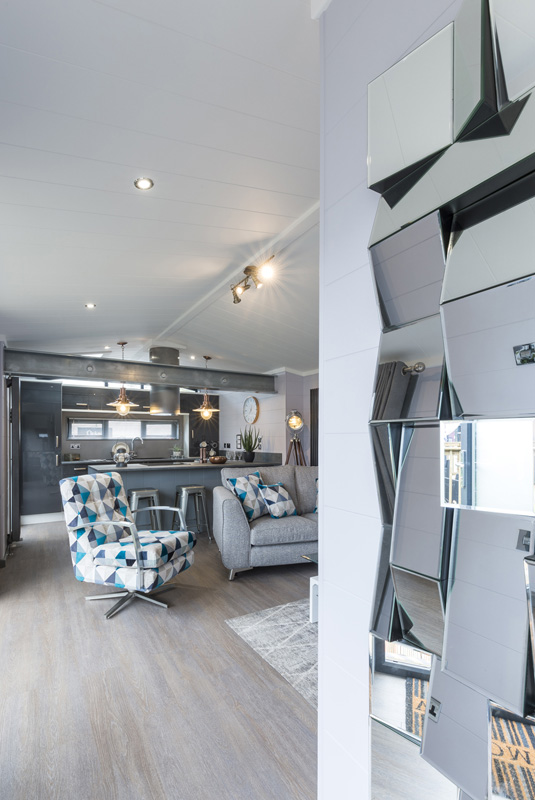 As you enter the lodge you know you're in for something a little bit special as your reflection is smashed into pieces by a striking designer mirror of many facets on the wall in the main lobby! Turn right and you are in the single, large bedroom, straight ahead is the bath and shower room and to your left the lounge and kitchen areas.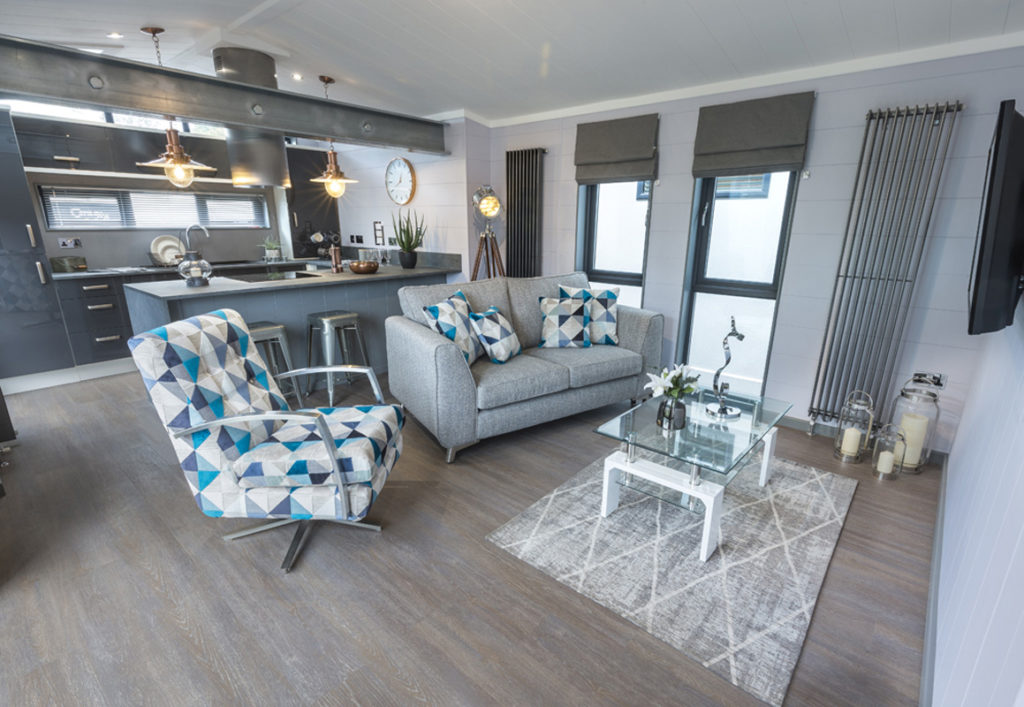 The Kudos has been constructed with open plan living very much in mind, with vaulted ceilings throughout every room and an uncluttered feeling to each room. The lounge and kitchen are very eye catching and definitely have the wow factor, the principle focal point being the steel beam that separates lounge from kitchen and runs across the width of the room at ceiling height. Central to this is a circular brushed steel extractor for the cooking hob and twin industrial style pendant light fittings – probably one of the most striking features we've seen in any lodge.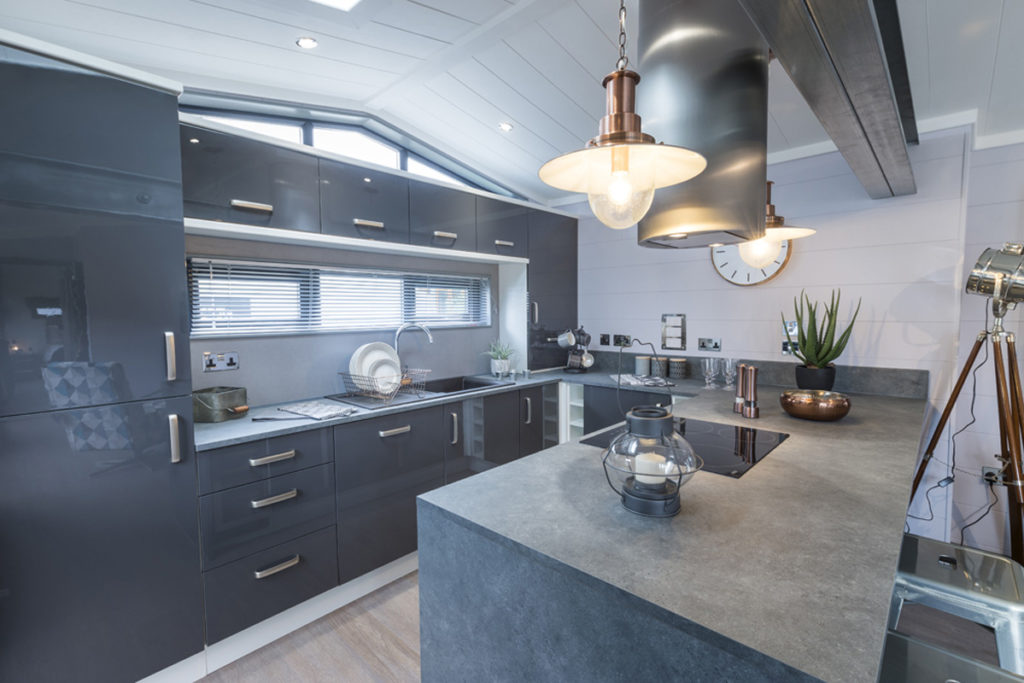 The kitchen itself is, as you'd expect, smart and sophisticated with slate grey cabinets, sleek handles and clean cut edges. The induction hob and oven are integral to a huge block of storage cabinets and a work-surface that could easily double as a breakfast bar and/or dining table – in fact two sturdy galvanised metal stools are provided on the lounge side. Light streams in from a ceiling skylight.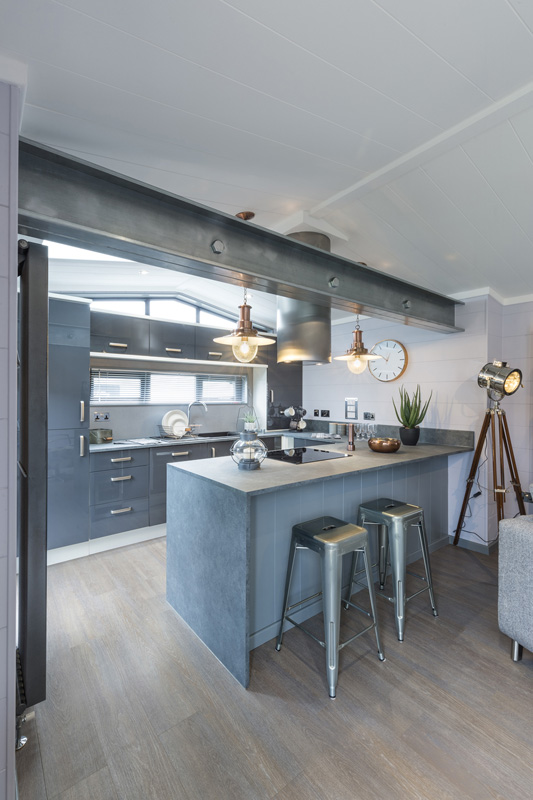 The rest of the kitchen is arranged along the back wall of the lodge and has a set of floor cabinets with the sink offset to the right and workspace to the left.  An arrangement of three slot windows with Venetian blinds separate these from the wall-mounted cabinets above and down each side. To the right is a cupboard for the combi boiler and you also get a built-in dish washer (as well as a washing machine and fridge/freezer) either side of which is a wine rack.  Oh, yes, there's also a wine cooler for those who like to keep their white Burgundies nicely chilled!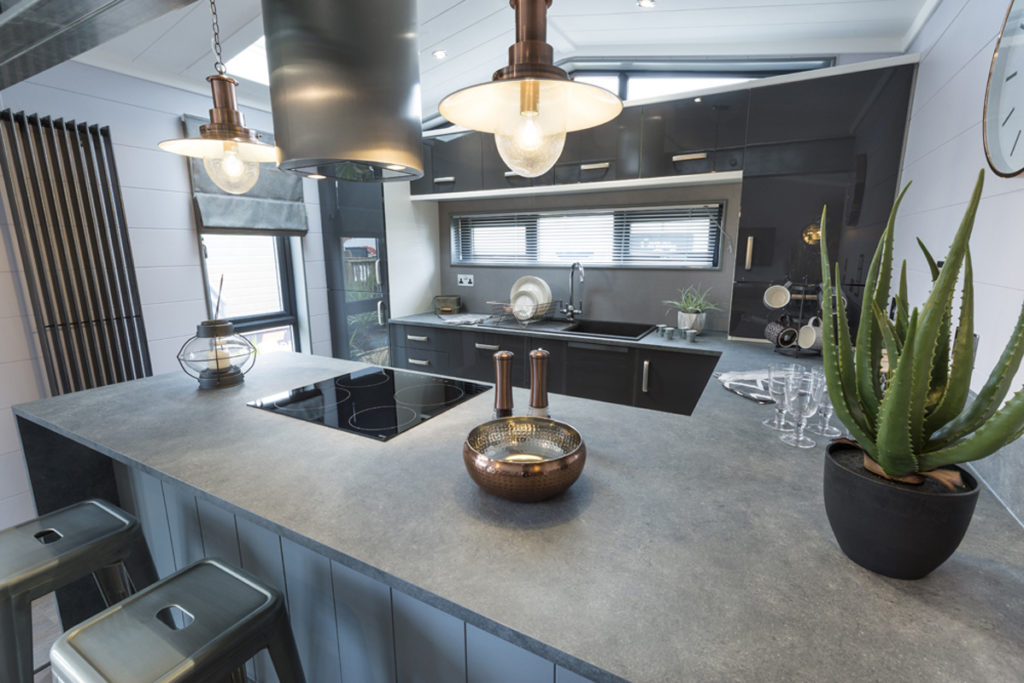 The lounge is square and sleek with light coloured walls and an expensive looking interlocking laminate floor. There are tall, slim radiators in black and the large windows are fitted with slate grey Roman blinds. Tingdene have gone the right way here by providing a modest, yet comfortable two-seater sofa and a smart matching swivel chair with a glass top coffee table set on a rug. This allows the owner to customise the rest of the space to suit themselves. For instance, you could add a couple of book shelves and a sideboard and still not overcrowd the room. A flat panel television was mounted on one wall with space below for a cabinet to support the digital boxes.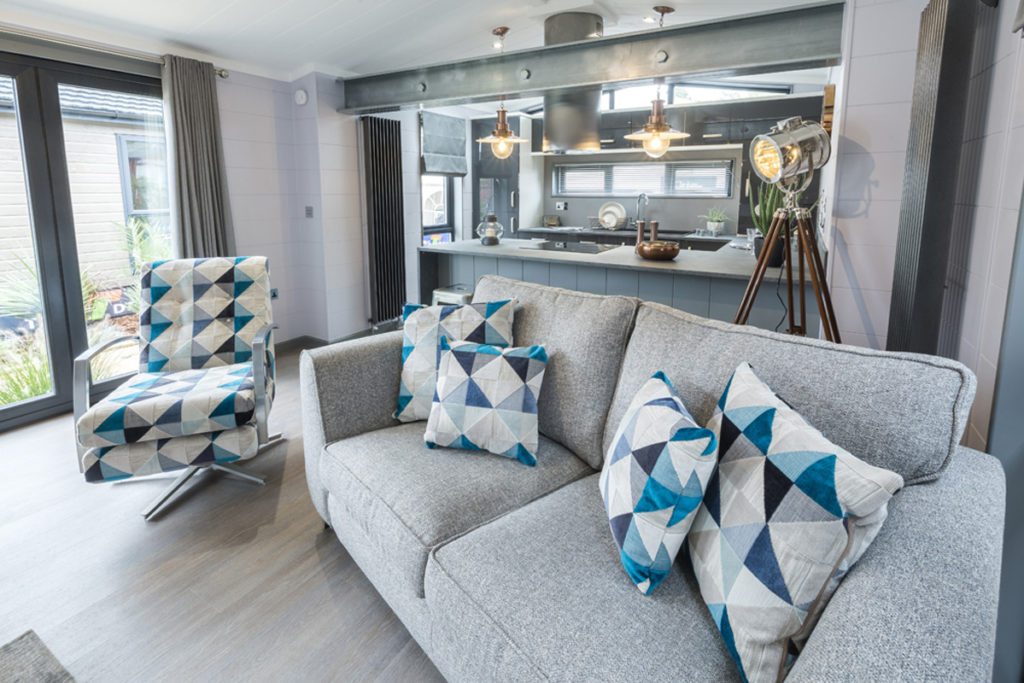 As this lodge has been specifically designed for two people, the space given over to the bathroom is much, much larger than is usual on a holiday home with this footprint. The first thing that attracts the eye on entering is the beautiful rolled top slipper bath with chunky silvered chrome feet that takes centre stage against the far wall. Above this is a shelf for oils, potions (and, we suspect, quite a few romantic candles), and this is topped by a massive mirror that fills the rest of the wall.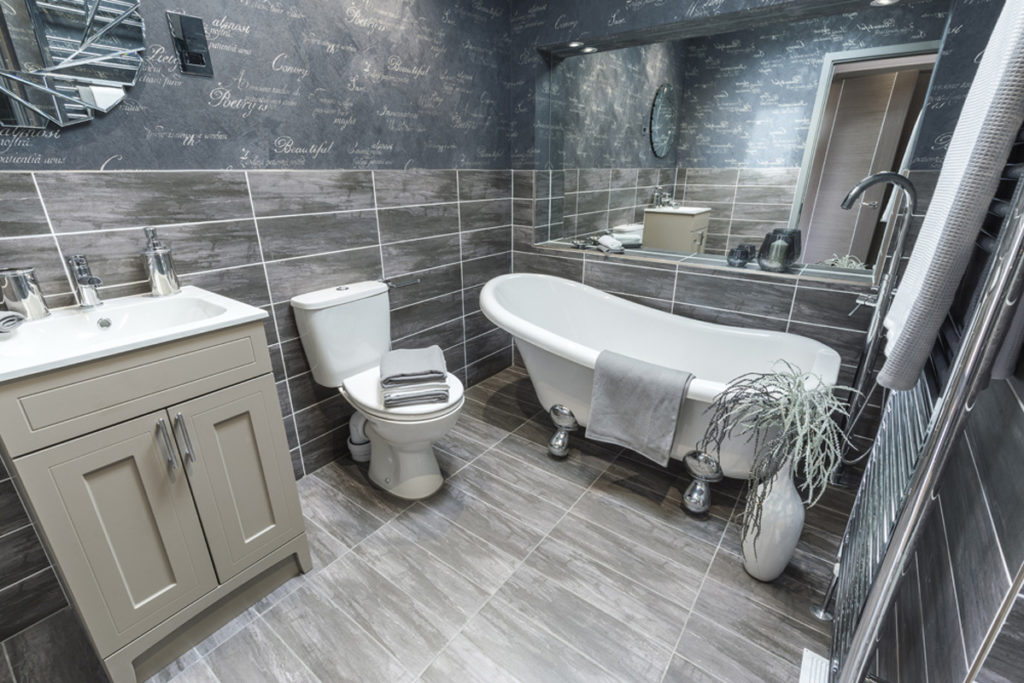 There's a low profile, double flush push-button WC and a big, oblong wash basin mounted atop a storage cupboard. The room is tiled about half way up with the bit up to the ceiling finished in an attractive wallpaper in grey with silvery scrolled writing. Opposite, sits a tall chrome towel rail-cum-radiator. In the corner near the door is a spacious, fully tiled shower cubicle with glass door, power shower and storage niche. The Kudos must have one of the most luxurious bathrooms we've ever seen in a holiday lodge.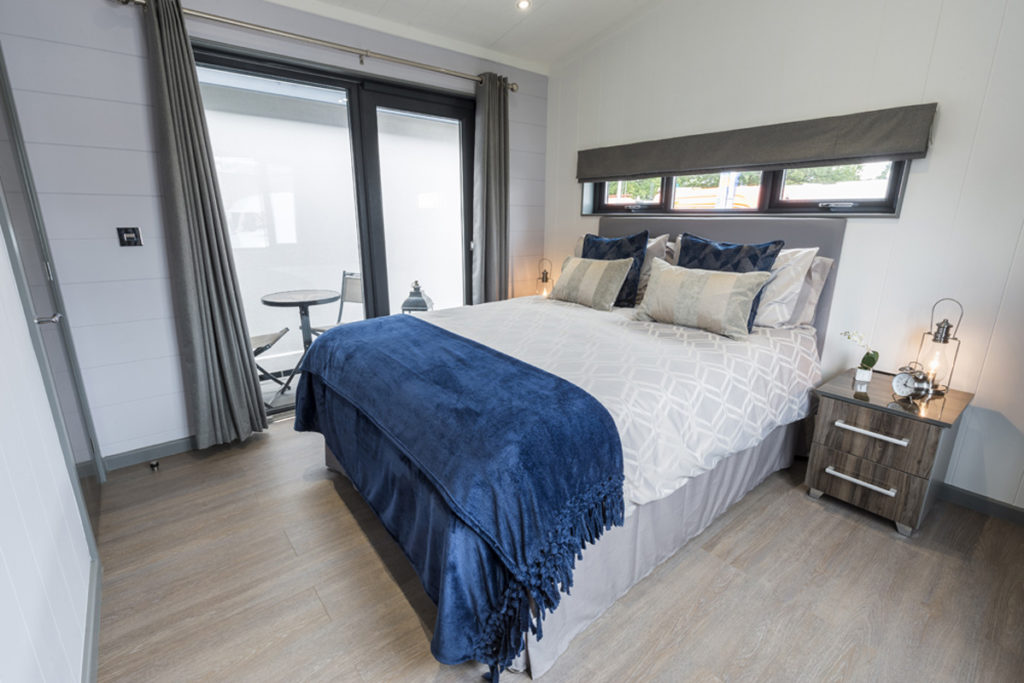 The bedroom, like the lounge, is a very spacious room. There's a vanity table with drawers, stool and mirror and a walk-in wardrobe with hanging space and a tower unit of shelves for folded clothing. You get a king size bed with padded headboard set in the centre of the main wall with twin bedside cabinets. Heating is via a tall radiator and lighting is courtesy of inset LED downlighters set into the ceiling.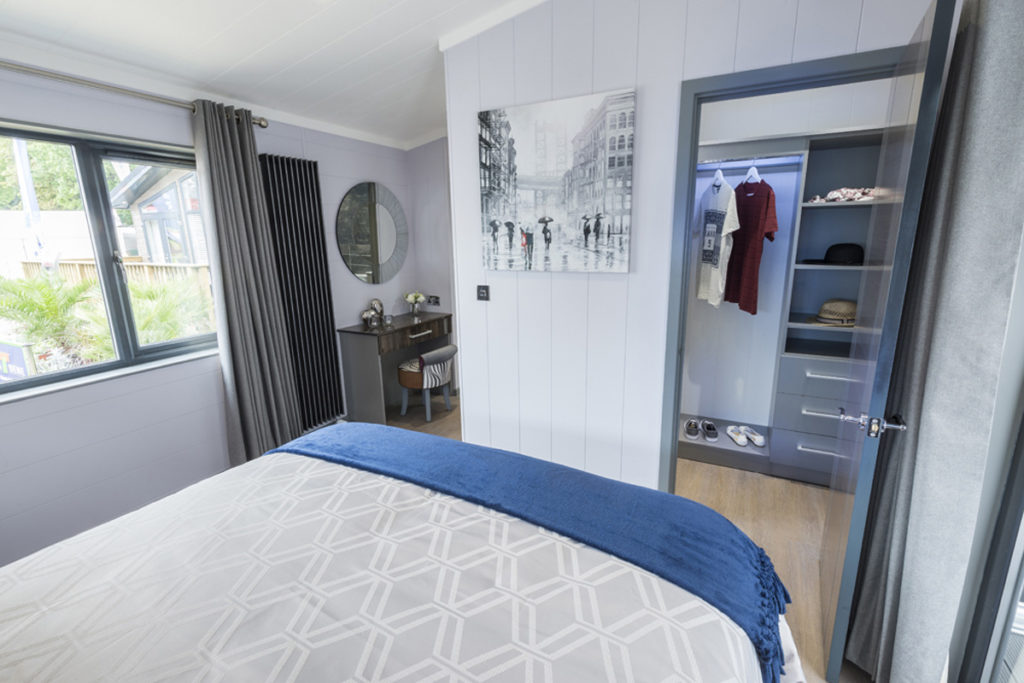 A tilt-and-turn patio door to one side leads onto the small balcony deck we mentioned earlier and is a lovely touch. We could imagine taking breakfast in bed with these doors open on a hot, sunny summer's morning whilst gazing at an amazing view!  This deck also allows extensions to be added to the Kudos if desired.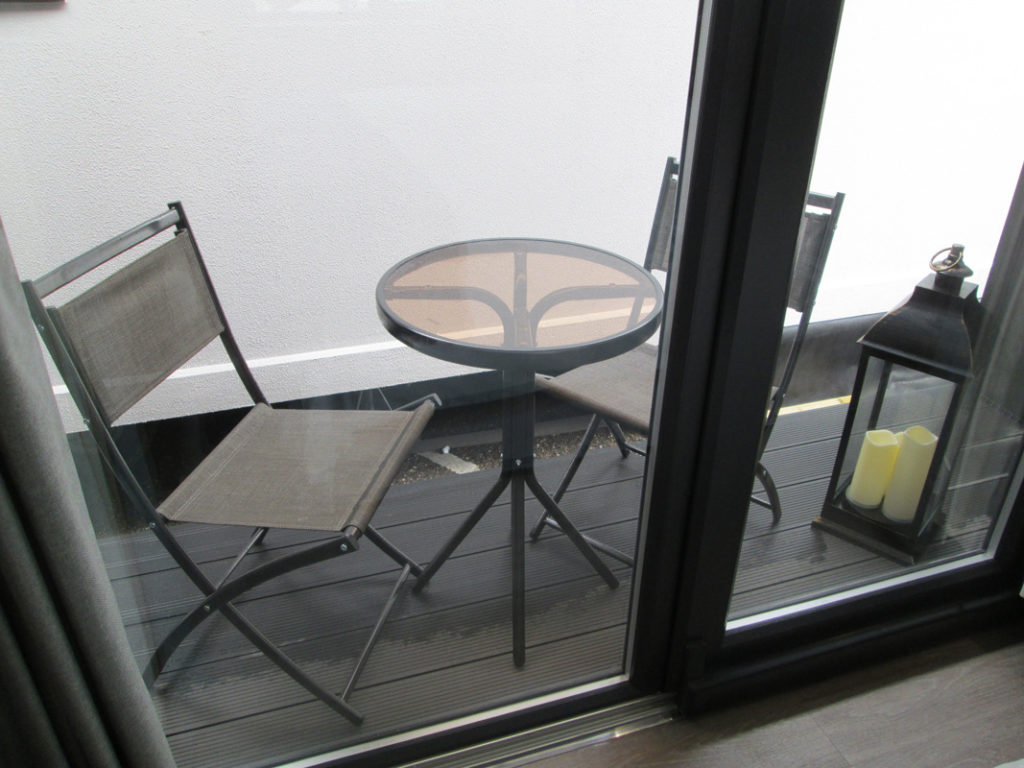 Verdict
We were so impressed by Tingdene's audacious Kudos! It really has taken lodge living to the next level and would definitely appeal to a young, aspiring audience, perhaps sans children, who would enjoy the contemporary, cutting edge sense of style and forward-thinking design.
Plus Points
Strikingly different exterior.
Roomy, uncluttered lounge.
Stunning, well appointed kitchen with lots of extras.
Beautiful, sumptuous bathroom.
Little balcony deck off the bedroom.
Minus points
Might not appeal to the traditionalist – buy hey, you can't please everyone!
In-a-nutshell
As Tingdene say, the Kudos comes from owning this lodge!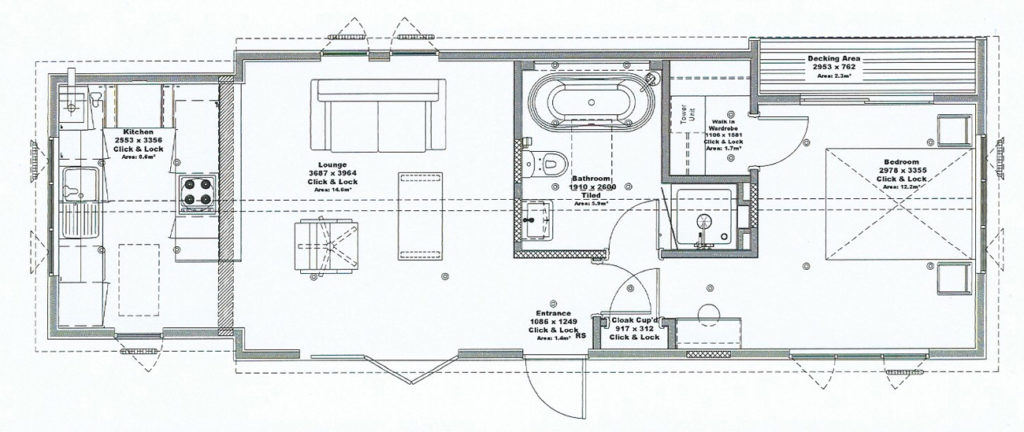 Factfile
Size: 42ft x 12/14ft.
Build Standard: BS3632 (residential).
Berths: Two, in one double bedroom.
Other layouts available: 42ft x 12/14ft 2-bedroom.
Key optional extras: Range of Canexcel cladding in five colours; Different coloured window frames.
Ex works price: £100,434 inc VAT
For more information e-mail: [email protected] or visit www.tingdene.co.uk.
Additional charges will be made by park operators, and/or distributors for transport, siting and annual maintenance. Please check the price carefully before you commit to purchase, as prices vary considerably dependent, amongst other factors, on the geographical location of your chosen park.