It's difficult not to pack lots of accessories when holidaying in your static caravan or lodge to make life that little bit easier or to help you relax.
In last month's community poll we asked owners to vote for their must-have accessories and with over a hundred votes we've pulled together a top five list of things you cannot go on a caravan holiday without.
The results
Taking the number one spot was the TV with 18 per cent of the votes. No surprise really if the TV show Gogglebox is anything to go by!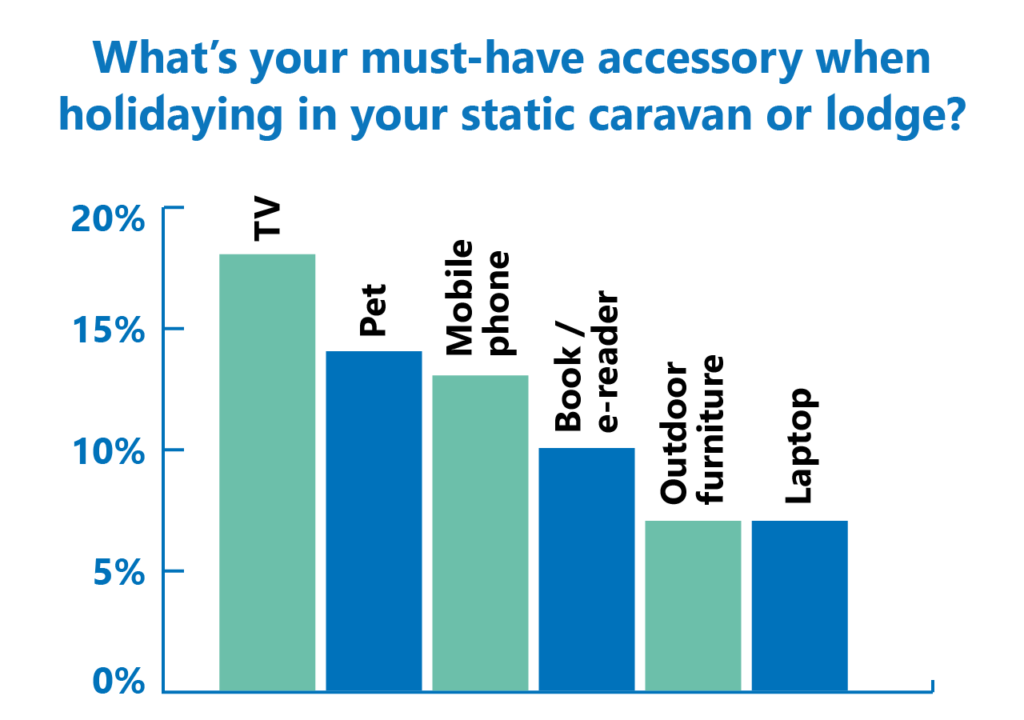 A trusted companion came running up behind in second place in the shape of your pet – gaining 14 per cent of the votes. They'll also need a host of accessories too!
Making sure you keep in touch with family and friends, share those holiday photos on social media or may be even search the internet for things to do, the mobile phone took third place with 13 per cent of the votes.
And a book or e-reader took fourth place with 10 per cent of the votes – a perfect way to relax during the day or before bedtime.
The fifth spot was shared between some more technology – a laptop – and outdoor furniture, so you can enjoy some al fresco dining or simply sit and relax outside your static caravan or lodge.
Your comments…
Shirley said lots of things on our list were necessary but she couldn't be without her Kindle!
The dishwasher also got a mention and another handy accessory was a Karcher for cleaning the windows and shower doors.
Steve Jenkins said a connected mobile device was a must-have with the mobile phone and iPad definitely going in the bag – plus he has a Kindle in the lodge at bedside.
"But the single most used item we have is a generously sized George Foreman Grill which is used daily (both at home and in the lodge)," said Steve. "Quite apart from the obvious bacon, sausage, and burgers, the grill is great for a whole host of other foods – grilled asparagus anyone?"
Caz said: "Apart from my pet dog and all her accessories I always take mobile phone and charger now whereas that didn't matter five years ago! Then it was always TV!"
Don't forget if you're an existing Leisuredays policyholder you can cover your Kindles, tablets, laptops and now even mobile phones with our exclusive Gadget and Leisure Equipment insurance policy.
Thanks to everyone who voted and as always leave your comments in the box below. Plus don't forget to vote in this month's poll about using Wi-Fi or going screen-free…