Poor Wi-fi connection, site fees and misbehaving dogs, topped a table of more than 20 static caravanning pet hates.
Last month we asked static caravan and lodge owners to vote for the things which annoyed them when holidaying on their park.
Also in the top five was noisy neighbours but just as many people hated having to pack up to go home – which is understandable.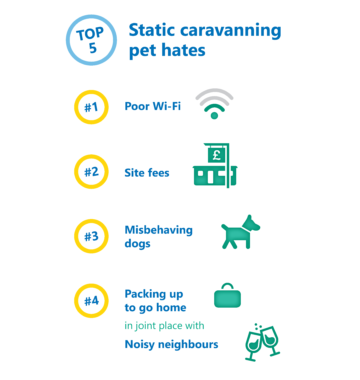 It wasn't all negative, in sixth place with seven per cent of the votes, a number of holiday caravan owners clearly love their holiday and park so much they said they didn't have a pet hate!
Gillian Dickinson was one of those owners: We love our caravan so much and have the perfect site at Bunn Leisure," she commented. "None of the fields apply to us, the place is fantastic."
Other caravanning pet peeves which made the top 10, included people not sticking to the park speed limits and other visitors walking across their holiday plot.
Over to you
What do you make of the static caravanning pet hates poll results? We bet it doesn't put you off spending time in your holiday caravan!