Many of you are getting ready to fling open your static caravan or lodge doors for the new season, so this month we bring you some top tips on spring cleaning your holiday retreat.
It's always nice to enjoy your holiday time in a beautifully clean holiday caravan. Not only will a good spring clean get rid of any unwelcome bugs and germs that might have taken refuge over the over the winter months, it will also help to keep vermin at bay and prolong the life of your caravan's soft furnishings, fixtures and fittings.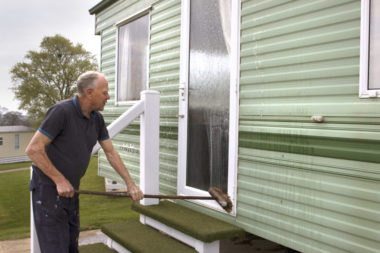 Here's our guide to cleaning your caravan or lodge…
You'll need:
For the inside
– Dusters and cloths
– Polish
– Bathroom and kitchen cleaner
– Anti-bacterial spray
– Window cleaner or white vinegar
– Lemon juice
– A ruler
– A pencil eraser
– Sweeping brush
– Toothbrush
For the outside
– Bucket(s) of water
– Hose pipe
– Multi-functional or V-shaped ladder with platform / scaffold plate
– Extendable or long handled brush / mop
– Sponge or wash mitt
– Caravan shampoo
– Window cleaner or white vinegar
– Chamois leather or microfibre drying cloth
– Plenty of elbow grease!
Internally
Clean and tidy one room at a time. Seeing one room freshened up will inspire you to complete the rest!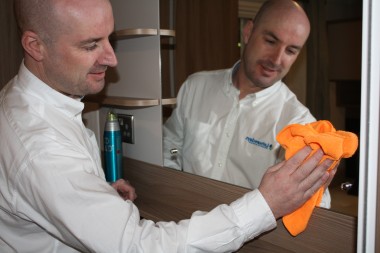 Clean your blinds using a cloth attached to a ruler. It'll easily clean those otherwise tricky to reach spots.
Get rid of limescale in your kettle by squeezing in some lemon juice and adding cold water. Leave for about half an hour and then rinse well.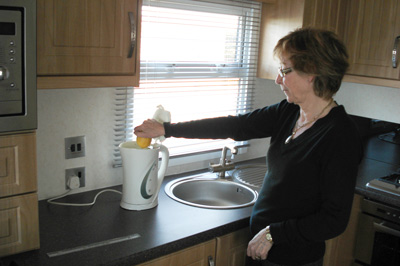 Use a weak solution of white vinegar and water to clean your windows, using a micro-fibre cloth.
Any heel marks on your floor can be removed using a pencil eraser.
Make a list of any minor repairs that need doing while you're giving the caravan a good clean. You can go back to them later or tick them off as you go along.
Carry out a damp test and check for signs of any water ingress and mould spots
Give the bathroom, kitchen areas and appliances a good clean, paying particular attention to the fridge. Use a toothbrush to get into the small nooks and crannies and anti-bacterial wipes or cleaner.
Externally
Check your guttering for any debris and give them a good wash out with a hosepipe.
Thoroughly sweep and wash down any decking areas and check external sheds are all in tact.
One reader recommended using car tar and bug cleaner for stubborn stains on the decking. Just spray a little on the stain,  leave for a minute or two, and then clean off. Use a jet washer across the rest of the decking to lift any debris, dirt and algae, but avoid using one on your caravan and this could cause damage to your seams and seals.
Thoroughly clean your door and window vents and check these and the skirting areas, removing any debris, leaves, twigs or unwanted animal nests that might have paid a visit during the winter. Remember though, many birds are fully protected and you must allow the young to leave the nest before taking any action to block the entrance holes or remove the nest. You can consult the RSPB for advice, if this is the case.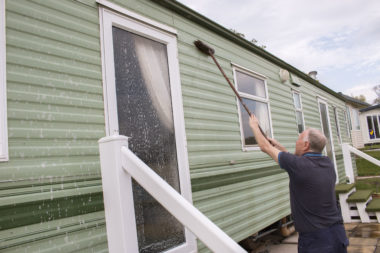 Clean and polish the caravan all over – or get some help in from your holiday park or an experienced cleaning company. If you're going to tackle it yourself then it's probably best to work from the top down with your ladder at the ready and some one to hold it steady!
First rinse to loosen any dirt by spraying with a hose pipe or throwing buckets of water over it.
Take extra care when tackling the roof. Set the ladder's platform or scaffold plate at the right height so you can get to the roof and use the long handled/extendable brush to thoroughly clean the caravan sides and roof. Once you've brushed the shampoo in, rinse.
Wash the sides with a soft brush or using a sponge or wash mitt, and then rinse.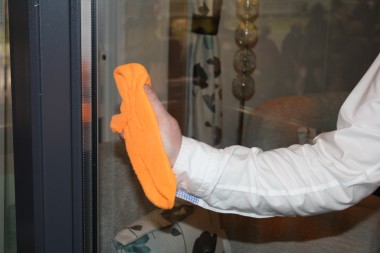 Clean and p

olish windows with a soft cloth. One reader recommended using a car windscreen cleaner for the outside of the caravan's window. One to clean the glass thoroughly and the other to make the glass water repellent.

Check all trims for any splits or cracks and again, make a note of any repair work that needs doing.
Remember to make the spring clean a fun job and that it's getting you prepared for month's of relaxation in your caravan or lodge. And you can always rope a young relative in to help and reward them with a free stay, or food and drink!
Over to you…
If you've got any cleaning tips then please share them in the comments section below.