Static caravan and holiday lodges come in all different shapes and sizes, but fundamentally they all feature the same functional spaces: living room, kitchen, bathroom – you get the idea.
Whether you own a static caravan already, or you're currently on the look out for a new unit, all last month we were interested to find out which room you consider to be the most important.
Let's find out how you voted…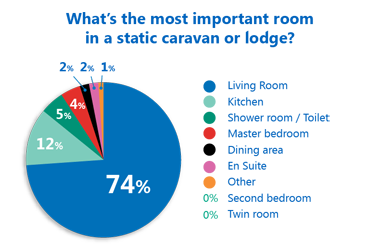 With a good selection of rooms to choose from, we must admit, we were shocked with the huge majority verdict.
A massive 74% of you told us that the living room – usually the central point in any unit –  is the most important room inside a static caravan or lodge.
The second most valued room as voted for by you is the kitchen, which received 12% of the vote.
Shower room/toilet, master bedroom and dining area all received votes, while the second bedroom and twin room scored 0%.
Here's what some of you had to say
Like 74% of people, Derek, voted for "The main living room. You spend more time there than elsewhere."
For Stephen, the kitchen and diner are most important as they're "the heart of the holiday home."
Do you agree with the unanimous verdict? Share your thoughts below.