Riding the crest of a wave with The Reef from Willerby!
The Reef is one of the many new models and innovations from Willerby Holiday Homes, who this year celebrate their 70th anniversary. We saw this compact caravan at September's Lawns show in Hull. It's part of their new 'Hive Collection' range, and is quite unlike any static caravan you've ever seen before from Willerby.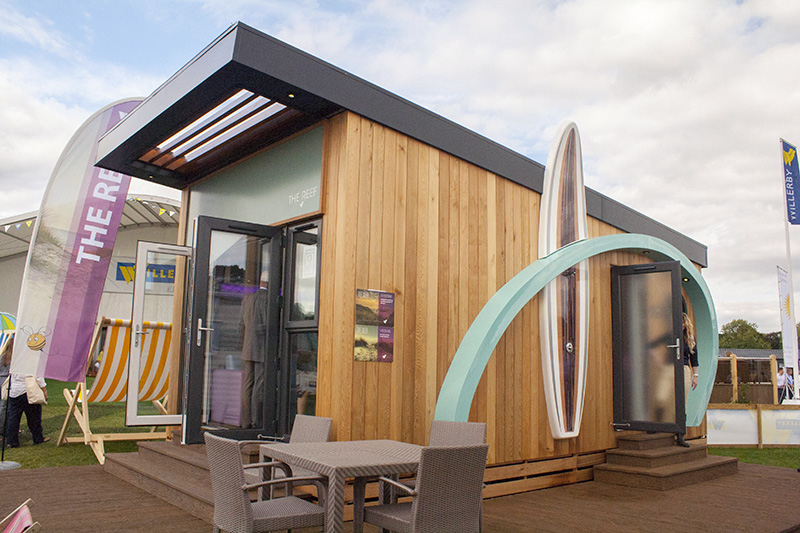 The Hive collection has three separate models – The Reef, The Bluebell and The Deck. It features a customisable interior design which can be tailored to suit a range of different themes. So whether it's The Reef, with its cool laid-back retro surfer style; The Bluebell, which feels like a woodland lodge; or The Deck, which is designed for a coastal retreat, there's something for everyone here.
Each single unit accommodation pod, which sleeps up to four people, measures 22ft x 12ft (8m by 3.6m) and is designed to look and feel more like a boutique hotel than a caravan. It remains to be seen whether static caravan parks will be happy to site and sell these caravan units for private use or whether they'll be bought by parks as rental accommodation – but we'd certainly like to hear your thoughts on them.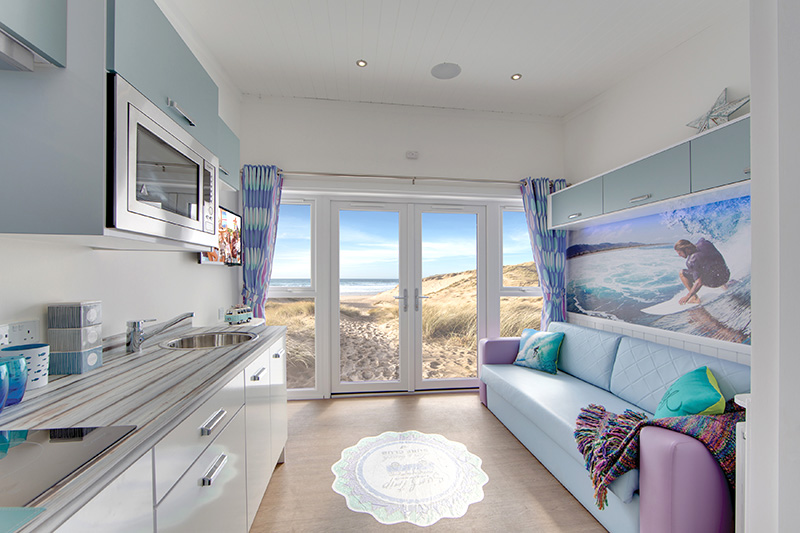 From the outside, the Reef is very striking and the first thing you notice is the huge three dimensional surf board and green 'wave' on the side! The unit is mainly clad in stout looking strip timbering with a black roof with overhang to the front and crisp, no nonsense lines. The slab of the overhang is made less imposing by the introduction of three large timber slats and inset LED downlighters. There's also a useful external shower head – ideal for washing off salt water and the sand from between your toes after a swim or surf in the sea!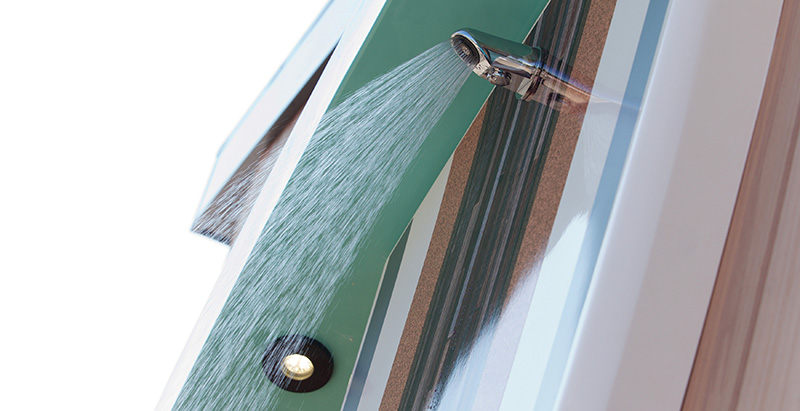 The front elevation has a huge black aluminium framed double glazed patio style door with side windows above which is a panel in green to roof level featuring the Reef's name and Willerby motif in one corner. There's a similarly glazed side access door towards the rear of the cabin and a feature circular porthole window. The other side has another smaller window for the wet room.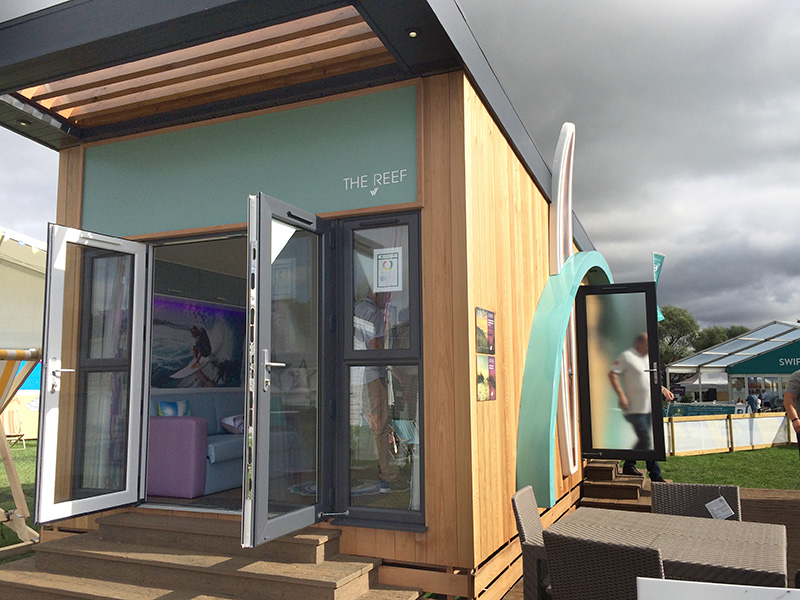 The Reef is manufactured using Fermacell walls to provide first rate insulation; the units also include central heating throughout and LED lighting, as well as a practical kitchenette, shower room and lounge with two of what Willerby call 'fallout' beds, which are really sofa bed conversions, but which work really well on the Reef we saw. With its clever use of space it feels light and spacious, yet compact and cosy, and there's plenty of storage provided to keep it clean and clutter-free.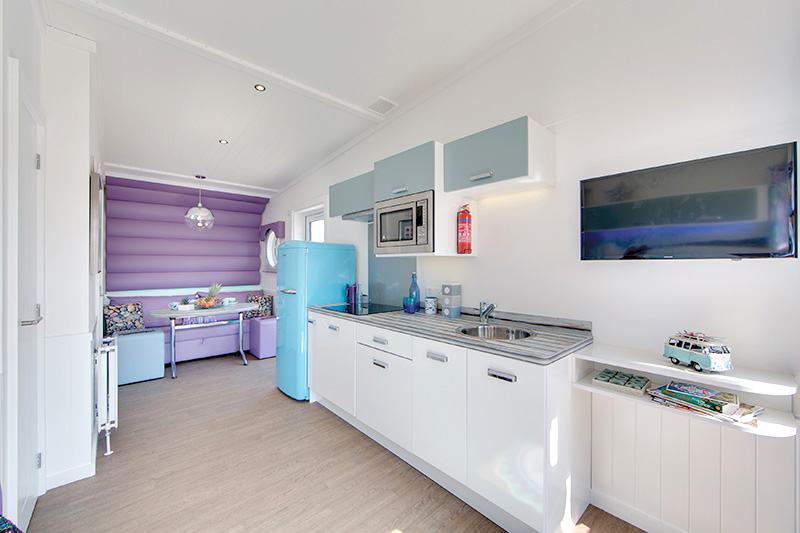 With a high specification finish inside and out, the Hive Collection is designed to last for 60 years. Units are built to EN 1647 standard equivalent to most static caravans.
Stepping inside, the interior is very soothing and relaxing with discreet LED lighting and curvatures within the walls that add to the overall sense of style. The colour scheme is fresh and distinctive with hues of ocean blues and purples – although this scheme would not to everyone's taste.
To your right, the kitchen is the perfect place to cook up a variety of meals from breakfast to dinner. A row of cupboards is surmounted by a countertop in a planked timber effect – again this is unusual and might take a bit of getting used to! However, everything is wipe clean so you shouldn't have to worry about the mess. A circular stainless steel sink unit and mixer tap is provided and there are open shelves on the end of the row. A ceramic hob with extractor hood is also fitted into this counter top.
There's space for a flat panel TV above the end shelves and aerial and power sockets are provided. Above, wall cupboards and a built-in microwave oven provide more storage and on the far left is a retro style fridge freezer in a striking bright blue.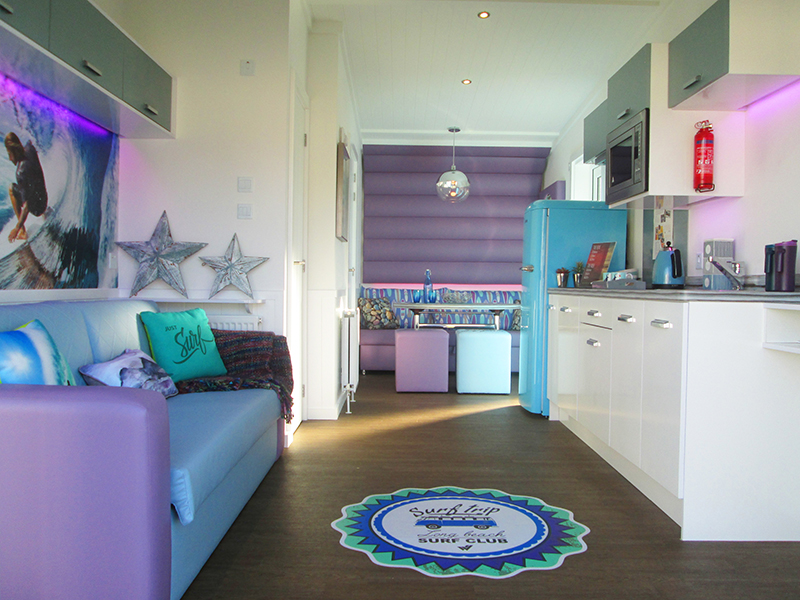 Opposite the kitchen is the main seating area with a large sofa which converts into a spacious double bed. Above this is a splendid surfing mural with three thin but useful storage cupboards above that. We were impressed with the use of discreet LED lighting on the Reef. These have been fitted behind the cupboards and give a cosy and sophisticated glow when switched on. We imagine that this would be quite stunning at night.
The Reef benefits from full central heating throughout so it feels like you're in modern new-build home and makes it usable year-round. You can also connect to The Reef using Bluetooth, and hook your device up to the internal speakers.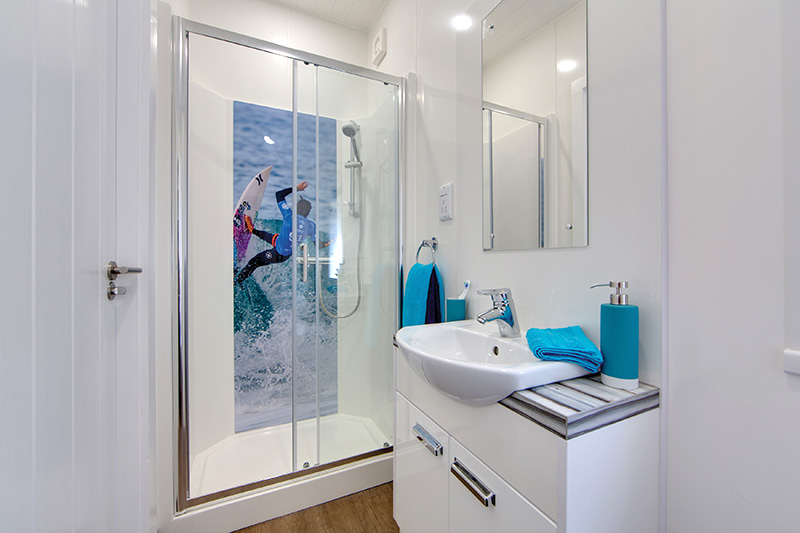 The wet room (or bathroom) is relaxed and bright with plenty of room. A large shower cubicle has a sliding glass door and a surfing picture as a feature on the back wall. Centrally, there's a large wash basin with plenty of storage in cupboards below and a mirror above plus a low profile toilet (all the works concealed behind panelling), more storage cupboards and a set of open shelving for things like towels and flannels. In fact, this small room has more clever storage in it than many a larger, more expensive static caravan or lodge – quite a feat of integrated, well thought-out design!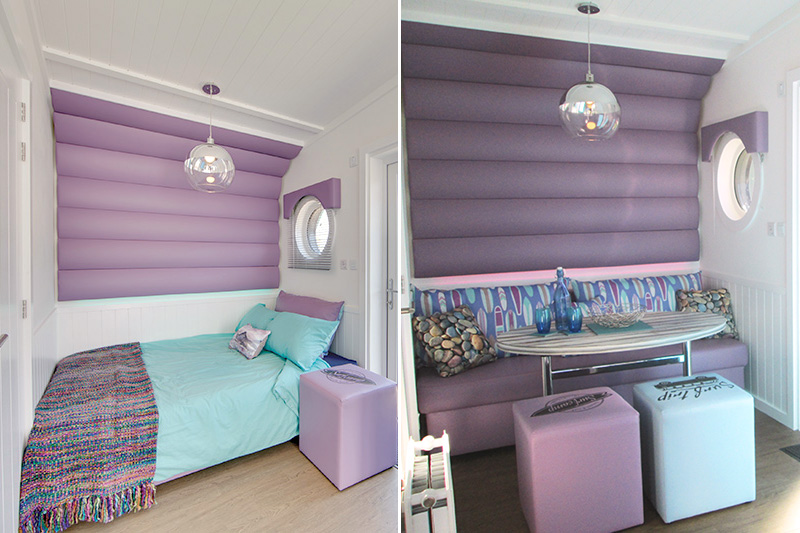 Back in the main accommodation area, the rear of the Reef features a second seating area which has a funky curved rear wall, deeply padded in purple and a porthole window to one side. This is the dining area with a central table and a bench banquette with two soft cube pouffes providing the other two seats. When not in use, this area converts into the second double berth by moving the table and lowering the bench seating. One of the pouffes then serves as a bedside table – very neat! Lighting here is by a single feature globe pendant fitting.
On the same side wall between the main sofa and the wet room, another door opens to reveal wardrobe storage with both hanging space and open shelves.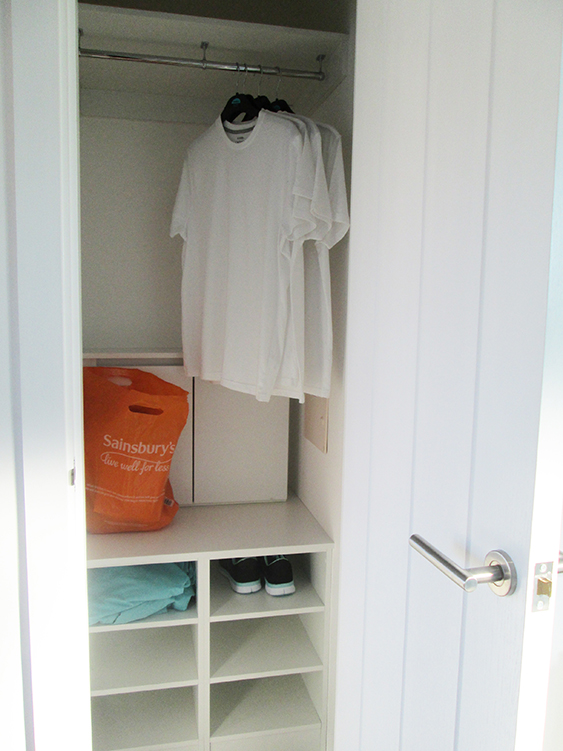 The Reef combines the comfort of a hotel with a compact space for a holiday experience with a difference and not just a bed for the night. With an endless amount of customisations to choose from, including colour scheme and decor, it can match both your lifestyle and personality.
Verdict
Over the last few years the glamping trend has taken the camping and caravanning industry by storm and has created a new generation of holiday makers who want to do things differently. Willerby's Hive initiative and in particular the Reef should go a long way to meeting that demand.
Plus Points
Striking exterior profile.
Ingenious space-saving seating and beds.
Bespoke interior designs available (including colour scheme).
Super use of storage.
Minus Points
The colours on our review model may not be to everyone's taste – but then you do have two other models with different colour schemes and themes to choose from!
In-a-Nutshell
Compact static caravans with distinctive styling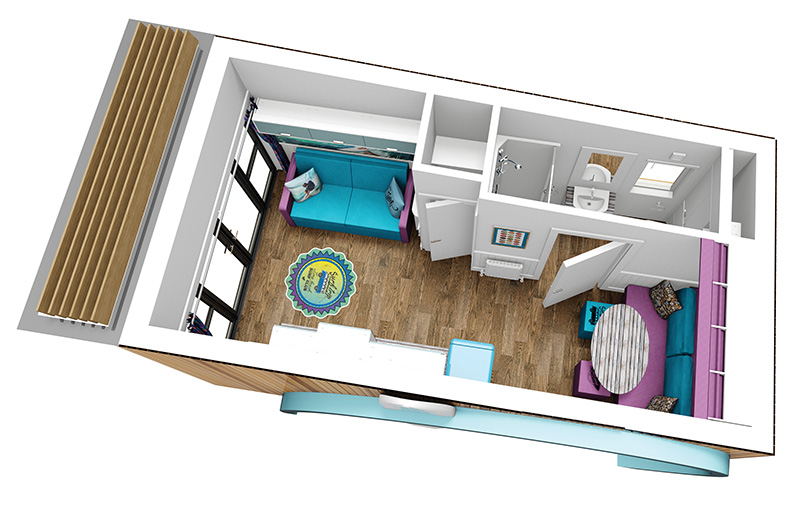 Would you swap your static caravan for a Reef? Tell us in the comments below…
FACT FILE
Size: 22ft x 12ft (8m by 3.6m).
Build Standard: EN 1647.
Berths: 4 on two 'fallout' or sofa beds.
Other Layouts Available: As well as The Reef, the Hive Collection also features The Bluebell, and The Deck and further information on these and the various bespoke interior combinations can be had by contacting the manufacturer direct.
Ex works price: £43,470 inc VAT *
For more information email [email protected] or visit www.willerby.com
* Additional charges will be made by park operators, and/or distributors for transport, siting and annual maintenance. Please check the price carefully before you commit to purchase, as prices vary considerably dependent, amongst other factors, on the geographical location of your chosen park.