Willerby's all-time best-selling Aspen holiday home has undergone a transformation that gives it a more distinguished look and feel.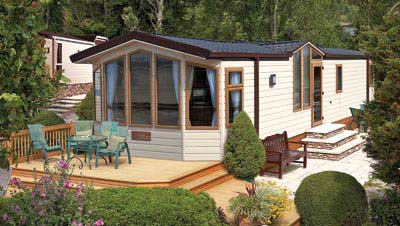 The new 2009 model, the Mark 7 Elegance gets a unique exterior, with feature front windows, and is enhanced by new oak and cream colouring, which gives the appearance of a luxury lodge.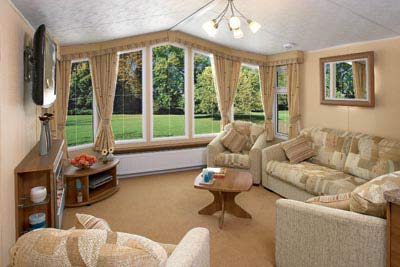 The interior now has a striking walnut finish, creating a stylish and contemporary environment. The high ceilings and bright and airy feeling in the open-plan living area is accentuated by a delicate colour palette and subtle yet striking soft furnishings.
The cathedral style windows afford panoramic views to three sides helping to fill the room with natural light.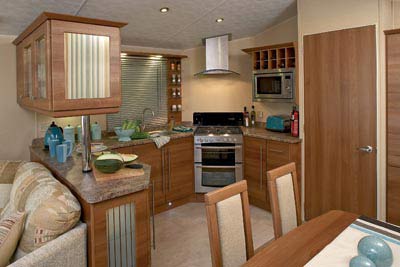 In the kitchen is ample cupboard and worktop space along with standard features such as a built-in microwave and fridge-freezer, wine rack and clever storage solutions. There is even a pull-out ironing board.
Adjacent to the kitchen is the dining area with a freestanding dining room table and chairs, creating an excellent link between the kitchen and living space.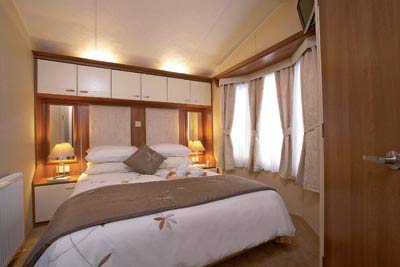 Large wardrobes and overhead cupboards and a beautifully adorned bed are in the master bedroom.
The en-suite WC has obvious benefits, with the family shower-room benefitting from a generously-proportioned shower cubicle, vanity cupboard and modern white sanitaryware.
Despite a raft of improvements, the Willerby Aspen has not lost any of its original appeal and internally, clever cosmetic changes have been made to guarantee this popular model remains an affordable choice for those seeking comfort and luxury.
Its main features include:
panoramic front windows
vaulted ceilings
gas combi central heating with thermostatically-controlled radiators
fixed lounge seating, including sofa bed, plus freestanding armchairs
freestanding four-place dining set
integrated full-size fridge/freezer and microwave oven
bay window and en suite WC to master bedroom
fold under twin in second bedroom and
energy efficient lighting.
Verdict:
The Willerby Aspen continues to push the boundaries of holiday home design resulting in a model that is not afraid to stand up and be counted.
Specification:
Type: single unit caravan holiday home
Standard: BS EN1647
Size: 37ft x 12ft
Bedrooms: 2
Other versions: 37ft x 12ft 3 bed
For more information, visit Willerby Caravan Holiday Homes 
Get a holiday home insurance quotation from Leisuredays by clicking here.