It's the time of year when manufacturers unveil an array of new park and holiday homes.
Many of them were recently unveiled at the Caravan Extravaganza at The Lawns in Cottingham earlier this month.
Some of the key models shown by manufacturers included:
Advent displayed its new Oregano leisure lodge. The show model was a 38ft x 20ft version and Advent expects to introduce two more standard models, 36ft x 20ft and 40ft x 20ft in the future. Advent also displayed a special Jasmine Opus leisure lodge.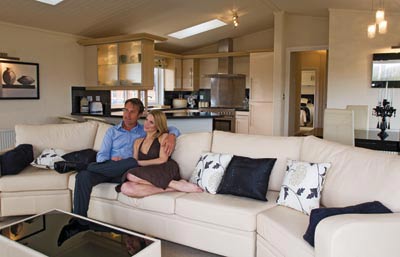 Advent Jasmine
Atlas showed an extensive range of homes including its two twin unit lodges, with a 40ft x 16ft, 2-bed version of the Laburnum and a 43ft x 20ft 2-bed Wisteria.
BK Bluebird launched the Sherborne, which will fit between the Sheraton and Senator models in the company's range. Other homes on show included the Calypso and Calypso Platinum, which include small but important changes for 2009, including a new upholstery fabric.
Pathfinder's centrepiece was the Silverton Lodge (45ft x 20ft), a cedar-clad home with contemporary interior.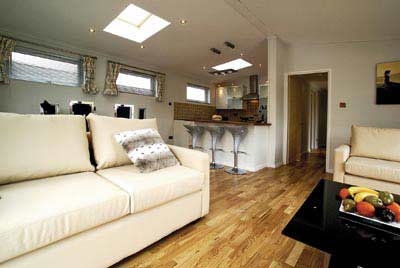 Pathfinder Silverton Lodge
Pemberton Leisure Homes showed the medium range St Moritz, the first run of which sold out as soon as it was launched. Joining it on the company's stand was an updated version of Pemberton's well-established Knightsbridge.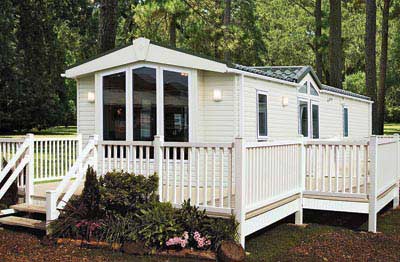 Pemberton St Moritz
Swift Holiday Homes showed its new top-of-the-range Champagne model. New finishing details enhance the Chamonix range, a new 30ft x 12ft 2 bedroom layout in the Moselle and new energy-efficient lighting is at the top of the list of improvements to the Burgundy range.
Tingdene's new launch is the Sandpiper. It is one of the first lodges with a complete open plan front-to-back layout. It comes with vaulted ceiling with high-level windows, two double bedrooms, two shower rooms, flat screen TV integrated into the fireplace and a skirting board heating system.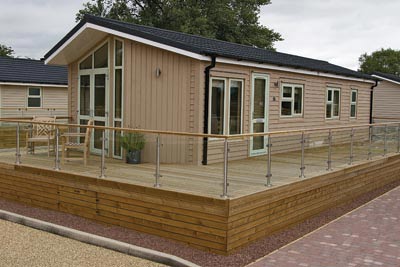 Wessex Sanctuary
Wessex showed two versions of the Hideaway lodge, which it claims heralds the arrival of the next generation of lodges. It also showed the new Sanctuary lodge, a 40ft x 20ft, cedar clad home.
Source: