Because most modern static caravans and holiday lodges come pre-styled and furnished, it's not always easy to put your own stamp on their interior or exterior design. But if your caravan is a more than a few years old and you're beginning to feel as though your pride and joy could do with a makeover, it could be time to spruce things up a little.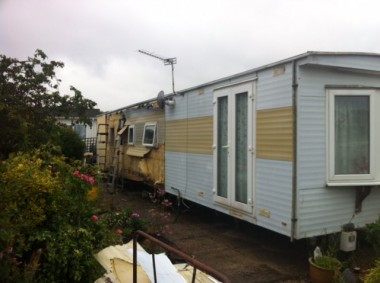 There are a number of things you can do to bring an older static back to life. With the help of refurbishment specialists, CnC Park Home Services, we've created this 10 top tips to modernise a static caravan or lodge guide to help get you started.
1. Spot the trends
Before you make a start on making changes, it's worthwhile spending a little time researching what does and doesn't work when modernising a unit. According to CnC Directors Claire and Chris, exterior cladding, constructing new walls and coating, roofing, double glazing are incredibly popular with static caravan owners nowadays. So too are conservatories, extensions, porches, insulation, verandas, decking and skirting.
In terms of interior work, we're told that new kitchens, bathrooms and flooring are trending at the moment.
2. Know your limits
Interior work is relatively easy for any DIY enthusiast to get stuck into, but if don't feel up to challenge there are a multitude of companies which provide this service so it could be worth speaking to a professional if you want to guarantee that the work is carried out correctly.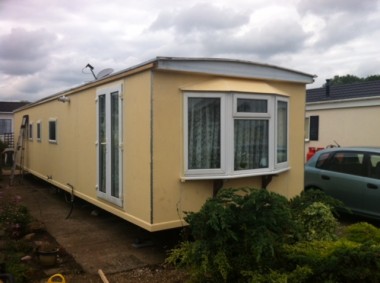 Internally, static caravans are usually made of hardboard and ply wood, and they use aluminium on the exterior, so the work you're able to do could very much depend on the materials you're faced with.
3. Start with interiors
Replacing the kitchen or bathroom inside your unit doesn't have to be expensive task; in fact you can usually pick up units and worktops for a bargain price at local DIY stores. Be careful when buying shower units though, those you see in statics and lodges tend to be smaller than the standard size. For 'caravan' style showers, it's best to look online.
You can also source soft furnishings online too. If you're looking for a high quality finish, CnC recommends replacing your current seating upholstery, cushions, curtains, etc with made to measure upgrades. Subtle changes such as a new colour scheme, fabric type or texture could also help breathe life back into your unit
4. From the ground upwards
You can make changes to your unit's flooring relatively easily nowadays too. CnC Director, Claire explains, "Carpets, lino and even laminate flooring can give a wonderfully fresh feel and are always worth replacing when modernising your static home." 
5. Consider upgrading exteriors
Most statics situated on holiday parks tend to have aluminium exteriors, but this doesn't mean they must remain this way forever. Switching to vinyl cladding is fairly easy to do and as well as completely transforming the overall look of the caravan, it also helps to insulate the unit and adds to its weather proofing properties – it's maintenance free too!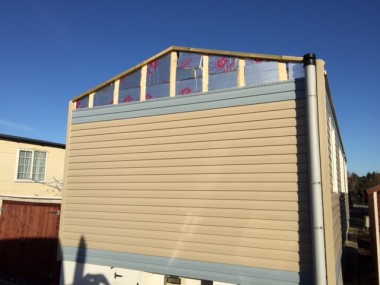 6. Upgrade windows and doors
Although the odd bit of DIY is encouraged here and there, it's recommended that you leave windows and doors to the professionals, especially as they tend to be built specifically for the unit.
Chris advises, "Windows needn't be replaced unless they're 'blown', damaged or show condensation. Blown windows occur when the sealant between two panes of glass comes away to let air and moisture in. Adding new rubber seals on openings will lengthen the life span or windows, as will having double glazing fitted. If you're looking to make more substantial changes, you could change the size of the windows or add in patio doors to bring the outside in."
Of course double glazing is a popular upgrade with owners who plan to use their caravans for longer parts of the year including winter months.
7. Make the most of outdoor space
Adding a veranda to your static caravan or lodge is another way to bring it up to the 21st century. Many consider verandas a luxury but if you have the outdoor space to play with and your park permits installation, they offer great practical benefits!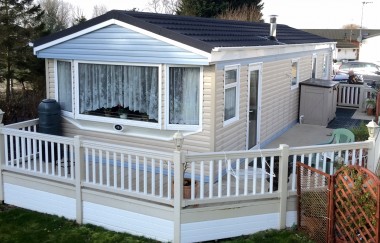 "A lot of owners have verandas fitted along the length and short side of their unit for extra living space and 'Al Fresco' dining in the summer months," explains CnC Director, Claire. "Verandas can be of a composite wood style or wood decking type. Composite wood has the benefit of being maintenance free and lasts longer but it is the more expensive option, whereas wood decking tends to be cheaper but usually requires annual maintenance."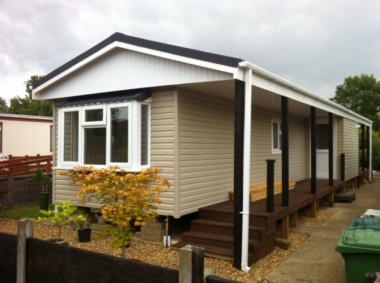 8. Splash out on a new roof
Nothing screams old unit quite like a damage or decrepit roof, so if you're looking to make the ultimate home improvement or you want to completely transform your unit, you might want to think about installing a new pitched roof.
CnC advises, "Always ensure roof tiles are lightweight and that they're the right type for your unit."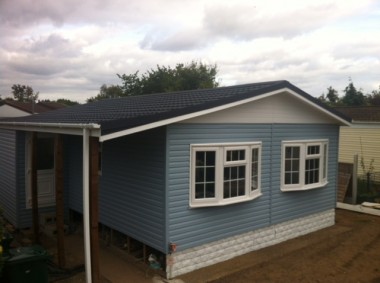 9. Speak to the professionals
Like CnC Park Home Services, there are businesses out there that specialise in interior and exterior modernisations. Pay extra attention to those that have been trading for a long time as they will have a better understanding of what's involved when refurbishing a unit. We'd always recommend speaking to your park operator first as they may have approved contractors who can do the work.
10. Bear in mind the age of your unit
Generally owners won't embark on modernising units under five years old. However, if your unit is not that old and if you intend to make fairly major changes, we'd always recommend checking if the alterations will have an impact on your manufacturer's warranty. Bear in mind also that some parks have upper age limits for caravans – make sure you don't spend huge amounts on renovating your caravan only for the park to say it has to be replaced in one or two years.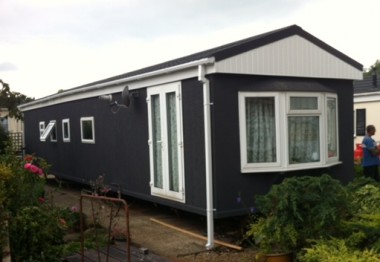 Speak to your insurer
If you have recently modernised your static caravan or lodge and you're not sure if an increase in the property's value could affect your insurance, keep all receipts of work carried out and have a chat with your insurance provider to see how to revalue the unit on your policy.
Share your top tips! 
If you're in the middle of a refurbishment project, or you've recently tried your hand at static caravan DIY, we would love to hear from you. Share your stories, hints, tips and progress updates right here on the blog and join the conversation!
For information on our popular 5 star defaqto rated static caravan insurance click the link.