Back in December we launched an exciting competition to give you the chance to win a truly unmissable prize; a VIP tour at a leading static caravan and lodge manufacturer factory.
We asked you to tell us (in under 50 words) why you deserved to win the exclusive factory tour of Willebry Holiday Homes and Regal Holiday Homes, depending on your preferred choice. We received a fantastic response, and after careful consideration we're thrilled to announce our winners.
Huge congratulations to Lynda Anderson and Gary Walker! Lynda chose to take a tour of the Willerby factory, and Gary will be heading to Regal Holiday Homes.
Take a look at the winning entries…
"I would love to see how all the caravans are made from scratch to the finished product. Can't get enough of caravans I'm always looking at different makes and models and can't resist going inside and checking out all the different specs. Must admit Willerby is my favourite so well made and nice touches on things that matter. That's why I have a Willerby and love it."
Lynda Anderson, winner of Willerby Holiday Homes tour

"Through the designers, I would love to see how dream holidays are made. And through the fitters, how they are born into a reality."
Gary Walker, winner of Regal Holiday Homes tour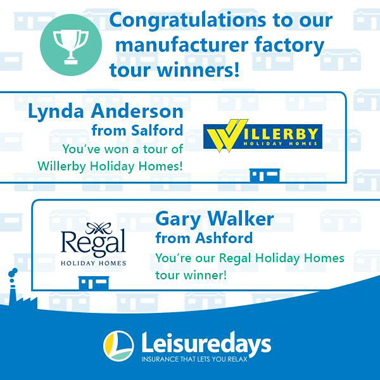 Here's a reminder of what the lucky winners will receive:
A welcome and introduction from Managing Director / Sales & Marketing Director
A complete guided tour around the factory where you will be able to see statics and lodges in the various stages of construction
An opportunity to view your chosen manufacturer's latest ranges
An introduction to the design and visualisation department
Complimentary lunch
Commenting on her win, Lynda tells us, "I didn't think in my wildest dreams that I would win, and to be honest I put it to the back of my mind..then I got the phone call to say I had won and what a fantastic surprise it was! I'm looking forward to seeing how you start from scratch and build through to a fantastic product which Willerby are renowned for."
Gary comments, "We were really surprised to be winners – believe it or not, we've never won anything before (other than £10 on the lottery)!  The news came as a bolt-out-of-the-blue, and we're really excited to get the behind the scenes tour!  It will give us the chance to see how much work goes into producing a holiday home – something we all, no doubt, take for granted.  And we're looking forward to getting a sneaky peak at the latest models (and maybe get to sit in one or two of them too). We can't wait!"
We'll have plenty more competitions coming over the next few months. Keep your eye on the blog for the latest updates.