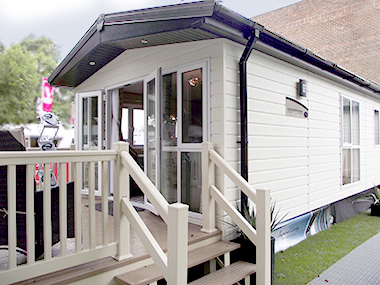 New for the 2015 season and based on the 39ft x 13ft footprint, the Sandringham static caravan from Regal is available in several combinations; a two bed model, a three bed model, side French door option, a two bed with en suite shower option, and a two bed with bathroom option. This gives the average family of four the flexibility to choose a holiday home that best suits their needs.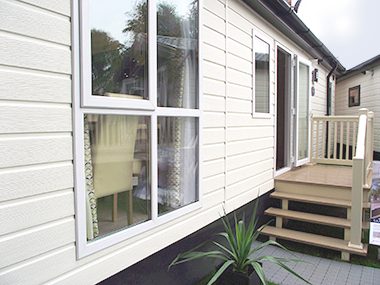 The exterior is fairly standard in that it features a pitched roof with overhang and integrated lighting to the front. Aluminium cladding has been used on the walls and domestic style gutters and downpipes complete the scene. The dark pantile roof contrasts nicely with the light exterior walls and the front elevation is fitted with a huge French door that would open out onto whichever decking system you choose.
The caravan sits on a twin axle pre-galvanised steel chassis with a detachable tow bar (handy if you ever need to move from one site to another) and all exterior walls are 50mm stud construction with 50mm of polystyrene insulation throughout.
The vaulted roof also has a minimum ceiling height of 7ft . There is, of course, underfloor insulation and all pipework is fully lagged. There are also various optional extras available including BS3632 Residential Standard, front windows instead of the French doors, bath in lieu of a shower and integrated dishwasher or microwave.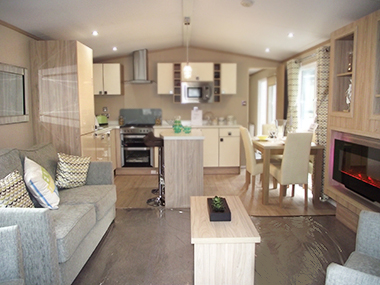 Stepping through the French doors at the front, you enter into the lounge which is nicely open-plan with the kitchen. The main colour palette here uses shades of grey and accent green which works well and have a calming, contemporary feel. The lounge is fully carpeted and features a two seater sofa (which becomes a sofa bed for occasional guests) and twin armchairs plus a central wooden coffee table. The amount of light flooding in from the massive front windows really helps to give an impression of space here.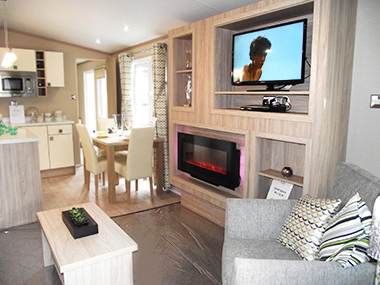 On one wall, opposite the settee is a large, wooden unit incorporating the flame effect electric fire and entertainment equipment: TV, DVD player/satellite box etc. The fire itself is long, thin and very stylish – almost like a widescreen TV. There are four niche shelves in this unit for books and ornaments. The stylish chrome light switches and power sockets offer nice touches throughout.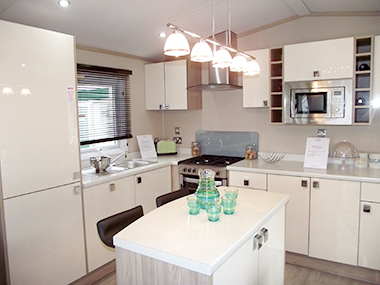 Moving on into the kitchen area, a dining table and four chairs are provided to your right and an unusual central island unit is to the left of the table. This has twin stools, a worktop and cupboard storage below. Although I could see this being useful perhaps for veg preparation, the amount of space it takes up might make moving around this area a little tight, especially with four people plus guests staying over.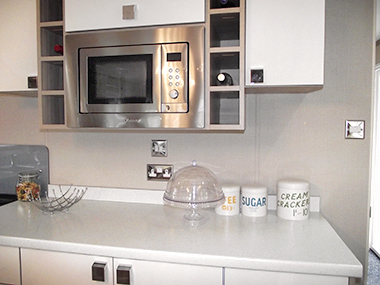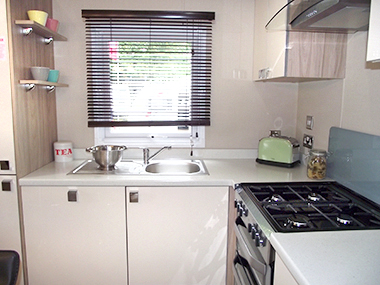 The kitchen itself is very well laid out and features smart, high gloss units in cream with square chrome handles and soft-close mechanisms surmounted by white countertops. The 'L-shape' has plenty of cupboard and drawer space, the stainless steel sink is in a convenient position by the window and the lighting is well positioned to give maximum benefit to the cook. Standard equipment comprises a four-burner hob, oven with grill and integrated fridge freezer. A recirculating glass cooker hood is also a standard fitment.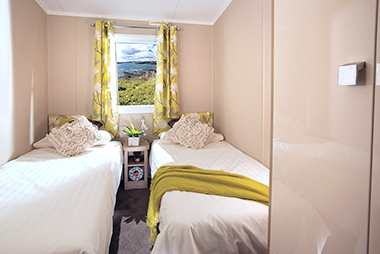 A door to the right of the kitchen takes you through into the hall of the Sandringham. Ahead, a cupboard contains the caravan's central heating and hot water boiler and to the left is a small coat and boot storage cupboard. Adjacent to this, a door leads to the smaller of the Sandringham's bedrooms with its twin beds, central table and wardrobe. On first sight I always think that the second bedrooms inside some of these caravans are very small, but then they are mainly used for sleeping and the storage space is more than adequate for the clothes taken on holiday.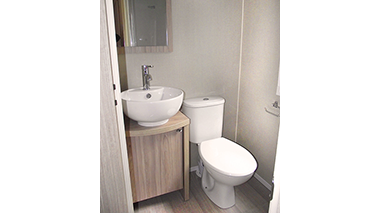 The family bathroom comes next on the left and is fitted with a spacious corner shower, a flushing toilet and corner handbasin and storage unit with illuminated mirror. Inside the Sandringham this space is a decent size and customers have the option of a bath and pedestal handbasin instead of the shower combination fitted to our review model.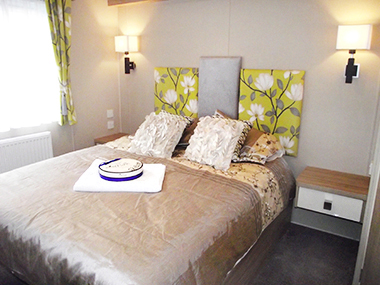 The final space is taken up with the main bedroom (on the three bed model, this area across the rear of the home is split centrally and features two further twin bedded rooms) comprising of a large double bed which lifts up to reveal extra storage and a very large walk in wardrobe.
Twin bedside tables and lamps sit either side and a nice padded three-panel headboard once again features the grey and green colours of the Sandringham. At the bottom of the bed is a vanity unit with mirror and in one corner a door leads to an en suite toilet and basin.

Verdict
At almost £50,000, the 2015 Regal Sandringham sits firmly within the mid-range price bracket for static caravans. With a few optional extras, a contemporary look and Regal's well known quality of construction, the Sandringham would be well worth looking at for families wanting to upgrade or even for couples wanting a bit more space yet room to entertain occasional visitors.
Ex works price: £48, 600 inc VAT*
Visit the Regal Holiday Homes for further information.
*Additional charges will be made by park operators, and/or distributors for transportation, siting and annual maintenance. Please check the price carefully before you commit to purchase, as prices vary considerably dependent, amongst other factors, on the geographical location of your chosen park.
Get a holiday home insurance quotation today by clicking here.