A great looking, great value static caravan!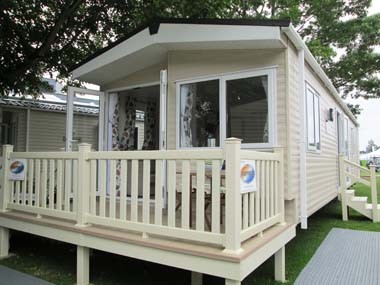 The Kingston from Regal Holiday Homes is one of four models in the range offering 2 bed layouts on footprints from 30ft x 12ft up to 38ft x 12ft, plus a larger 39ft x 12ft 3 bed model.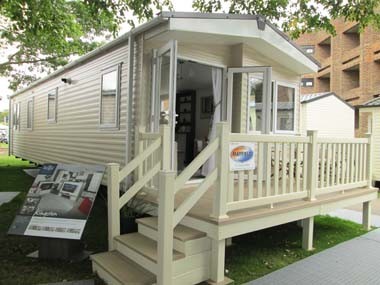 We review their 36ft x 12ft, 2 bedroomed static caravan with the usual array of white uPVC doors and windows. Regal offers the option to upgrade all windows to double glazing, which is probably a must if you were thinking of using the caravan year-round.
A large window and French doors make up the front elevation of the Kingston. Four side windows and a central 'front door' are fitted to the right side, with more windows down the left. Depending on your final location, you might wish to have another window instead of the patio doors, which can be fitted as an extra.
The caravan sits atop a black painted steel chassis and optional fully galvanised and pre-galvanised chassis are available. There's a detachable tow bar and wheels for manoeuvering on site, plus a range of decking options would be available depending upon the site and footprint available. A front deck was fitted to our review model allowing access from the lounge through the patio doors, which really opens out the usable space for Spring and summer relaxation.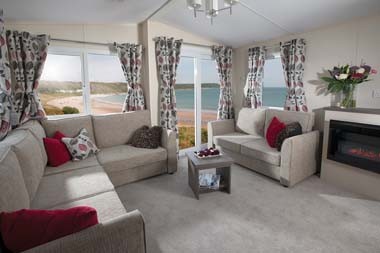 The front door gives access directly into the huge open-plan lounge and kitchen area. This is basically split into two almost equal halves with the lounge to the left.
The vaulted ceiling adds to the feeling of space as do the large windows and the front patio doors. The lounge is fully carpeted in a mid grey with an L-shaped sofa unit set into one corner and a free standing two-seater sofa and coffee table. A flame effect electric fire is set into a mantel with a wide top.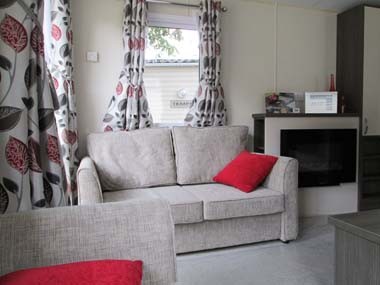 Décor is sophisticated with muted colours in grey, light fabrics on the sofas and floral curtains and scatter cushions (all included in the standard spec). A single modern pendant light fitting is positioned centrally and there are plenty of well-placed power sockets around the room.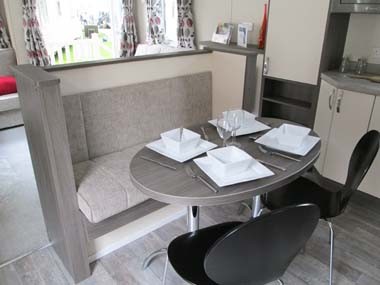 One of the main talking points on the Kingston is the central island unit featuring a recessed dining settee on one side and a flat screen TV facing into the lounge on the other. This is pre-wired for the TV with an HDMI outlet and sockets.
The dining area has a nice, oval table and two laminated 'bistro' chairs – all woodwork is in a dark brown which contrasts with the lighter greys and creams. The positioning of the dining unit is superb; it breaks up the space but allows a free flow of movement between kitchen and lounge and at the same time keeps dining 'in the kitchen'.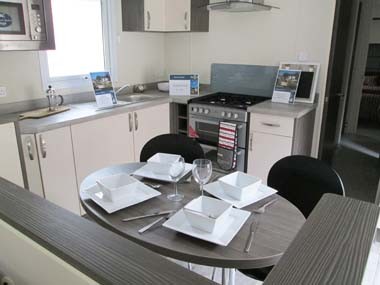 The kitchen itself is a neat, comprehensive L-shaped affair. A lot has been fitted into a relatively small space, but the design is such that features like a wine rack -cunningly set above the window and bridging two wall cupboards  – plus a range-style cooker and built-in microwave are all included.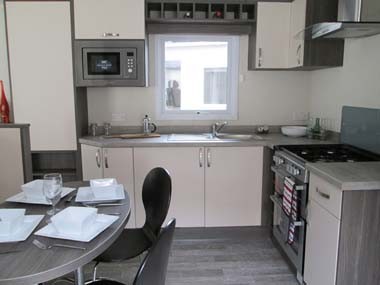 Working from left to right; a corner cupboard has the microwave above, then comes the sink unit with its monobloc tap and then, turning the corner with more cupboard space, comes the cooker with separate oven and grill, four burners and a glass and stainless steel extraction hood above. Use has been made of every inch of space, with shelves below wall cupboards, and wide 40mm countertops and high quality domestic sized units.
The kitchen is a lesson in clever design and would work very well alongside the adjacent island dining booth. Opposite, near the front door are more cupboards hiding the integrated fridge/freezer and offering even more storage. A row of four ceiling mounted spotlights can be angled to illuminate whichever part of the kitchen needs the most light.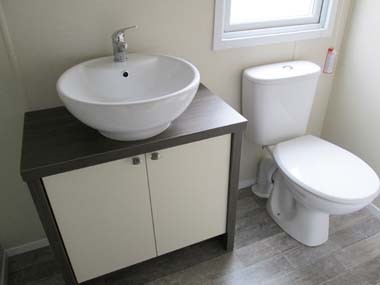 A central door gives access to a corridor where the bedrooms and bathroom can be found. On the 2-bed Kingston, the first door to the right accesses the shower room. This is a long, thin space, housing a large walk-in, fully enclosed shower with sliding glass door and thermostatically controlled mixer valve; a double flush toilet and designer circular ceramic handbasin mounted on top of a very useful twin cupboard unit. There's a mirror above, the usual accessories like toilet roll and towel holders and the floor is finished in a dark wood effect vinyl covering.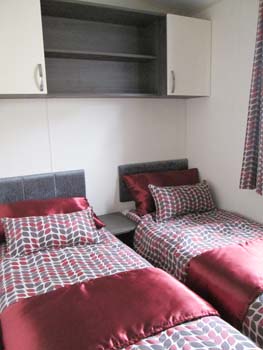 Across the corridor is the twin bedded room. Although the room is small, it does benefit from some nicely made over-the-bed cupboards and central shelves – ideal for nick knacks, books etc.
A small central shelf unit is fitted with a table lamp for reading and there's just enough room to sidle down between the beds. In one corner, at the foot of the bed is a small single wardrobe.  Décor is a luxurious white linen, with contrasting purple and plum throws, pillows and drapes. Timber is dark and cream – a nice, contrasting look!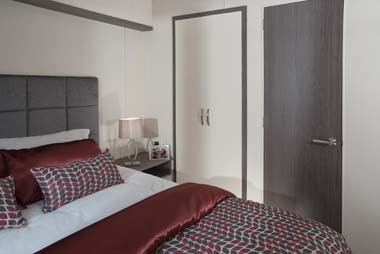 The final room on the Kingston is, of course the master or double bedroom. Featuring a huge king sized bed, it benefits from a sumptuous padded headboard in grey and twin bedside tables, both of which sport reading lamps.
The double window lets in plenty of light and there's a long panel radiator fitted below it. At the foot of the bed is a simple yet effective vanity unit with a floating shelf and a large wall mirror.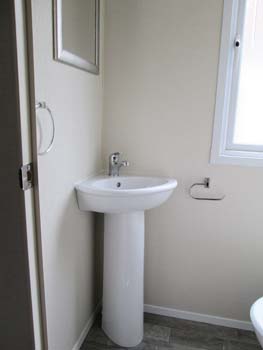 On one wall a set of tall, slim doors give access to a double wardrobe with shelving and hanging rail and then there's the door leading into the en-suite bathroom. This small space has a double flush toilet, a corner pedestal handbasin along with the usual accessories and another mirror.
Verdict
Regal's Kingston is a contemporary take on the classic static caravan. Done with panache and style, both in the overall design and colour scheme, the Kingston demonstrates just what can be done in a relatively small footprint. The use of dark wood colour and neutral tones, coupled with the clever use of the central dining unit to separate lounge from kitchen, make it a very attractive proposition.
Plus Points
Excellent kitchen design with a real space-saving layout.
Unusual island combined dining and TV unit.
Sophisticated styling and eye-catching décor throughout.
Great value for money
Minus Points
None we could think of.
In-a-Nutshell
A chic static caravan that represents excellent value for money. With a specification normally found on larger holiday caravans, the Kingston would appeal to a wide range of buyers, especially younger, upwardly mobile couples.

FACT FILE
Size: 36ft x 12ft.
Build Standard: EN 1647.
Berths: 4, in two bedrooms (one twin and one double) Plus two on a "put-up" sofa in the lounge.
Other layouts available: 38ft x 12ft, 2 bedroomed; 30ft x 12ft 2 bedroomed; 39ft x 12ft 3 bedroomed.
Key optional extras: various cladding options; front window in lieu of French doors; integrated dish washer or washing machine; gas combi boiler central heating; all electric specification; luxury bed throws and bed cushion set; Bluetooth speaker system.
Ex works price: £31,500 inc VAT*
For more information e-mail: [email protected] or visit www.regalholidayhomes.com
*Additional charges will be made by park operators, and/or distributors for transport, siting and annual maintenance. Please check the price carefully before you commit to purchase, as prices vary considerably dependent, amongst other factors, on the geographical location of your chosen park.