If you're buying a new park home, it will come virtually fully-furnished. The kitchen and bathroom will be fitted out, bedrooms will include beds, bedside tables, dressing tables and wardrobes; the lounge will have a three-piece suite, coffee table, fireplace (with fire); and the dining room will be complete with dining table and chairs and possibly a sideboard.
Curtains and/or blinds and carpets will be included throughout, except in kitchens and bathrooms, which usually have vinyl floor covering. With the modern trend towards laminate flooring, park home manufacturers now offer this as an alternative to carpets, if you so wish.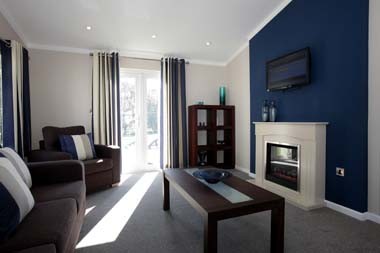 The wall-mounted television in this home – a Country Homes Queensland – may be an optional extra. The décor scheme could be changed should the buyer wish
Not only do manufacturers offer alternative floor coverings and décor schemes, they also offer furniture and equipment upgrades. Décor scheme choices are not usually charged as extras but upgrades would, of course, cost more. Buyers also have the option of ordering their home only partly-furnished – or with no furniture at all if they prefer to furnish it themselves.
The park will usually order the home from the manufacturer and will quote a 'package' price to the buyer, which includes the transport costs and the siting fee. The only time you would need to worry about these costs would be if you were to buy a home direct from the manufacturer and site it on your own land.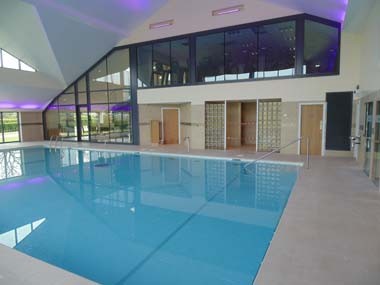 This park – Acresfield at Garstang, Lancashire – is unusual in having its own leisure centre which includes this swimming pool plus gymnasium, hairdressing salon and coffee shop. Residents enjoy discounted membership fees
If you're buying a previously-occupied home, the seller might include all or some of the furniture, fittings and equipment within the sale price. It's important that you check this out before committing to the purchase. If you need to furnish the home yourself, make sure that your own furniture will fit in, or be prepared to buy new.
For most people, moving to a park home is their 'last move', but should you need to sell in the future you will probably find that park homes do not appreciate in value as much as bricks and mortar properties (largely due to the fact that you do not own the land on which your home is sited; you merely rent it from the site owner when you pay the pitch fee). At a rough estimate, inflation and depreciation cancel each other out and you ought to get what you paid for the home should you need to sell.
The bad news is that you have to pay commission on that sale to the park owner and that rate currently stands at 10 per cent, which can be a large sum when you consider that some luxury park homes are priced at a £250,000. The average price for a typical 40 x 20ft park home on a good quality park starts at about £150,000, while a previously-occupied home of the same size could cost as little as £50,000. So any current budgeting should allow for a commission of 10 per cent.
All new park homes have a 12-month structural warranty from the manufacturer. Some manufacturers offer a free extended warranty (usually 10 years), subject to the home being sited according to  manufacturers' guidelines and on a park registered under the scheme. These structural warranties are free. Despite warranty cover for manufacturing defects, it's still advisable to invest in specialist park home insurance to cover yourself against damage to the home and your contents.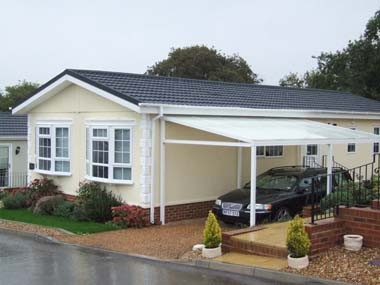 This car port would need to be approved by the park owner before it was erected and would, of course, be an extra expense
Sometimes park home buyers who haven't 'done their homework' are surprised to learn that in addition to buying their home, they also have to pay site or pitch fees. The reason for this is that although they own their home, it stands on land belonging to the park owner, and he rents that land to them. Rents (more usually termed site fees or pitch fees) vary from park to park and are usually between £150 and £250 a month.
All residential park home owners have to pay council tax to the local authority. The majority of homes fall within the lowest tax band with a few in the next one up.
So, to return to the original question, the 'extra' costs you'll face when you move will be pitch fees; fuel bills; council tax and commission (should you sell your home).
If you are buying a park home don't forget to take out insurance cover to protect your home and contents. Find out more about specialist cover on the Leisuredays park home insurance page.