Designed to provide easy access for wheelchair users and their families.
Brand new for the 2018 season, Willerby's Richmond static caravan has been designed to fill a much-needed gap in the market by providing easy access and adaptability for wheelchair users.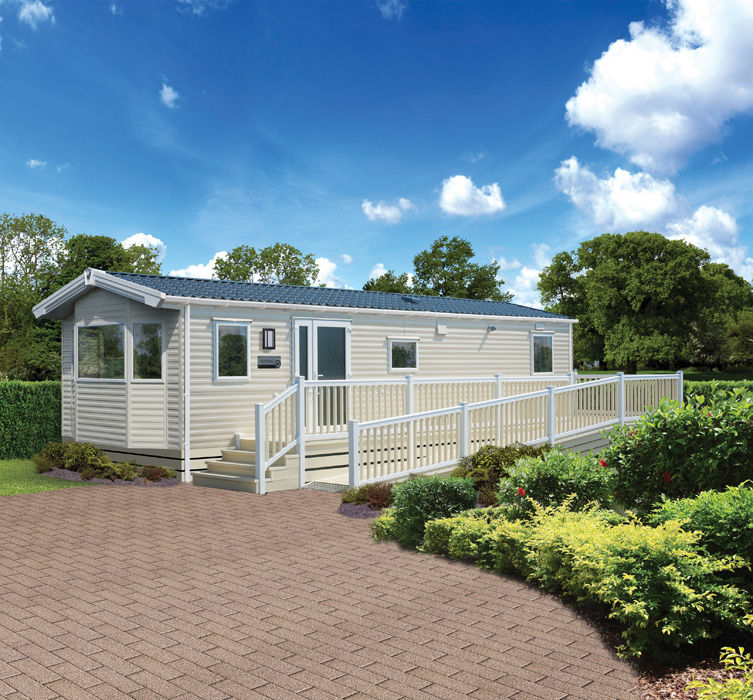 One thing that immediately draws the attention is the lack of a main front patio door on the Richmond, having a small bay instead with twin windows. There are three more windows down each side (all double glazed) and the main access door is to the right.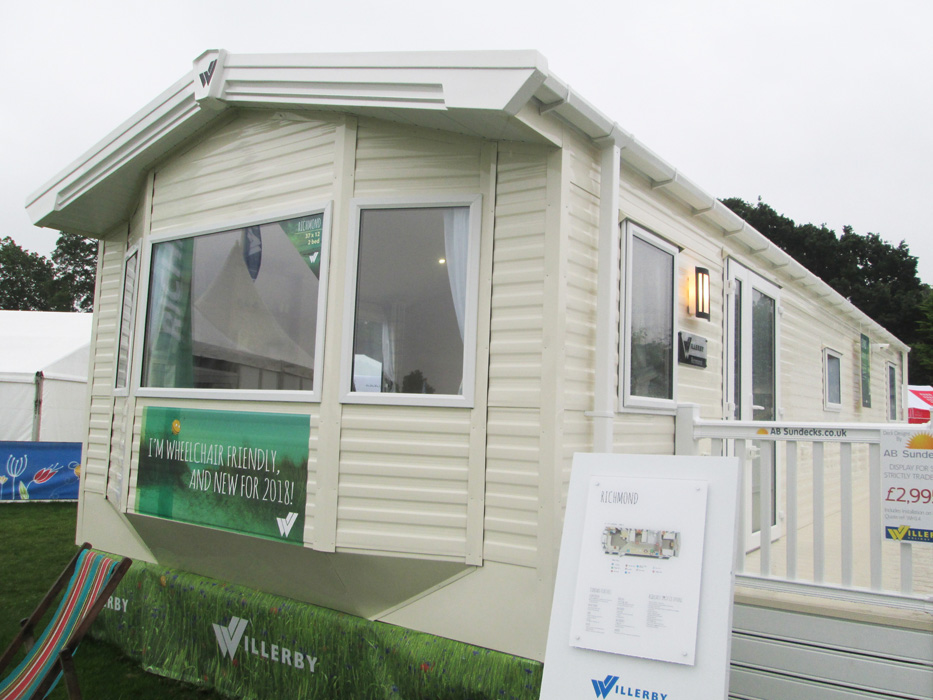 You immediately notice the extra wide doorway with a lowered threshold allowing easy access for wheelchair users. To the left is a tall, thin window which, when added to the main door allows a massive amount of light to flood in.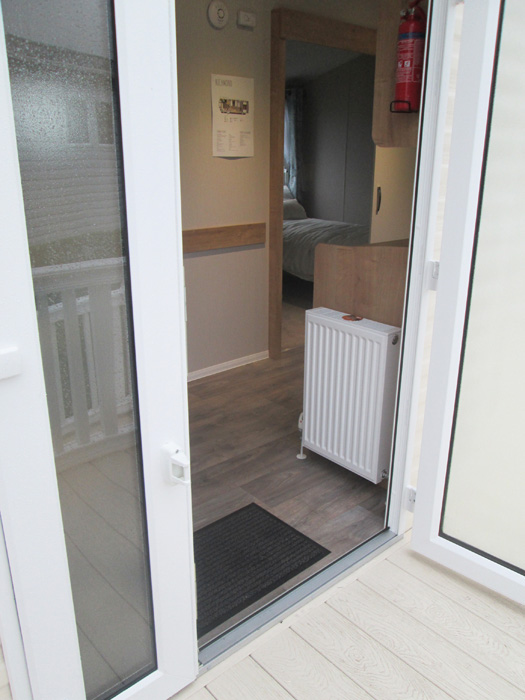 Once inside, you note that this is a static caravan with a very different agenda. Instead of stepping through into the kitchen/lounge area as on most caravans of this type and size, you find yourself in a large, wide corridor which runs from the door of the lounge to the door of the main bedroom at the back.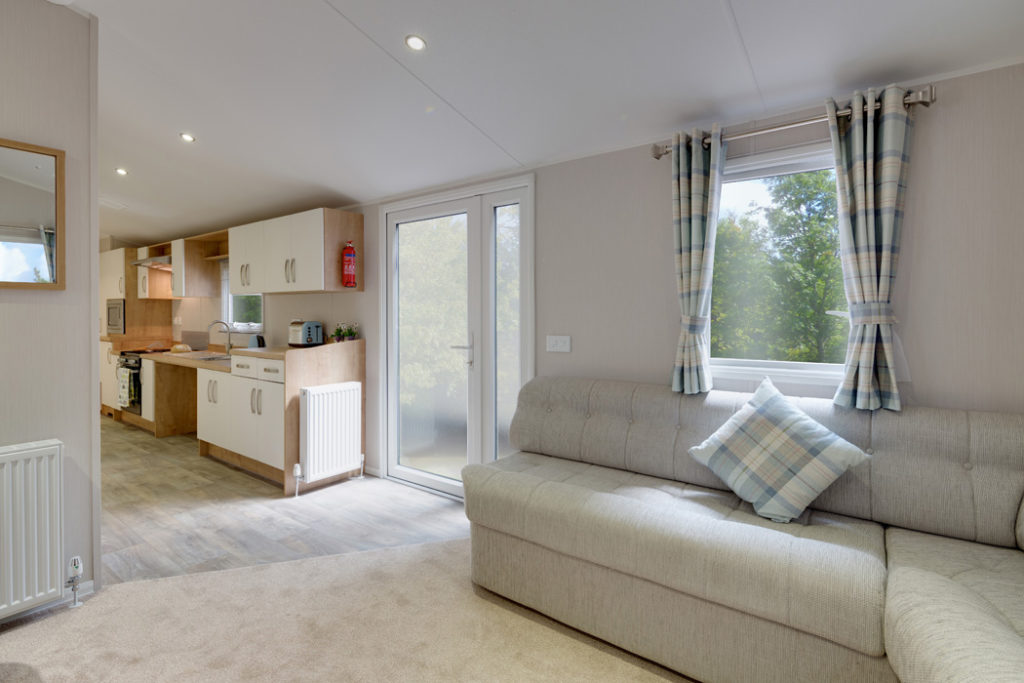 This corridor is, of course, wide enough for a wheelchair to traverse and on the right hand side, running along the outer wall is a galley style kitchen lit by inset LED downlights in the pitched ceiling.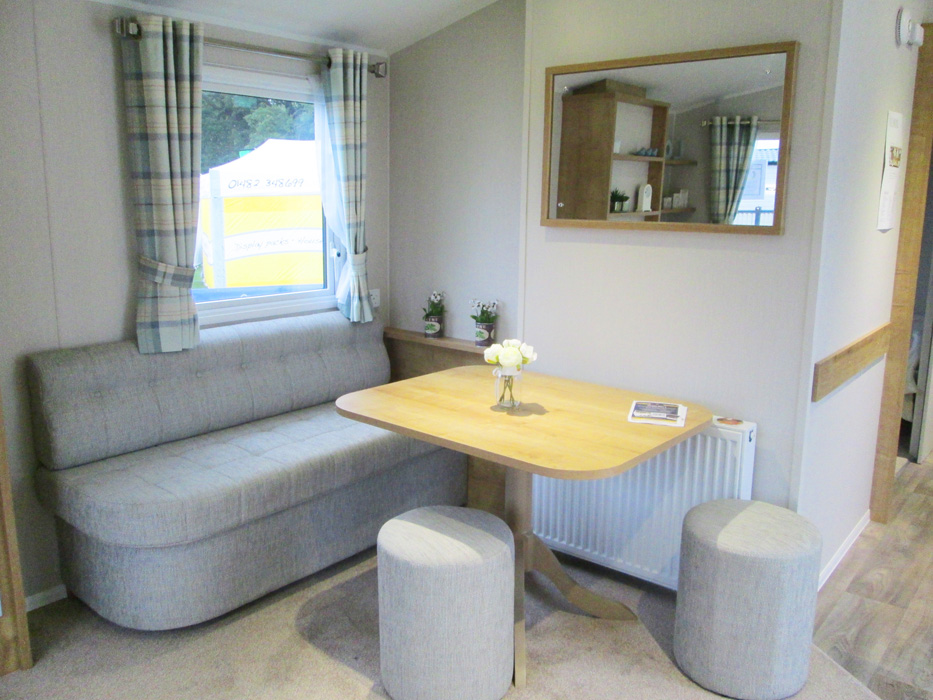 The kitchen comprises a range of cabinets on the floor and wall in a bright, cream colour with large aluminium 'bow' handles. The central portion of the timber effect worktop has been specially lowered giving access for the wheelchair and allowing the user to use the sink and taps as well as the cabinets.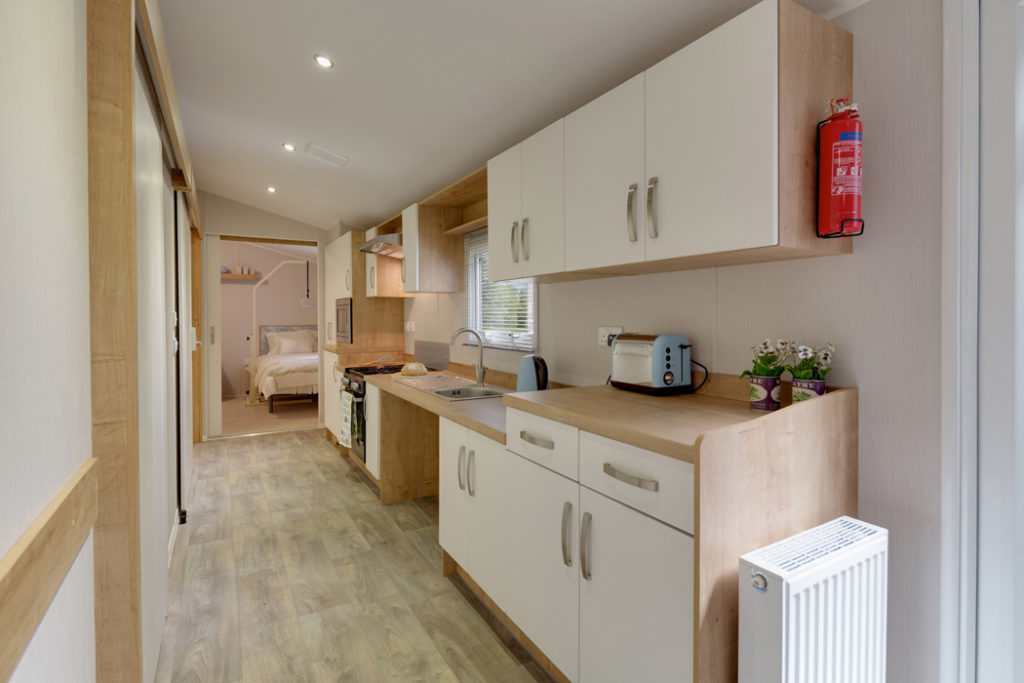 The kitchen is fitted with a single oven with four burner hob and a glass splashback and you also get a built in microwave oven – all at a low level for ease of access and reach. There's also an integrated fridge/freezer and at the very end nearest the bedroom, a cupboard for the gas combi-boiler that supplies the Richmond's taps and shower with hot water as well as powering the central heating.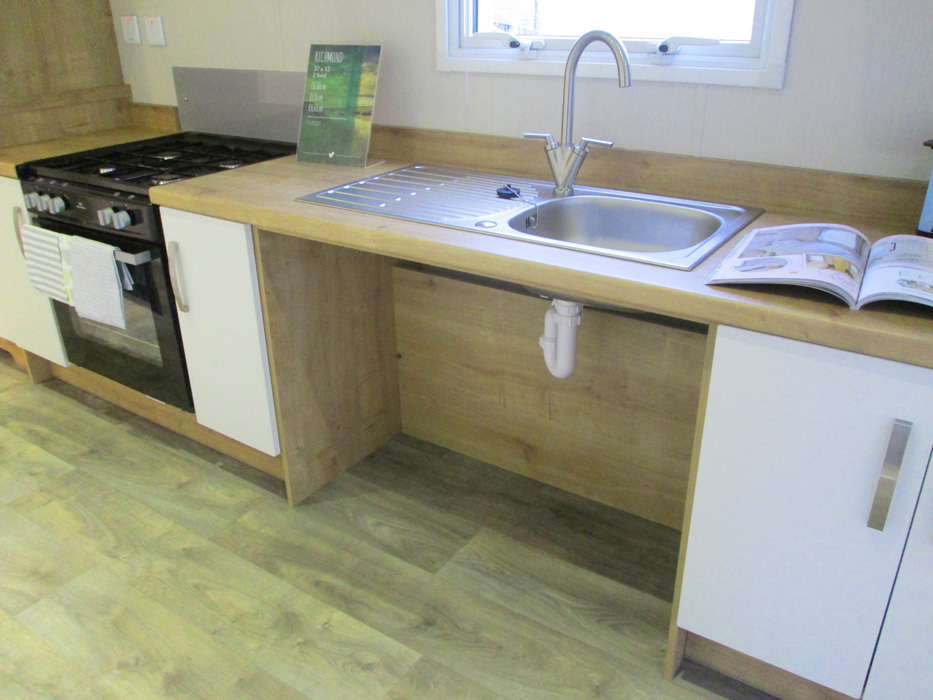 To the left of the front door is the Richmond's lounge area. Once again, thought has been given to floor space and access with a simple layout comprising a large L-shaped corner sofa (containing a pull-out sofa bed) in a pleasing cream colour that matches a similarly coloured fully fitted carpet.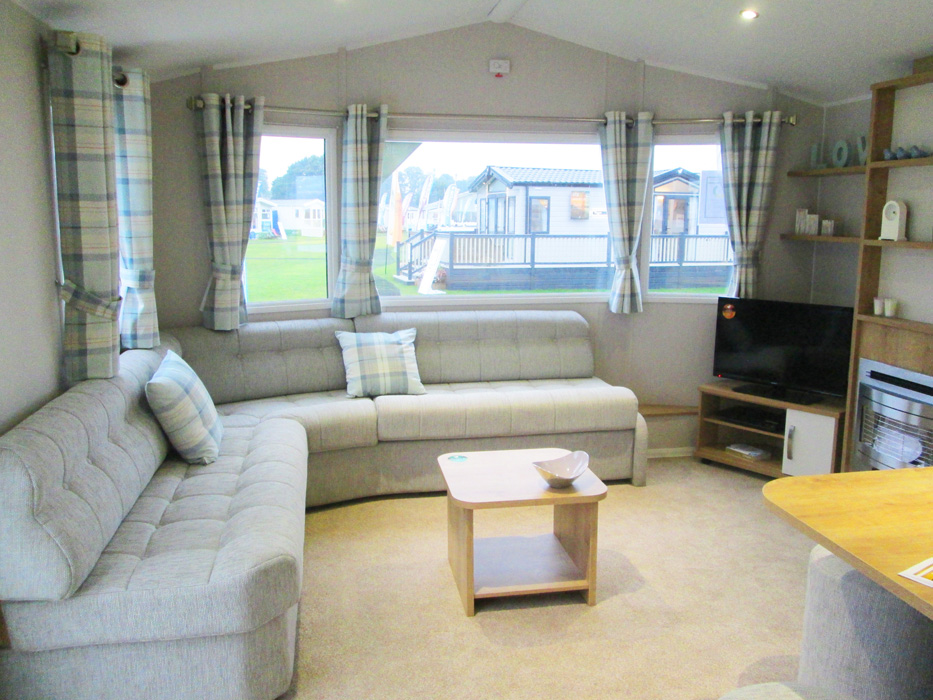 In the opposite corner is the dining area which features a settee along the side wall and a free standing timber table on a pedestal leg and two tubular upholstered stools. Being moveable, the table and stools can be taken away allowing even more space if needed. Plenty of natural light floods in through large windows on three sides and the soft furnishings – curtains and cushions – also add to the feeling of breeziness being in shades of pastels in a large check pattern.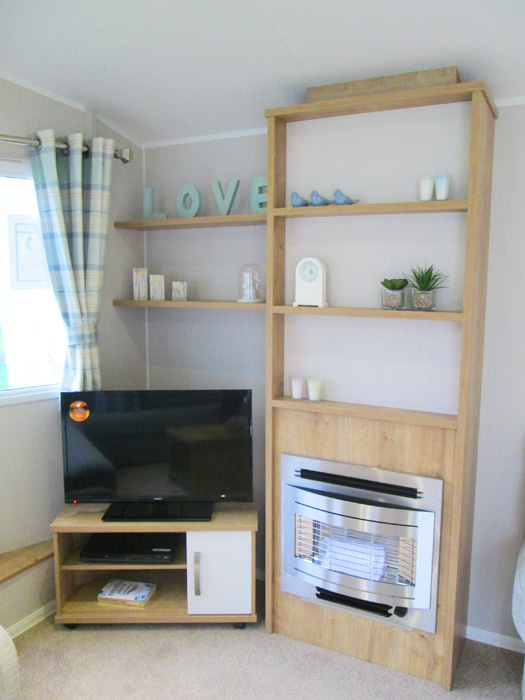 You also get a TV corner unit with shelves and a small cupboard, plus a tall bookcase that also doubles up as a housing for the integrated gas fire. Altogether the lounge is a simple space, but also a comfortable one with, as we said, plenty of space for that wheelchair.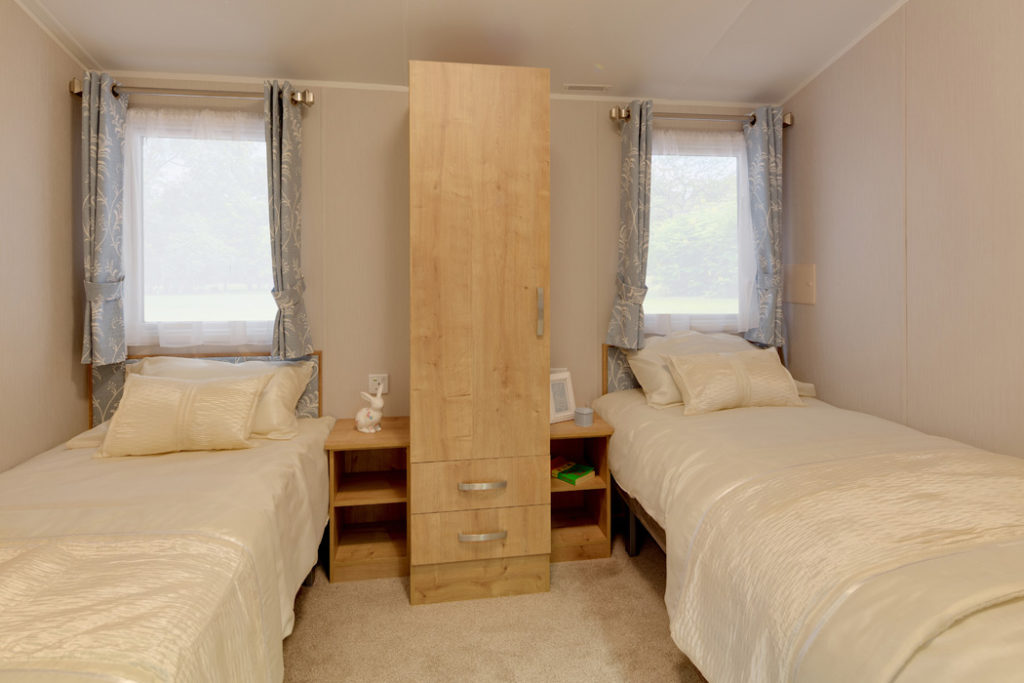 The central section of the Richmond is taken up by the second guest twin bedroom which is next to the bathroom. It has a huge amount of space between the beds which are positioned on either side of the room with two bedside tables and a tall wardrobe with hanging space in between.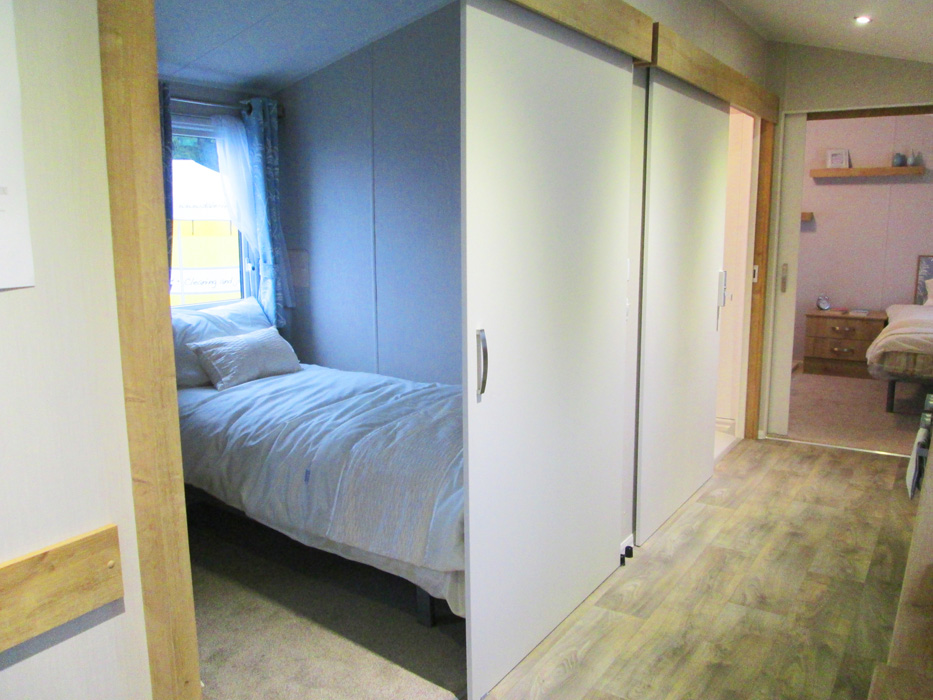 The central wardrobe and a sliding door to the bedroom room allows this extra space between the beds and two large windows make it seem even roomier.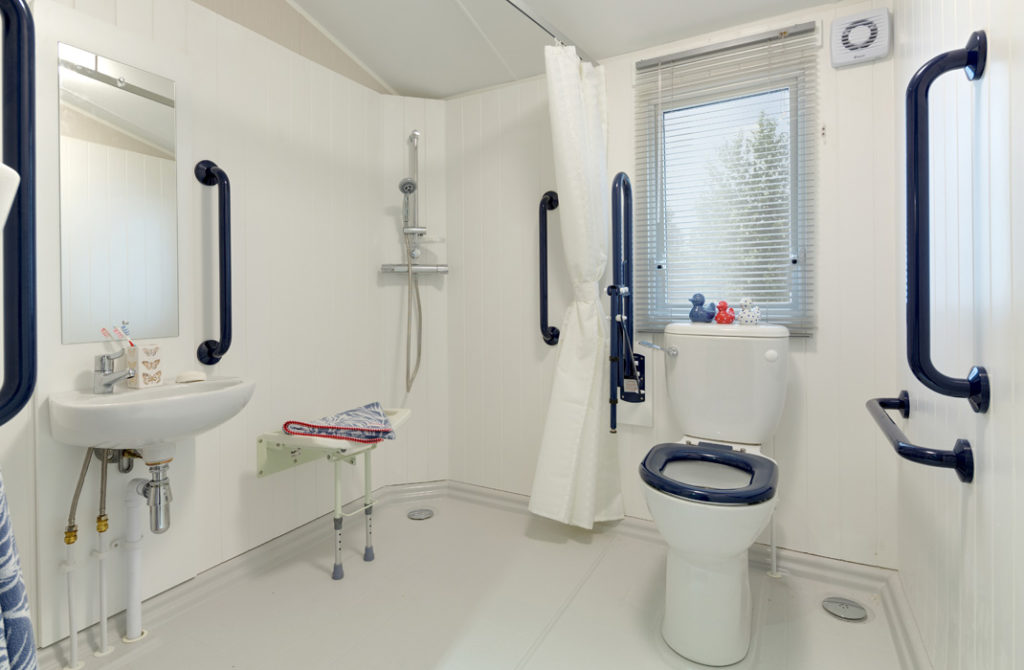 It would be wrong to call the next room on the Richmond a 'bathroom' – it's more of a wet room with a sealed, slanted self-draining floor, designed to allow wheelchair users full access to the facilities. These include a corner-mounted shower with easy to operate taps, a low slung handbasin (with mirror) as well as a fold-out adjustable height seat and plenty of well placed support handles and rails.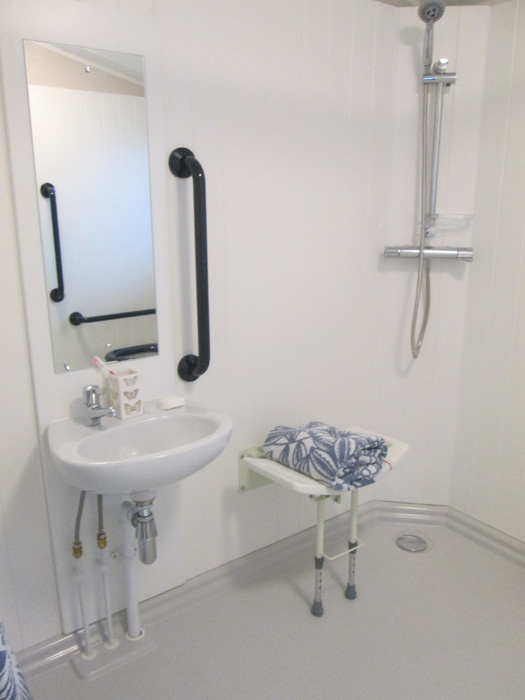 The toilet, too, has an adjustable height support bar to help the user. The overall colour scheme is white with contrasting fittings in navy blue. There's also enough space for you to be able to fit a wall cabinet for toiletries and a clothes basket if needed. Access to the wet room is also through a sliding door.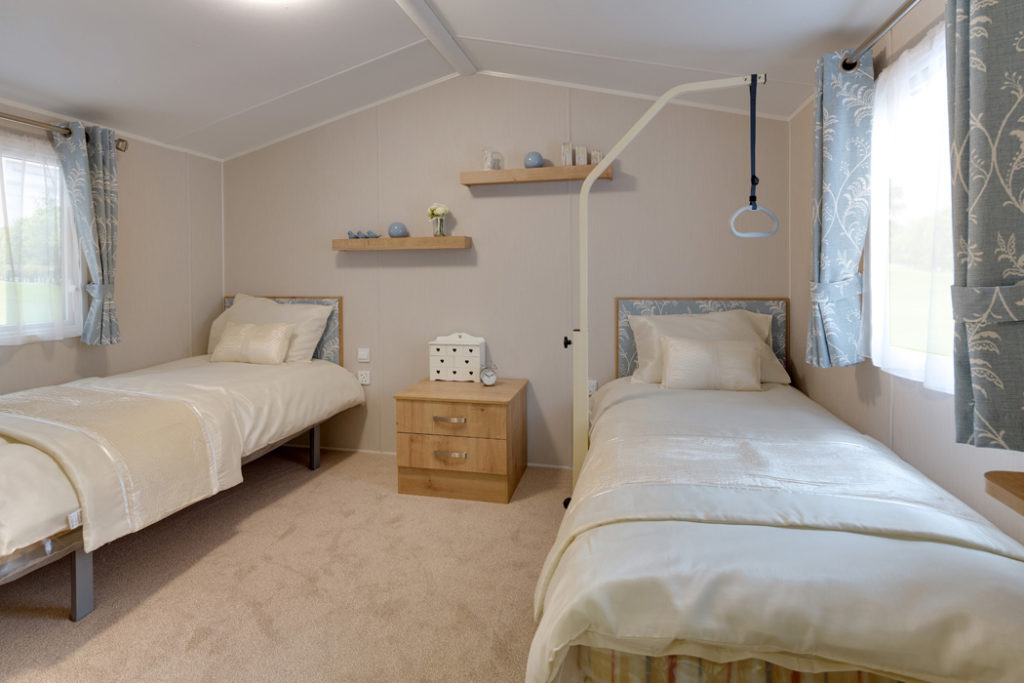 The master bedroom is also twin bedded with wide access between both beds. A single bedside cabinet with drawers is placed centrally and there are two 'floating' shelves for nick nacks or books on the wall above. Willerby also supply a portable adjustable height hoist which slides beneath the bed should the disabled user need help to get into or out of bed.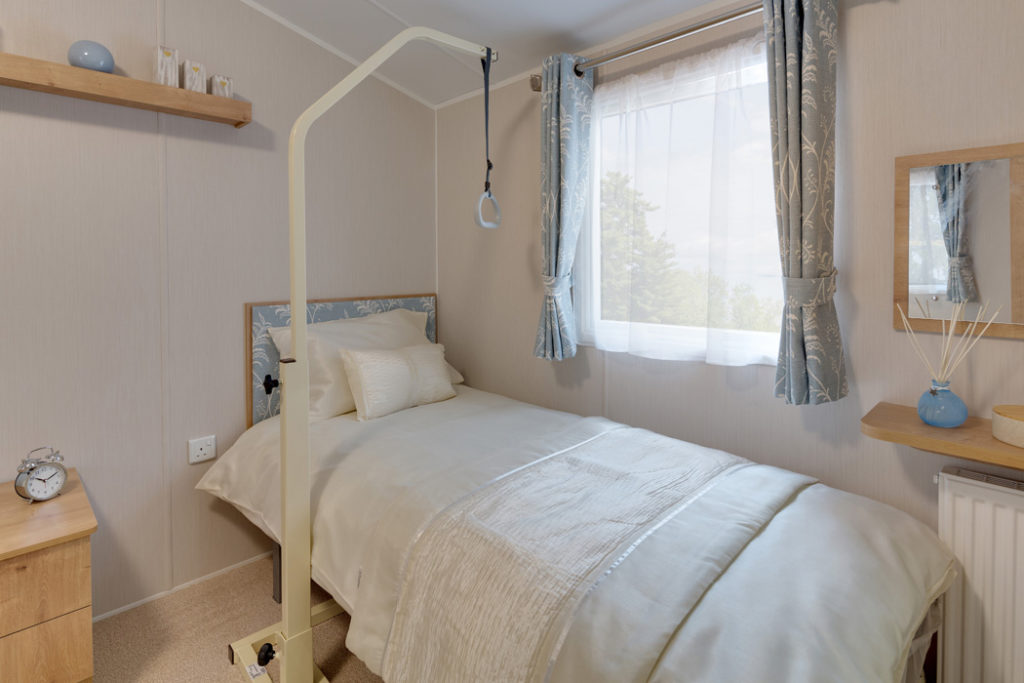 The room, like the others is also bright and airy with cream walls, a beige carpet, and soft furnishings in a mid-blue with floral patterns. Light switches and power sockets have also been installed at a lower level and access is via a sliding door.
Externally, the static caravan is clad in aluminium as standard and in a colour that Willerby call Barley White. There are various other cladding options available as extras including Canexel in various shades, vinyl, real timber and you can also specify environmental 'green' exterior and window frames.
The caravan has a pitched roof and there's also a very useful external light fitting near to the left hand side of the front door.
The Richmond is mounted on a strong steel chassis with a fully galvanised one also available.
Verdict
The Richmond is a very impressive static caravan. Willerby has obviously listened to their customers and researched the very best ways to incorporate both ease of access and comfortable use for the disabled and/or wheelchair bound holidaymaker.
Plus points
Fantastic access for wheelchair users.
Well thought out 'low-slung' kitchen.
Beautiful, easy to use wet room.
Minus points
Nothing comes to mind.
In-a-nutshell
The Richmond breaks the mould when it comes to providing ease of access and enjoyment for wheelchair and other disabled users and Willerby should be congratulated for the careful thought that's gone into its design.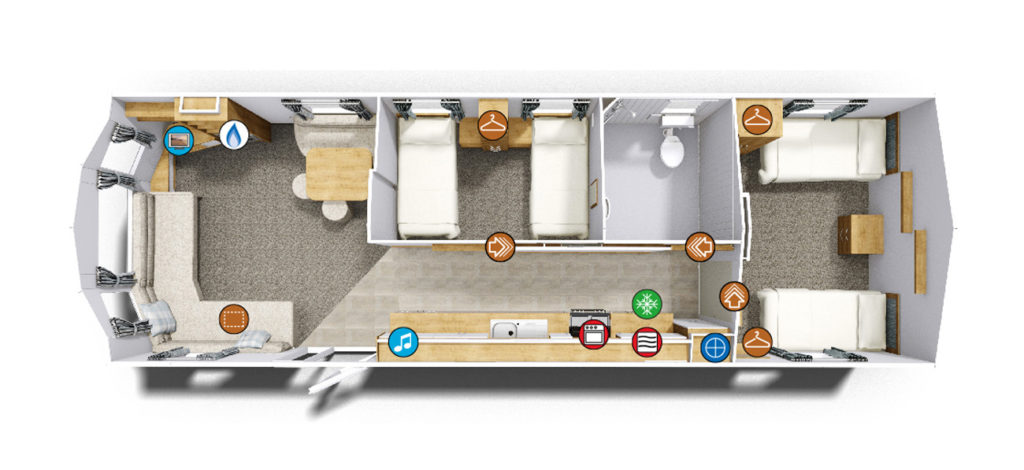 Factfile
Size: 37ft x 12ft.
Build Standard: EN1647.
Berths: Six in two twin bedrooms, with two on an occasional fold down bed in the lounge.
Key optional extras:  Various cladding options; 'Green' exterior and window frames; fully galvanised chassis; gas central heating system from combi boiler; MP3 sound system; integrated fridge/freezer; electric fire; double bed to main bedroom; full height kitchen; electric plinth heater to bedrooms; bedding pack; European specification.
Ex works price: £33,471.09 inc VAT*
For more information e-mail: [email protected] or visit www.willerby.com
*Extra charges will be made by park operators, and/or distributors for transport, siting and annual maintenance. Please check the price carefully before you commit to buy, as prices vary considerably dependent, amongst other factors, on the geographical location of your chosen park.