Carnaby introduces two centre lounge layouts that prove an interesting addition to the static caravan market.
The ever popular Carnaby have gone central – well for a central lounge design. It's a popular layout on the continent but still a little new here.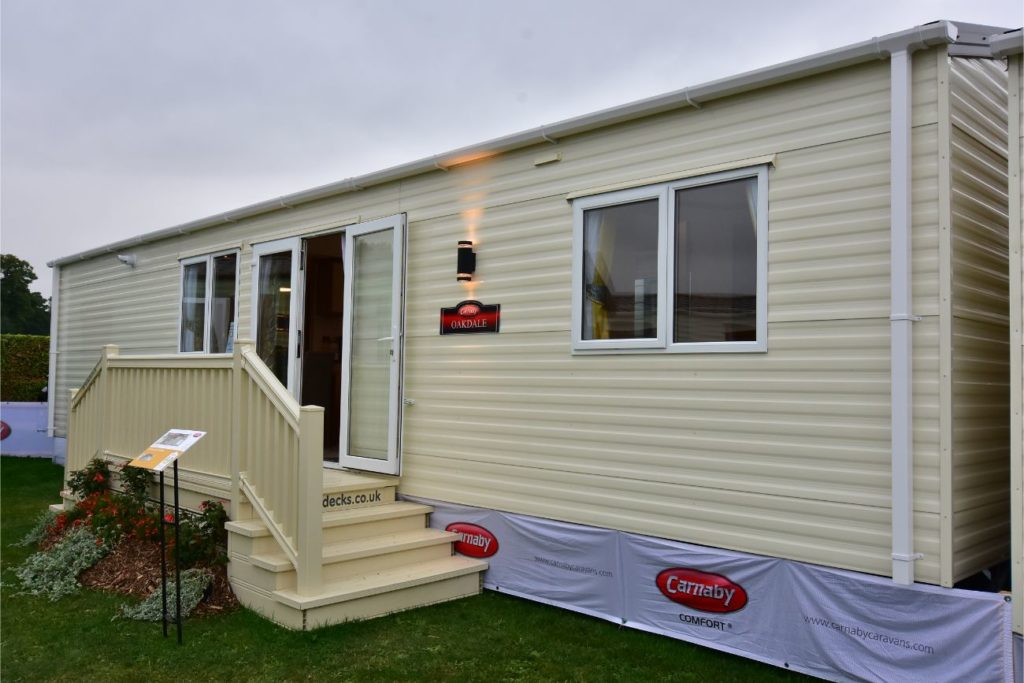 We take a look inside the two bedroomed 37ft x12ft Carnaby Oakdale CL.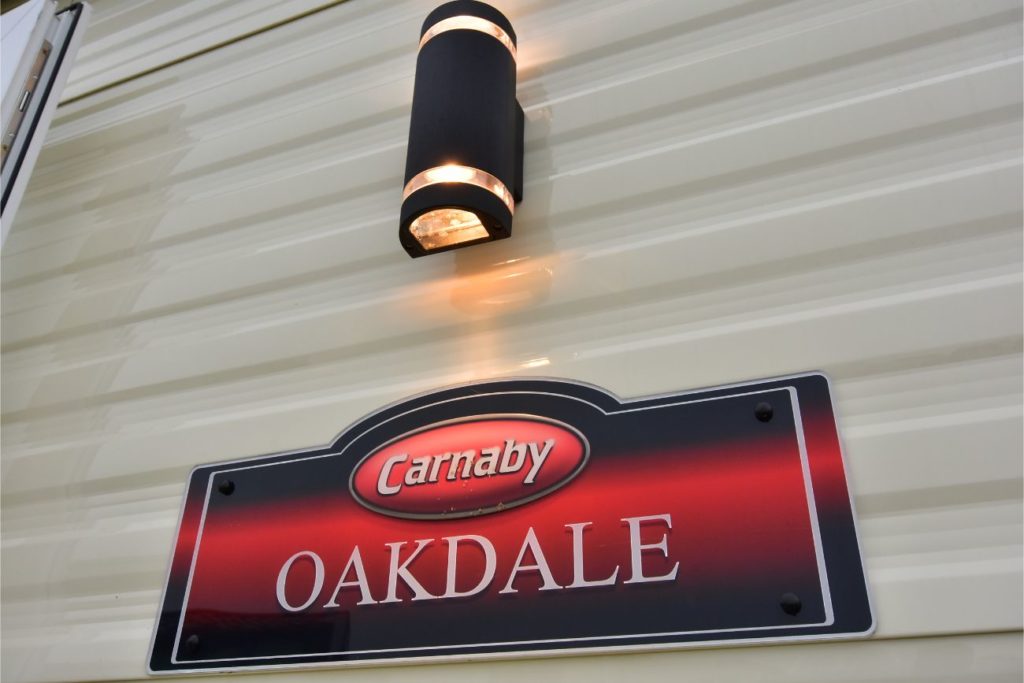 Now one thing us Brits like is good vision from the lounge area, so if looking out at a vista doesn't worry you too much the Carnaby Oakdale should be right up your street. It's very ordinary on the outside, using aluminium and white double glazed window frames and white guttering. However other finishes and colours are available.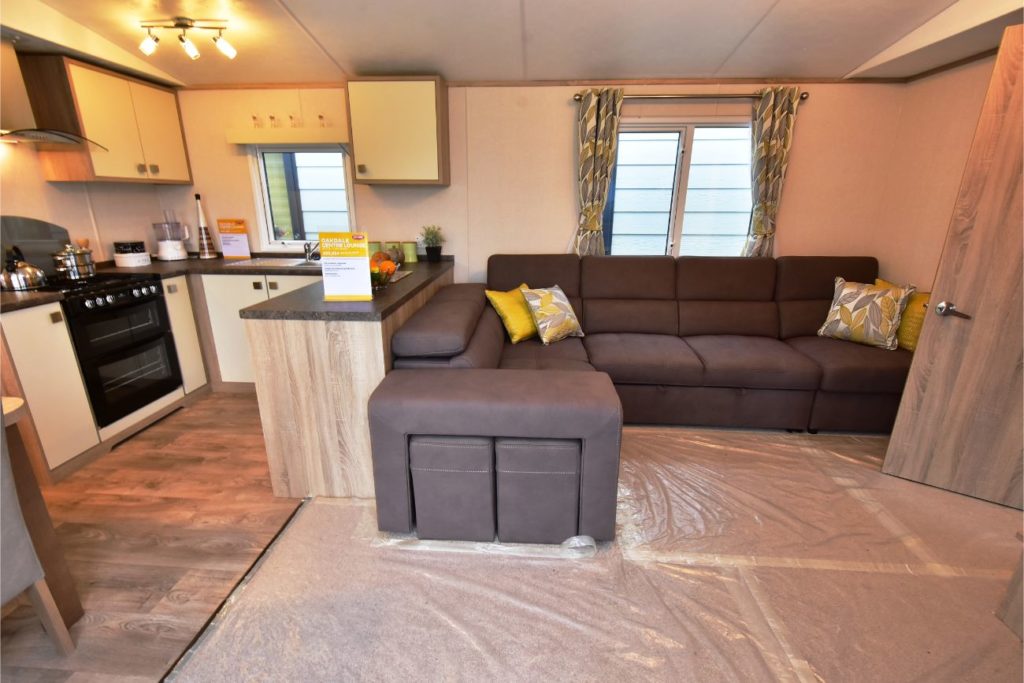 A centre lounge means a central entrance, and French doors are fitted which allow a good amount of light into the lounge area, as do the side windows.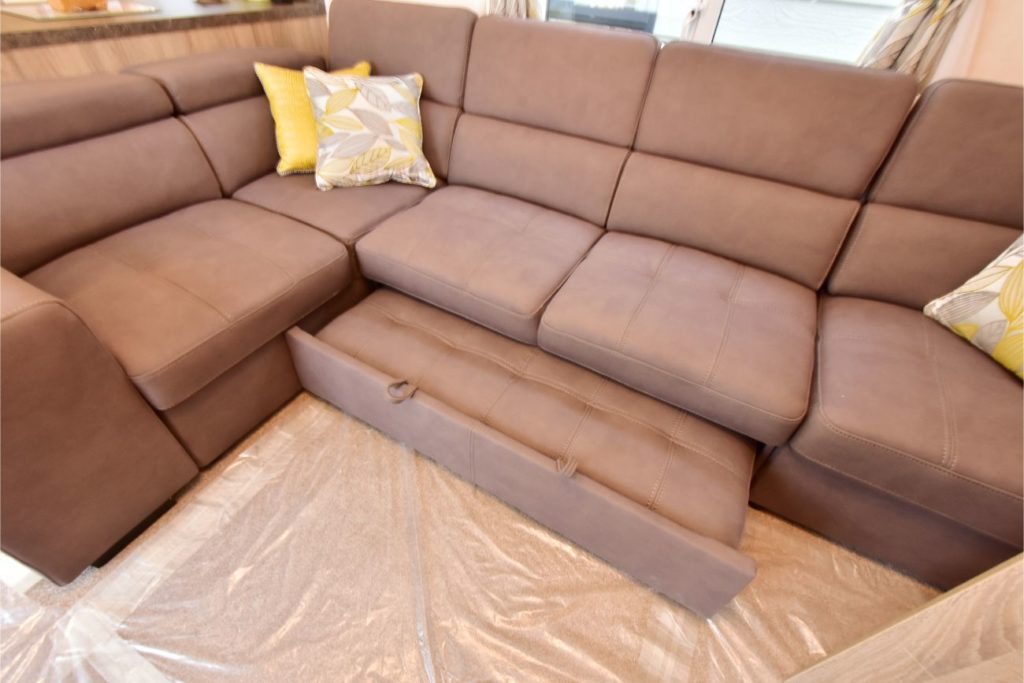 The lounge has a generous L-shaped settee which converts into a bed, has adjustable back rests and detachable stools – all clever stuff.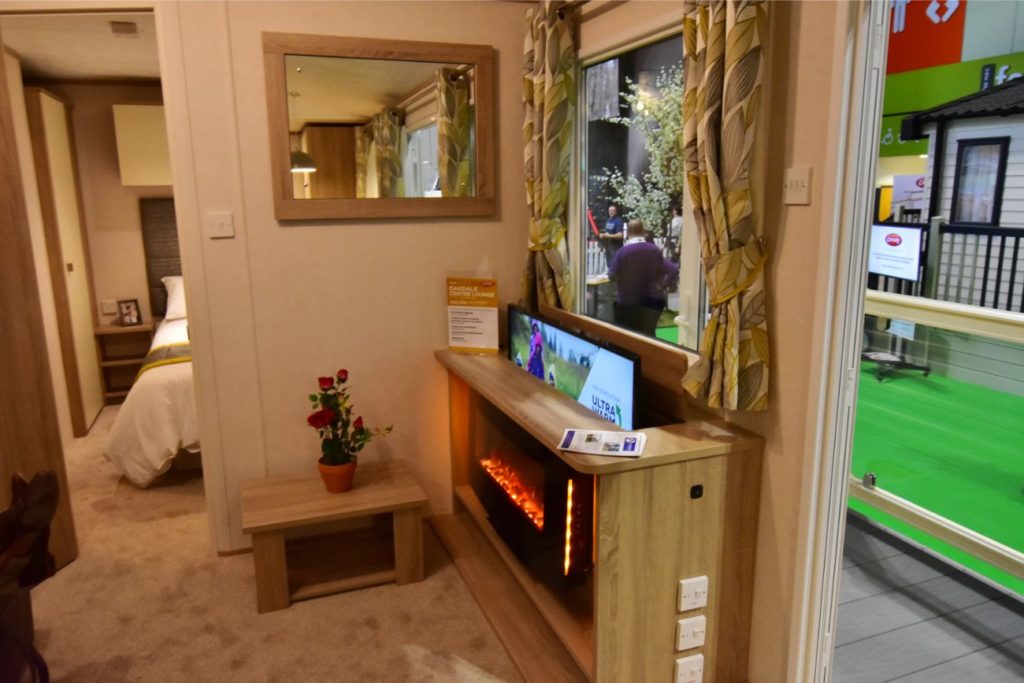 The TV cabinet opposite above the fireplace can be used to lower a TV out of sight to allow a view through the side window when the TV isn't in use – another simple, clever idea! USB ports, as well as mains sockets, will keep everybody happy for charging tech.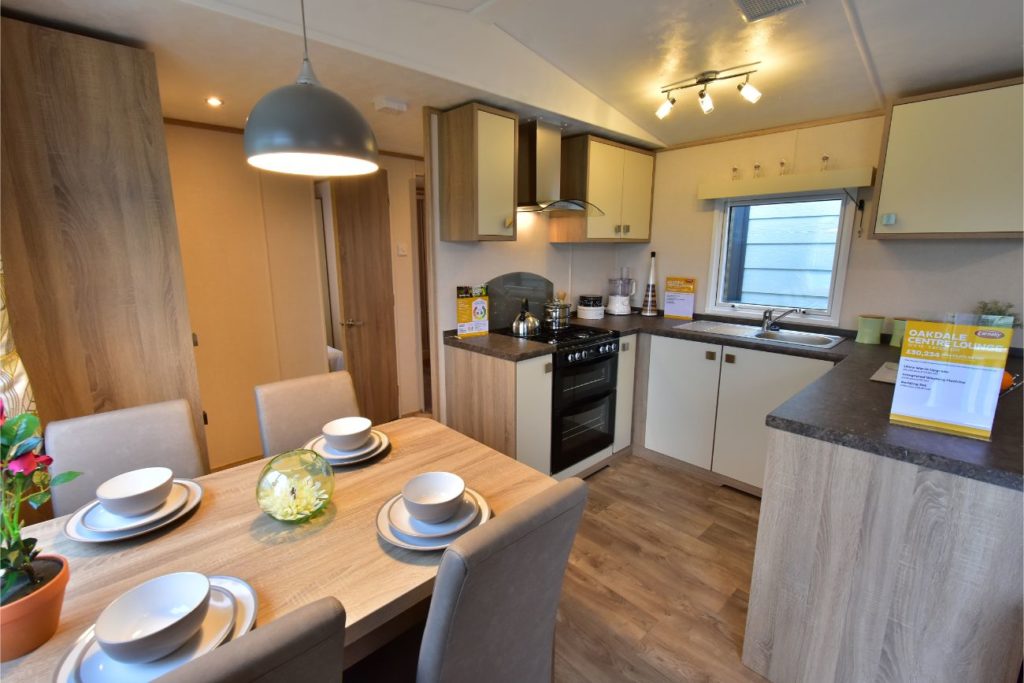 The kitchen is well designed and comes with oven/hob and extractor fan plus fridge freezer – but a microwave is optional. There's a decent amount of storage and night lighting but worktop space isn't overly generous.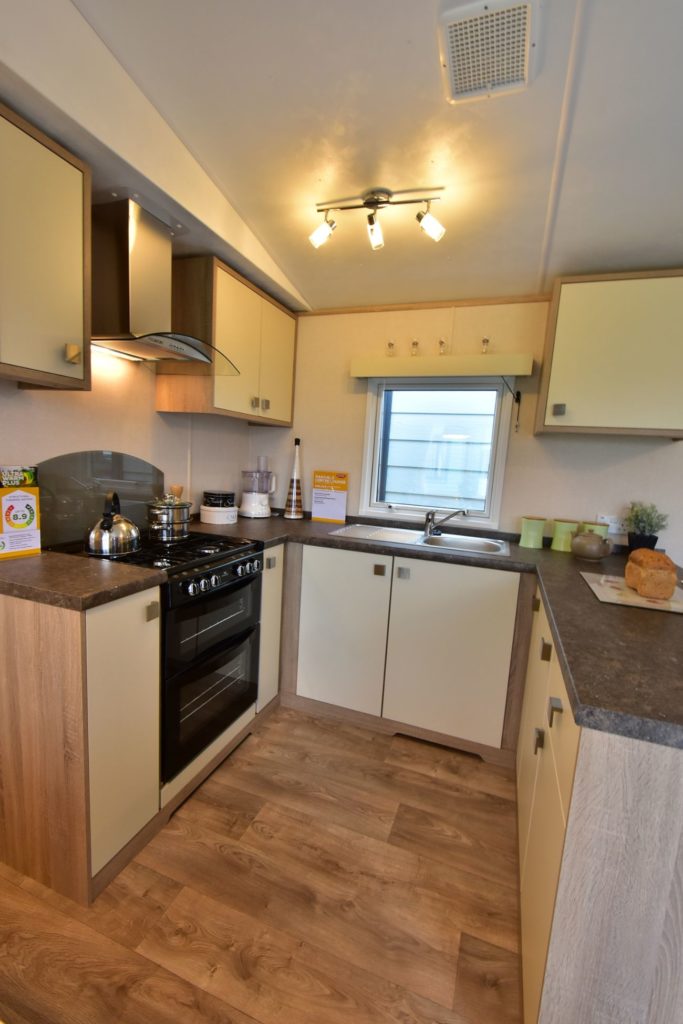 The dining table, which seats four, is opposite the kitchen and has its own side window to enjoy the view outside.
Walking through to the twin bedroom, opposite the fridge and boiler is a small utility area with cupboard space for an optional washing machine.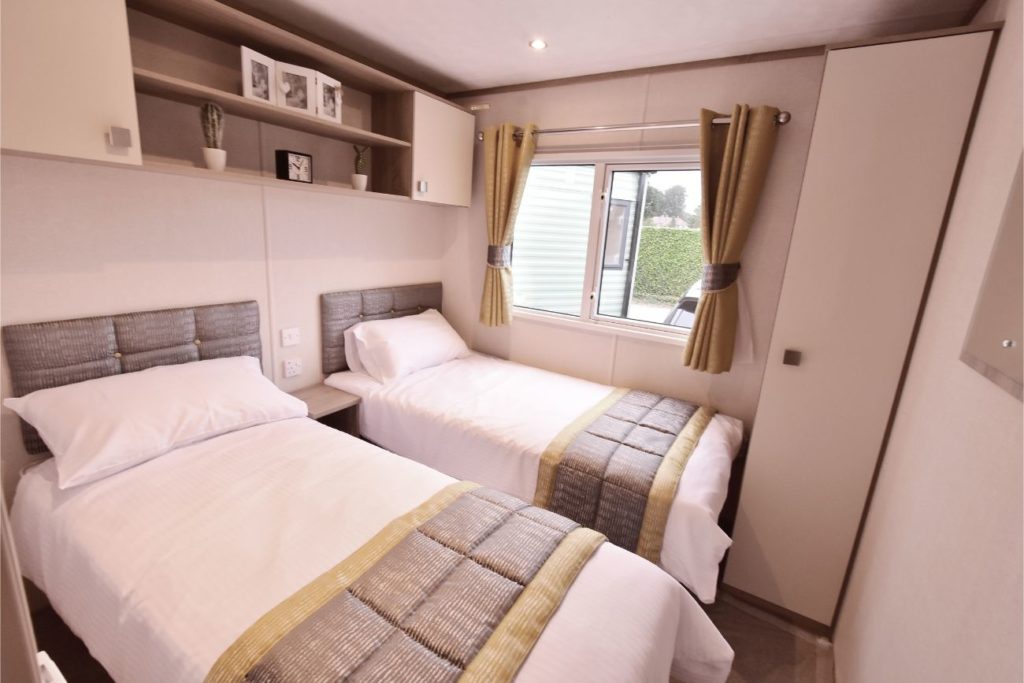 The twin bedroom is a good size and comes with overhead storage as well as a wardrobe. From here you can gain access to the family shower room, complete with loo and washbasin. This can also be accessed from the main lounge area.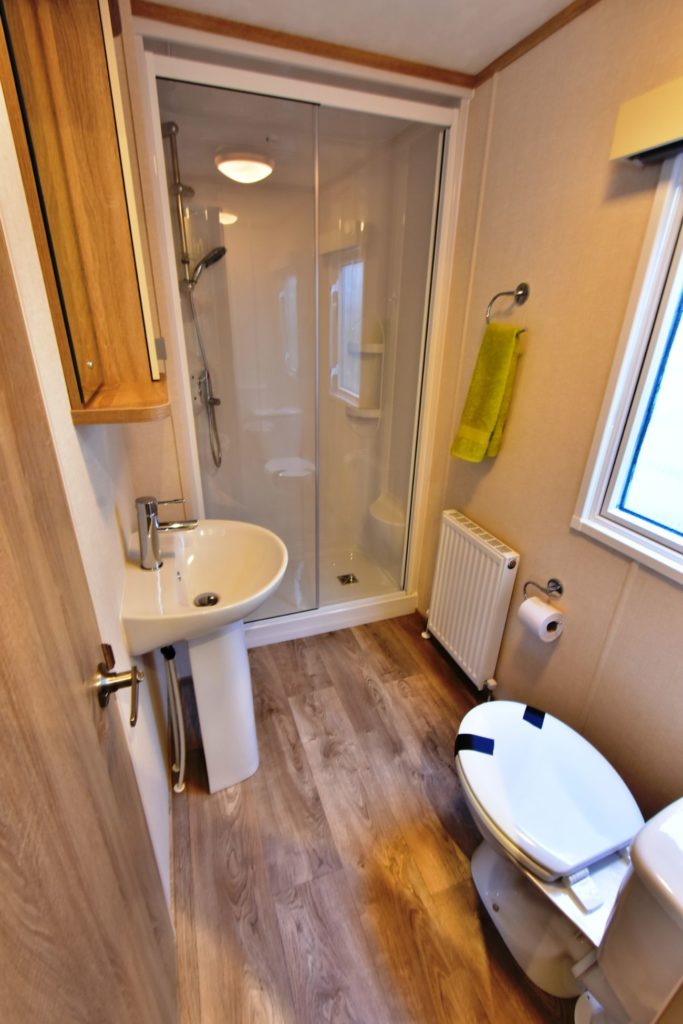 The master bedroom is at the opposite end of the Oakdale and to be fair it's not overly big. There's enough floor area but for some, it might not be enough. There's a good sized dresser, wall mirror, plus over bed cupboards and wardrobe.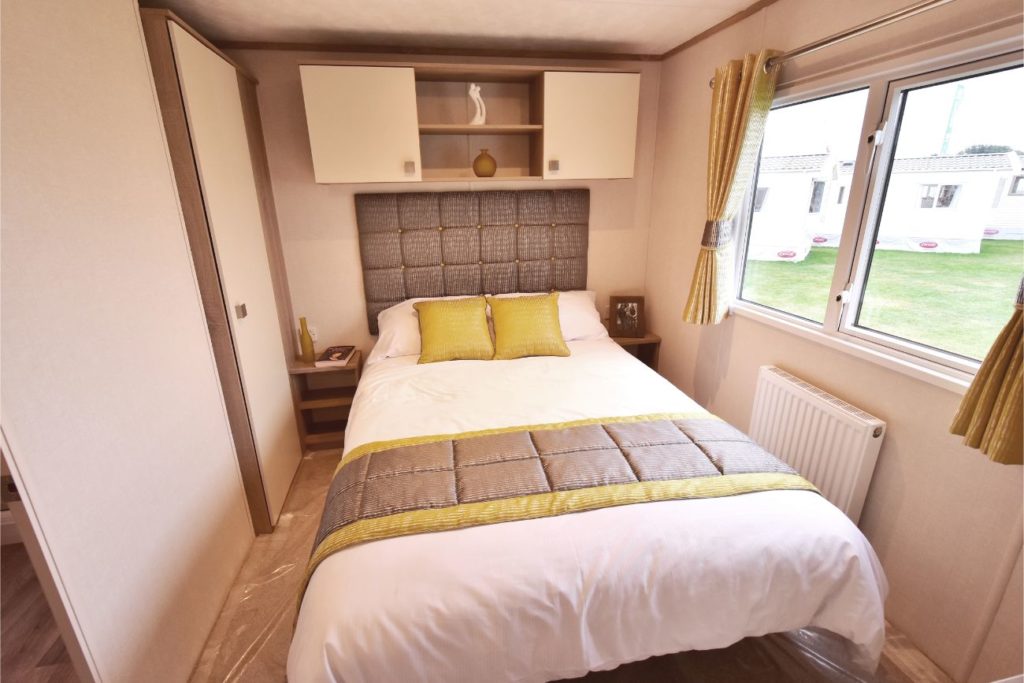 The bedroom has its own washroom with corner shower, plus loo, and hand basin. It's quiet well laid out, so very practical to use, and as the other shower room also has a window fitted and has some cupboard storage too.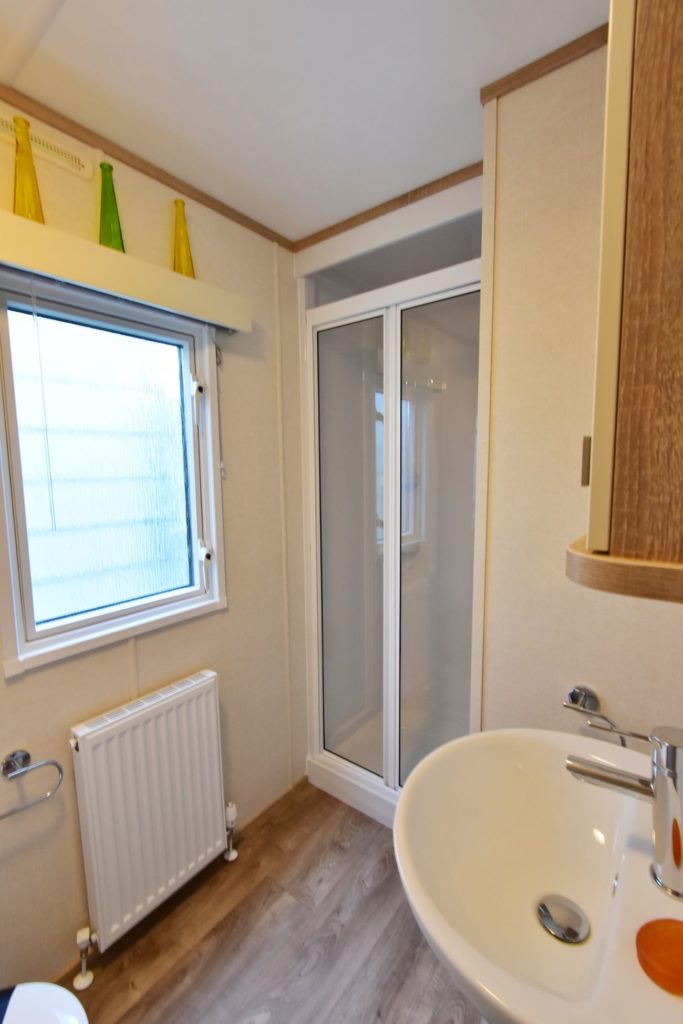 Verdict: The Carnaby Oakdale centre lounge will work well for some. It's well made of course and we like the central settee design and its versatility. The drop-down TV is another great idea and shows Carnaby's search for practical solutions – not gimmicks.
Plus points: Great L-shaped seating configuration, TV auto stow-away idea and utility room.
Minus points: Not much worktop in the kitchen, restricted view from the central lounge.
In a nutshell: If you want to be different and are on a plot where there's no real view available then the Carnaby Oakdale could be the static caravan for you. It's well made and finished and comes from a small but productive factory which is located on an old WW2 airfield!
Floor plan

Fact file:
Size: 37ft x 12ft
Build standard: EN1647
Sleeps: Four
Bedrooms: Two
Other Oakdale CL models available: 38ft x 12ft 3 bed
Others to look at: Europa Juniper 35ft x 12ft 2 bed, Willerby Martin 34×12 2 bed, Delta Bromley Deluxe 37ft x 12ft 4 bed
Key optional extras: Alternative exterior colours, CanExcel finish, embossed plastic, timber, washing machine, microwave, Ultra Warm Plus heating, galvanised chassis, Bluetooth, ceiling speakers, TV points in bedrooms and BS3632 residential spec.
Ex-works price: £43,470.00*      
Extra charges will be made by park operators and/or distributors for transport and siting and annual maintenance. Please check the price carefully before you commit to buy as prices vary considerably dependant amongst other factors, on the geographical location of your chosen park
If you're looking to buy this lodge why not get a great static caravan insurance quote from us today.
Spotted in the classifieds: A Carnaby Oakdale static caravan sited in Devon (TQ4 ). Sited cost including decking £61,995.
Cost to insure this sited caravan would be £330**
**Leisuredays holiday lodge insurance quote based on Carnaby Oakdale CL insured for £61,995. Owners are a 68-year-old retired couple with prior holiday caravan insurance and three years no claim discount. Caravan fitted with skirting and an alarm system. £5,000 contents included. Insurance premium includes insurance premium tax at the current rate and is correct as of 24/07/2019.
For more information visit www.carnabycaravans.co.uk or call 01262 679971.