Turning up the heat!
It might be getting to the end of the static caravan season, but that doesn't mean you still can't sit out and enjoy those autumnal days
With such a great summer now firmly behind us, those days of sitting on your veranda at your static caravan are over right? Wrong! Because you can still enjoy sitting outside on cooler evenings with some great outdoor heating options to take the chill off.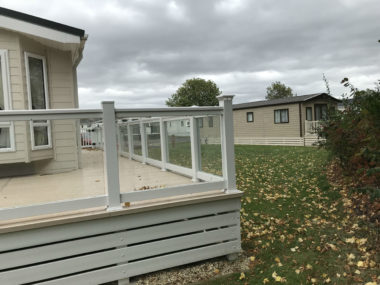 Here we take a look at a variety of different outdoor heating to keep you toasty in the colder months.
Top tips
Do remember to check what's allowed on your holiday park as some patio heaters might be classed as a fire risk or might not be allowed by your park operator.
If  you have popular plastic decking again you're obviously not going to have a fire pit!
Don't leave an outdoor heater unattended or use too close to your static caravan or other hanging or flammable materials.
If using outdoor heating make sure you have a fire extinguisher or an electric blanket nearby – just in case of emergencies.
Stand a fire pit or chiminea on a stone slab or patio slate to prevent scorching or burning.
Always make sure any outdoor heating is completely upright so it doesn't fall over and be placed on a stable, level surface. Never move it when it's lit or still hot.
Keep children away from outdoor heating appliances
Make sure the heater has fully cooled before covering or storing away.
When not in use for any length of time a cover for your outdoor heating is a worthy accessory to protect the heater – plus having somewhere to store it.
Insurance considerations
Outdoor heating equipment is covered by our holiday caravan insurance as they're part of the contents of your static caravan or lodge. However, our policy does not cover damage caused by the use of portable heaters with a naked flame
Make sure when they're not in use they're secured or kept stored away to prevent theft or damage to the outside of your holiday caravan. Also remember to include the value of any outdoor heating equipment within your sums insured.
Fire blankets and extinguishers should be kept in your holiday caravan and make yourself aware of the position of fire hoses and extinguishers on your park.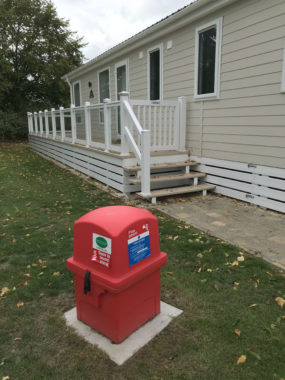 Gas, electric, wood and coals are all fuel options and you're spoilt for choice with styles and power output, plus prices vary greatly too.
There are many different types of outdoor heaters on the market, from free-standing to tabletop or hanging, plus heaters which are powered by gas or electricity. Gas heaters are popular and will give off a good heat but electric heaters can be simply plugged in and will heat up the nearby area quickly, without the need for gas bottles etc.
Here we take a look at a range of options from a table top heater to layering up with a fleecy blanket.
Table-top heaters
For caravanners with plastic decking, a gas fuelled table-top heater or an electric model is ideal. Prices vary, of course, but some can even be controlled via your deck chair with a remote control!
Firefly electric table top heater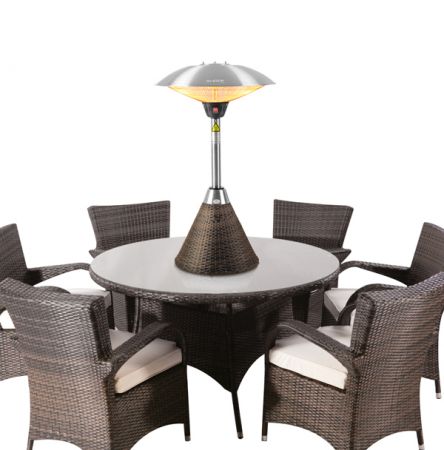 Key features: Stable rattan weaved base with aluminium steel body, Halogen heating element, three adjustable heat settings (900W to 2100W) and also gives off light.
Price from £129.99
More info: www.primrose.co.uk
Gas patio heater
A free standing gas patio heater is great way of keeping warm whilst entertaining outdoors on a cool evening. Prices range from around £84.99 to nearly £830!
Sahara free standing patio heater

Key features: Large adjustable reflector which tilts to direct heat where you need it most; electronic ignition, 13KW heat output with variable control, weighted base for stability and wheels for easy movement.
Price from £179.00
More info: www.amazon.co.uk
Parasol heater
Once the sun's gone down you can keep up your parasol and still enjoy your patio or veranda with a parasol heater
Firefly parasol heater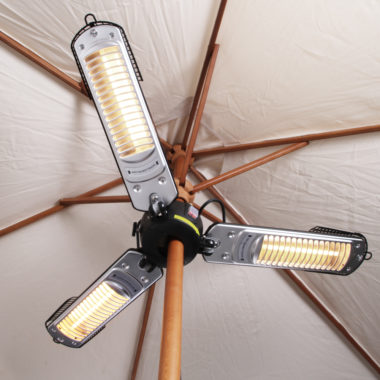 Key features: This silent 2000W infrared electric heater can be used under your parasaol or a gazebo. It's collapsible for easy storage and has three heat settings so you can turn on all three heaters or just one. Its Tipover Safeguard shuts off the heater should it fall over. For use with a pole between 25mm and 60mm.
Price from £79.99
More info: www.primrose.co.uk
Fire pit or chiminea
If you're after a fire pit – basically a bowl with a fire in it which you can sit around there are plenty of designs to choose from. Prices vary from £39.99 up to £384.99 for the top dog in the world of fire pit heating. A fire pit will burn wood or charcoal and should only be used on a traditional stone or concrete patio.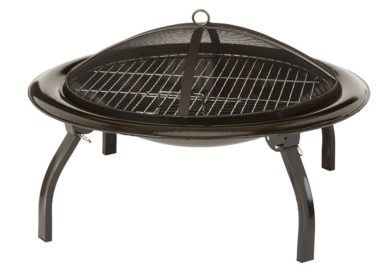 Another popular outdoor heater is a chiminea – from clay to cast iron. They produce good heat and also there's a vast selection of designs and price points. You can pay from £40 up to £169.99 for them and is a first choice for many wanting outside heat on a traditional flagged patio area.
La Hacienda Circo Malmo Chimenea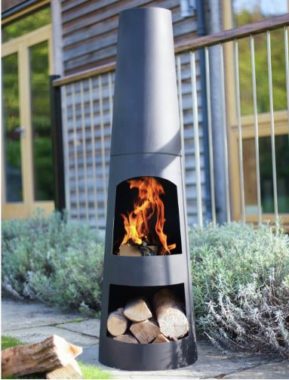 Key features: This steel chimenea includes a handy log store, which also means the heat is well off the ground. Temperature-resistant paint and log grate. 125cm high and 35cm diameter. Cover also available as an extra.
Price from £119.99
More info: www.argos.co.uk
Perfect Prime portable heating blanket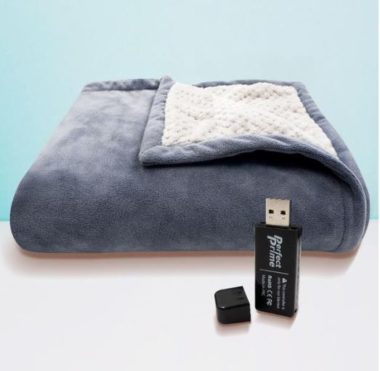 Key features: This cordless battery operated blanket has three heat settings and is large in size – 130cm x 80 cm. It's powered by a power bank or portable USB. Soft fleece material. Runsis steel chimenea includes a handy log store, which also means the heat is well off the ground. Temperature-resistant paint and log grate. 125cm high and 35cm diameter. Cover also available as an extra.
Price from £38.99
More info: www.amazon.co.uk
When it comes to picking equipment for keeping warm outdoors when at your static caravan or lodge, consider how much you're going to use it and also if you can store it easily when not in use. Covers are also a worthy extra to buy to protect your heater. But whatever you go for it will enable you to stretch those nice but cooler evenings in sitting out and reminiscing on the best summer we've had in ages!
Over to you…
Want to tell us about your outdoor heating? Feel free to add your comments to below.