POLL NOW CLOSED – Thanks to everyone who voted.
We've updated our cleaning guide for the start of the holiday season and wanted to continue with the cleaning theme in our latest community poll.
So, for this month, we'd like to know how many times you give your static caravan or lodge a good old wash down, inside and out.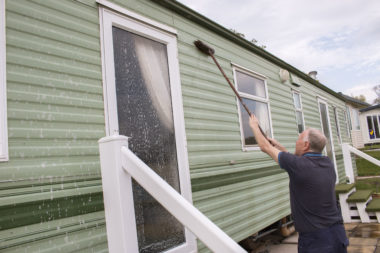 Do you just clean the outside of your holiday caravan at the start and end of the season, or more often throughout the year?
The number of times you either call in the cleaning experts or grab yourself a large brush and cloth will probably depend on where you caravan is sited. If it's near trees or by the coast it will probably need cleaning more often.
Vote today in our latest poll and let us know how often your holiday caravan is given a wash.
[poll id="41″]
Over to you…
As always, feel free to share your comments with us or tell us how often you think a holiday caravan should be cleaned during the season.