At this point we'll assume that you've selected the park on which you want to live and have found there's a vacant plot. Now you need to think about choosing your park home.
The first thing you need to do is to ask the park operator for the maximum size of home that would fit on that plot. A 40 x 20 answer would indicate a home that is 40ft long by 20ft wide. The maximum size of home permitted by law on a licensed residential park home estate is 65ft long and 23ft wide, but plots which could accommodate anything so large are very few and far between.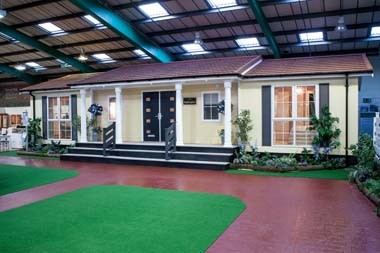 An Addington twin unit on display at Tingdene's show centre in Wellingborough, Northants. Several park home manufacturers have showgrounds where visitors can walk around various models at their leisure
The majority of park homes are 'twin units', which means that they are built in two 'halves', each one usually being 10ft wide to give an overall width of 20ft. Those two halves are transported separately to the park on low loaders and joined together on the chosen plot to create a 'bungalow-style' layout. Various floorplans  are available but the usual pattern is to have the lounge across the whole width of the home at the front, with the dining area and kitchen behind, and the bathroom and bedrooms leading off a hall towards the back.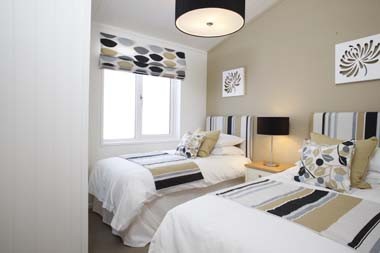 Manufacturers offer a huge number of choices. For example, buyers can choose to have twin beds or doubles. This is the bedroom of a Pathfinder Thorverton.
Various layouts cater for one, two, or three bedrooms (and most homes now have en suite bath/shower room facilities to at least one bedroom).
Single units (which can be 10ft, 12ft or 14ft wide) provide similar accommodation in smaller room sizes.
Having decided on the size of home that will fit on your chosen plot, the next stage is to decide on a make and model of home that exactly suits your needs. How many bedrooms will you need? Always look to the future. Will you need a second bedroom if you or your partner is sick? Are you anticipating having visitors to stay regularly? Will you want en-suite facilities to any or all of the bedrooms? Will you want a study as well bedrooms?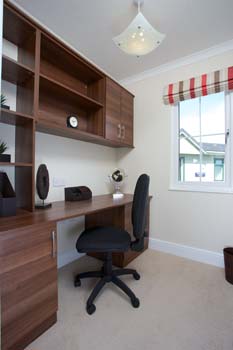 This study is in the Homeseeker Mews. Some manufacturers now include studies as standard in their larger models
What about a bathroom? If you have en-suite facilities to one or more bedrooms, these usually incorporate a shower, washbasin and toilet. If there is room, a bath could be substituted for the shower.
Most homes usually have what is known as a 'family bathroom' which can be used by everyone in the home, and usually includes a bath with overhead shower. Some homes also have a cloakroom with a toilet and washbasin.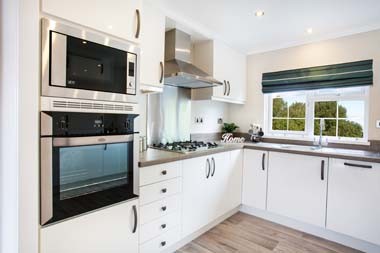 This 'state of the art' fully-fitted kitchen is in a Country Homes Woodland
Kitchens in modern park homes are usually 'state-of-the-art' and incorporate just about every modern appliance you could wish for. Fridges, freezers, ovens, microwaves, dishwashers, washing machines and dryers are usually standard. Other items that can be provided include wine coolers, coffee machines, built-in ironing stations – the list is seemingly endless. Depending on how much you want to spend, and the space available, you can specify exactly what you want.
Some homes also have a utility area (usually at the back of the kitchen and next to an exterior door) where there is a sink unit, washing machine and various storage cupboards. It's also home to the central heating boiler in most layouts.
Dining areas are a matter of personal taste. Some people like them completely separate from both lounge and kitchen. Others like combined lounge and dining, and others prefer kitchen/diners. Once again, the choice is up to the individual and the space available.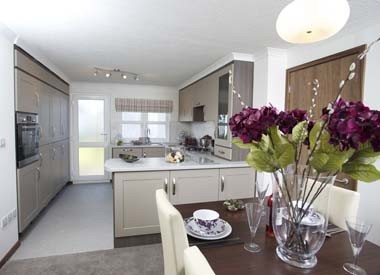 This is an example of a kitchen with 'open-plan' dining area opposite in an Omar Ashbourne bungalow
Lounges usually occupy the whole width in a twin-unit home and are normally fitted out with a three-piece suite, coffee table and a storage unit/bookcase. Recent trends have seen a flat-screen television fitted above the fire on the 'chimney breast wall'.
You'll need to find out what fuel(s) are available on the park – mains gas, LPG and electricity so that you can decide on your kitchen cooker, lounge fire, etc.
Modern homes usually have pitched roofs which allow for loft storage space with a ladder fitted to the inside of the hatch.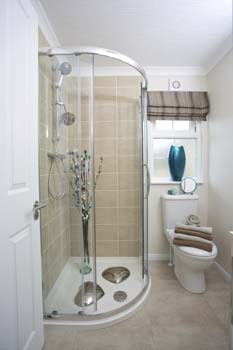 En-suite shower rooms are very popular in residential park homes. This one is in the Omar Regency
Once the home is sited, some people choose to have a porch added (but many modern homes have integral porches). Patios and decks are popular to either or both entrances, and most parks allow sheds and/or greenhouses.
Recently-established parks sometimes have garages next to the homes or in a nearby block; others have designated parking bays alongside the homes but, on older parks, cars may have to be left in a centrally-located car park. Park owners may charge for garage rental, or for parking 'additional' cars.
So, 'you pays your money and takes your choice'. Don't forget – this is your opportunity to find a home that will exactly suit your future needs. Do your research well, make well-informed choices and you'll have a home (and a park) to be proud of.
Characteristics of your park home will influence how much it costs to insure it. The home's value, roof type (pitched, flat or felt), whether it has a security and or smoke alarm, and whether it is a twin or single unit are all taken into account by Leisuredays when quoting to insure a park home.