If you've made the momentous decision that moving to the park home lifestyle is for you, then you might be wondering about how to go about it..?
No doubt, you've already visited exhibitions and parks and seen for yourself some beautiful homes and parks as well as the wonderful community spirit.
If you haven't yet decided on a park, you'll need to before getting down to the serious business of choosing your park home.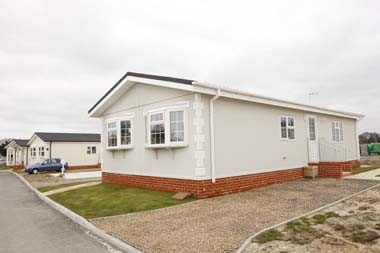 This is an example of a park which is being developed with one home sited with steps in place and the garden laid to turf. When the resident moves in, this will undoubtedly be transformed! There's a vacant plot next to it which will soon have a home of another future resident's choice sited there
There are various directories which list all the residential park home estates in the country. If you know the area you want to live in, local authorities can usually provide details of residential parks in the area. Plus, park home manufacturers also keep up-to-date information about parks where they know there are current vacancies.
When looking at moving over to parks, you might be 'blown away' by one in a beautiful location, but do be practical and look at such things as public transport (thinking ahead to a time when you may not be as fit and mobile as you are now), local shops and other facilities, site fees, entertainment and sporting opportunities, council tax, medical facilities, the nearest hospital, etc. Also think about heating costs. For example, if a park has a natural gas supply you'll be paying about the same as you did in your previous property. If, however, it is in the country where town gas is not available, you may have to rely on LPG (bottled gas) which would work out considerably more expensive.
If you own a pet, you'll need to make sure your chosen park allows pets to live there. Some parks ban dogs, while some ban all pets – so it's well to thoroughly study the park you are moving to and their rules about pets in advance.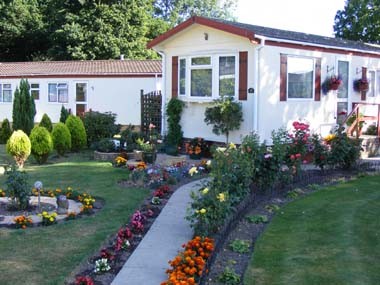 Single unit homes can be just as attractive as twins, but the accommodation is, of course, less spacious. This home, with its spectacularly beautiful garden, is at Roundstone Park at Horsham, Sussex
When you find your ideal park, you'll need to ask about vacancies. A very important decision to make at this stage is whether to buy a new home or a previously-occupied one. This decision will probably depend on the price you get for the property you will be leaving. Most people retiring to a park home hope that the difference between the amount they receive on the sale of their existing home and the price of a new park home will leave them a 'cushion' to help them enjoy their retirement years to the full.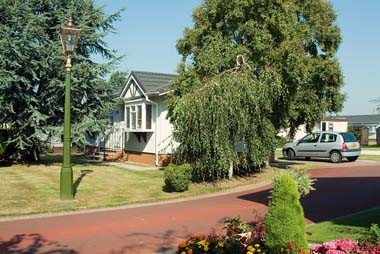 Some parks have car parking spaces next to their homes
If you decide you are moving into a brand new park home, you may experience difficulty in finding a suitable vacant plot on the park of your choice.  However, you might be lucky if an old home is being removed (and the plot is large enough for your chosen size of home). There are, of course, new parks being set up from time to time or existing parks are extended.
Previously-occupied homes can offer very good value for money and there are various specialist refurbishment companies that can make older homes 'look like new', if the existing decoration and fittings are not up to standard, or not to your taste.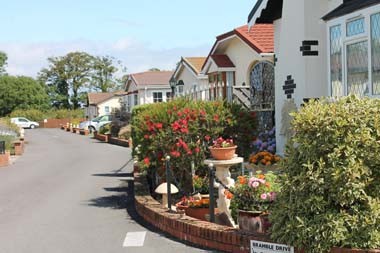 When looking at parks, it is important to consider the size of garden areas and whether they will be manageable for you, not only now but in later life
Another approach is to select a manufacturer (or several), decide which of their models is your ideal, and then ask if they know of any park where a brand new one of this type is about to be sited. By taking this route, you'll inevitably not have the choice of location that you might have wanted.
Most people opt for choosing their park first and, perhaps, compromising on their choice of home. A number of parks have a show home for visitors to view.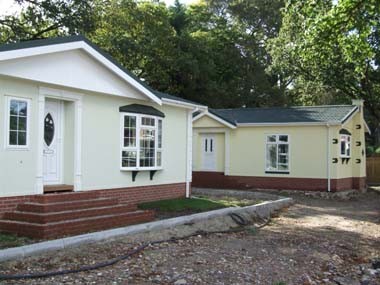 Recently sited homes which will soon be occupied. Where possible park owners do not surface the roads until all the heavy machinery associated with the siting has finished its work
Another alternative is to ask a manufacturer to make a home to your specification to suit a vacant plot on the park of your choice. In this way the home can be built to an appropriate size, with doors and windows positioned to give the best possible views, sunny living areas, and so on.
Finally, don't forget that when moving into a park home it will be a good idea to insure the unit and all of your wordly possessions inside. Please read the Leisuredays' park home insurance page to find out more about our great cover features, benefits and options.