In January and February 2014 some of the worst storm surges in UK history caused severe flooding up and down the country. Holiday parks situated on the coast were hit especially hard and many static caravans and lodges were completely destroyed.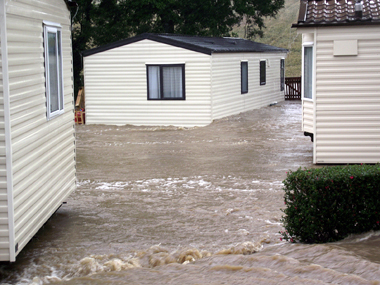 Now in 2015 the threat of flooding remains for many holiday parks. With unsettled weather expected this month and into February, it's important to consider both the short and long-term effects of flooding, and the areas of a static caravan or lodge which are most susceptible.
The average cost of a static caravan flood claim
We looked at our claim records between January and December 2014 and found that the average static caravan flood insurance claim cost an astonishing £13,190.
This figure not only indicates how destructive flooding can be, it's a powerful reminder of how vulnerable your unit is to flood damage, and why specialist insurance cover is key.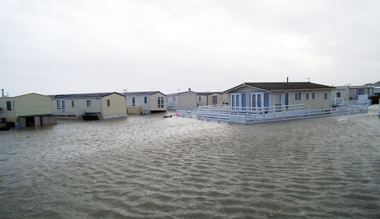 Most common effects of flood damage
To give you an idea of where flood damage is most likely to occur on a lodge or static caravan, we researched genuine insurance claims made over the last twelve months.
The majority of claims for damage that occurred inside the caravan were for carpets and flooring. Other internal damage hotspots include boilers, washing machines, fridges and freezers. Records also show that many customers affected by floods claimed for damage to their personal belongings too.
Personal items such as clothing and toiletries are also difficult to salvage when flooding strikes. Leisuredays policyholders can insure their personal effects for up to £250 per item, so their possessions are covered should the worst happen. If you use your static caravan or lodge as your permanent residence, you can increase this single item limit to £1500, which allows you to insure high value items such as jewellery, watches, glasses, computers (including laptops) and DVD/CD players.
If you know your park can be vulnerable to flooding, there's probably very little you can do personally to prevent flood waters reaching the inside of your caravan, but if you want to preserve free-standing items and possessions, store them in overhead cupboards where possible whenever you leave the caravan unoccupied.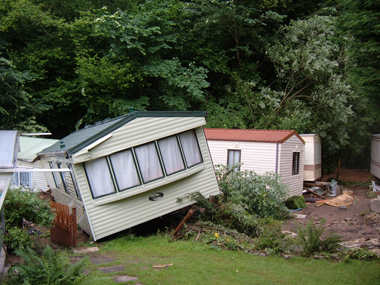 Naturally, it's outside the caravan that suffers most when flooded. Our claim records suggest that decking, patios and verandas are most at risk; damage to skirting and storage boxes is also very common, so too is chassis damage.
Flooding also poses a genuine threat to sheds and out buildings. Records show that fly mowers, strimmers and bikes have been damaged in floods – despite being locked away securely.
How flood causes lasting damage
It's easy to assume that your static caravan is out of harm's way once flood waters have cleared, when in actual fact it's less visible damage that causes the most long-term problems.
Take the number one internal flood claim for example; carpet and flooring damage. Even when dried, floors will be left saturated, delamination may occur and flood waters may have been contaminated with sewage. Severe water ingress may also lead to electrical problems. Over the past year we've heard from customers whose floorboards have cracked, lino had been destroyed, and whose pipework has been damaged. Also non galvanised caravan chassis may corrode as the result of prolonged exposure to floodwater.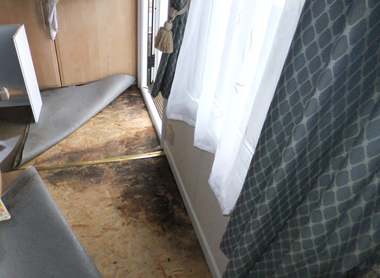 As well as this, you may also find that free standing furniture is left unsalvageable, particularly the bases of any wooden or upholstered items.
Stay ahead of flood risk
Whilst it is very difficult to stop flood waters reaching your unit entirely, there's a wealth of information online that could help minimise damage.
One tool on the Gov.UK website lets you see the risk of flooding in your park's area, see here for details.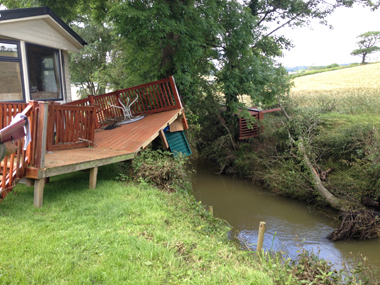 You may also find live flood updates from the Environment Agency useful if you fear your park is at imminent risk of flooding.
Has your static or lodge ever been flooded?
If your unit or park has been damaged by flooding in the past we would love to hear from you. What kind of damage occurred? Perhaps you or your park operator have taken preventative measures to ensure the same doesn't happen again? Share your story below.