If you could design your very own static caravan or holiday lodge, what design element would it feature? That's the question we asked in last month's poll.

We gave you seven options for this one: extra gadgets and gizmos, improved facilities, better layouts, stronger construction, modern upholstery, larger living space and stand-out features.
Before we reveal the winning choice, let's take a look at some of your comments…
Space is an issue for D Jones and family who got in touch to say they would design, "A decent two bedroom 'van big enough for adults. Our children are grown up and the beds in the small rooms are too narrow and not long enough for an adult to sleep in."
'AB' is also looking for extra space, "Design to give maximum storage space – if there's a corner unit between seating, for example, give it a lid or a door so the space inside it can be used. In general, I prefer flexibility to features – if I want e.g. a freezer, I can buy a free-standing one, but if it's fitted and I don't want it, it's a complete waste of space. Give me a good basic layout and lots of flexibility – it's more useful and more personal too."
Practicality was important to Gwen, who contacted us to say, "I think more plugs in the lounge would be nice for some lamps."
Let's see how you would design your own static or holiday lodge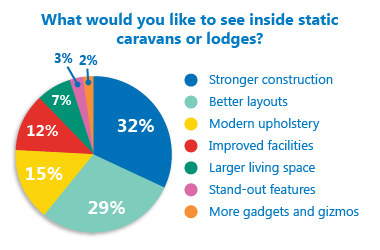 32% of you voted for stronger construction, while 29% want to see better layouts. Modern upholstery was a popular choice but despite only getting 12% of the vote, it's improved features that have generated the most response from you.
Gilly told us, "One feature I would like to see built into modern statics or lodges is the installation of log burning stoves as they would be lovely in colder weather and would reduce heating costs for the customer."  
Better heat installation was also high on Andrew's list, "The major problem with lodges is providing affordable warmth. The volume of air within is so great it takes ages to reach a living room temperature, when you consider the cost of LPG this is very expensive heating. I agree with Gilly the introduction of a internal fire retardant chimney breast with a SS sectional flue would allow the introduction of a log burner which is Carbon Neutral. Another very important feature is better insulation there should be a minimum of 150mm thick Kingspan or similar good quality insulation."
Eric commented, "After being a static caravan owner for 17 years I upgraded to a static caravan with central heating, 3 years ago. I was disappointed to discover that there was no room thermostat in the system and contacted the manufacturer to query this. Apparently, central heating systems in holiday homes are still not fitted with a room thermostat as standard. My suggestion is in order to meet safety and energy regulations, they should be."
What do you think of the latest results? Let us know if you agree by leaving a comment below.