With winter now in full swing, many of you will be reading this not from the comfort of your static caravan or lodge, but from your permanent home.
If your holiday park, like many others, isn't open throughout the winter months, life spent inside your caravan may sometimes seem as though it's cut in half.
To find out how many people reside on a holiday park between now and March, last month, we asked you to tell us if your park remains open during winter.
We received hundreds and hundreds of votes time time around; in fact it was one of our most popular polls to date!
With a total of six options to choose from there wasn't much in it…
Let's take a look at the results…
Most of you – 38% in fact – got in touch to tell us that your park is closed at this time of year but that you'd love it to remain open instead.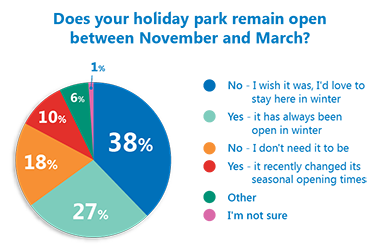 Meanwhile 27% of those who voted told us their park is in fact open at this time of year. Combine this figure with the 10% whose park had recently changed its opening times to remain open in winter, and that's a huge 48% of people who can enjoying time on their park in winter –  far more than we anticipated!
That said, 18% of voters weren't too fused about their park being shut over winter, whilst 1% of voters admitted they didn't know if their park was open of not.
Here's what some of you had to say…
Barbara tells us, "My caravan park closes from 31 Oct – 1st March. They only open week days during the closed period. Therefore, people like myself that work full time cannot visit their caravans to check for any damages. One summer a mouse found it's way into our caravan, luckily for us it must have only got in there a day or so before we went down at the weekend. If something like this happen during the winter months I hate to think of the damage that would be caused. Just one reason why I think sites should allow residents on site during shut down periods. One Saturday a month would be better than nothing."
Like Barbara, Susan would prefer her park to remain open all year round, "Although the park is closed from 1st December to 1st March I believe you can go onto the site during the day but you have to leave by 5pm. I would love to find a site where you can stay in your caravan all year long."
For Derek, the idea of a tranquil park really appeals at this time of year, "It would be nice to go to our caravan at Ingoldmells during part of the winter period; lovely to walk on the beeah with the dog, albeit brisk and cold, it's so refreshing and a break from home around the Christmas and new year mayhem!"
Similarly, Dave told us, "We are at Sutton Springs on the east coast and our site doesn't shut till Jan 5th and reopens on March 1st. We have just come back from a very bracing couple of days; lovely contrast to the summer months. We will be going over again in a couple of weeks."
What do you make of the results?
Scroll down to leave a comment  or to read more of your comments on the belt to berth debate, see the poll article in full here.