In last month's poll we wanted to find how many of you had plans to improve your static caravan or holiday lodge over the summer – and what type of work those plans involved.
We gave you twelve "home" improvement plans to choose from this time, ranging from minor work for things like interior decorating and gardening, to bigger projects such as building outbuildings and underfloor insulation.
There can only be one winner!
35% of you got in touch to say you plan on updating furniture and soft furnishings. The second most popular choice was decking with 20% of the final vote – why not, it's summer after all!
Underfloor insulation was the third most popular choice which did surprise us, while gardening and groundwork got 8% of the vote.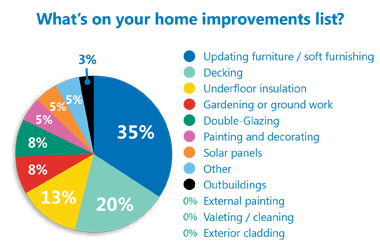 We were also surprised to see that so many of you plan to add solar panels to your static caravan or lodge!
One person go in touch to say, "I've had some quotes for decking and they are very high. Would like to hear about any less expensive alternatives." Does anyone have any?
What do make of the results?
Agree? Disagree? Get in touch using the comment box below.