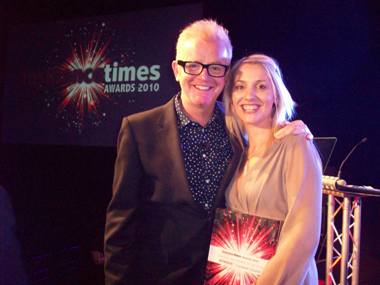 Caravan Guard, incorporating holiday home wing Leisuredays, have been named winners of "Training Programme of the Year" at the Insurance Times Awards, after developing a brand new insurance training qualification in conjunction with Calderdale College.
The award was presented to us at a glamorous awards event held at the 'Battersea Evolution' in London, hosted by Radio 2 DJ Chris Evans. The award is the icing on the cake for us after we won two other national awards this year.
Kerrie Algar, our Human Resources & Training Manager explains how the award winning training programme was tailored specifically to our staff,
"The training programme was designed to allow customer facing employees to gain a formal insurance qualification and therefore offer more in depth advice, which of course increases customer satisfaction. It's an example of how we invest in developing our staff to ensure they are the best in the industry. "
As well as this most recent award, Caravan Guard (incorporating Leisuredays) were earlier this year named the UK's number one insurance broker for Customer Service, and best Personal Lines Broker at the UK Broker Awards 2010.
Insurance Advisers are the company's point of contact with customers and are therefore the ones primarily delivering this award winning service. Kerrie went on to say
"Our insurance advisers are well-known for being friendly, knowledgeable, and efficient. We're hugely proud of our investment in to having the best possible Insurance Advisers, and are very proud to have our training efforts recognised by the Insurance Times Award."