If you're not using your static caravan or lodge in winter then you don't want to attract unwelcome visitors, such as thieves or vermin!
In last month's community poll we asked owners if they emptied the contents of their holiday caravan in winter.
Here's the results
With more than 120 votes, nearly 50 per cent said they removed all valuables, bedding, clothing and food during the winter months – good practice if you're not staying in your caravan.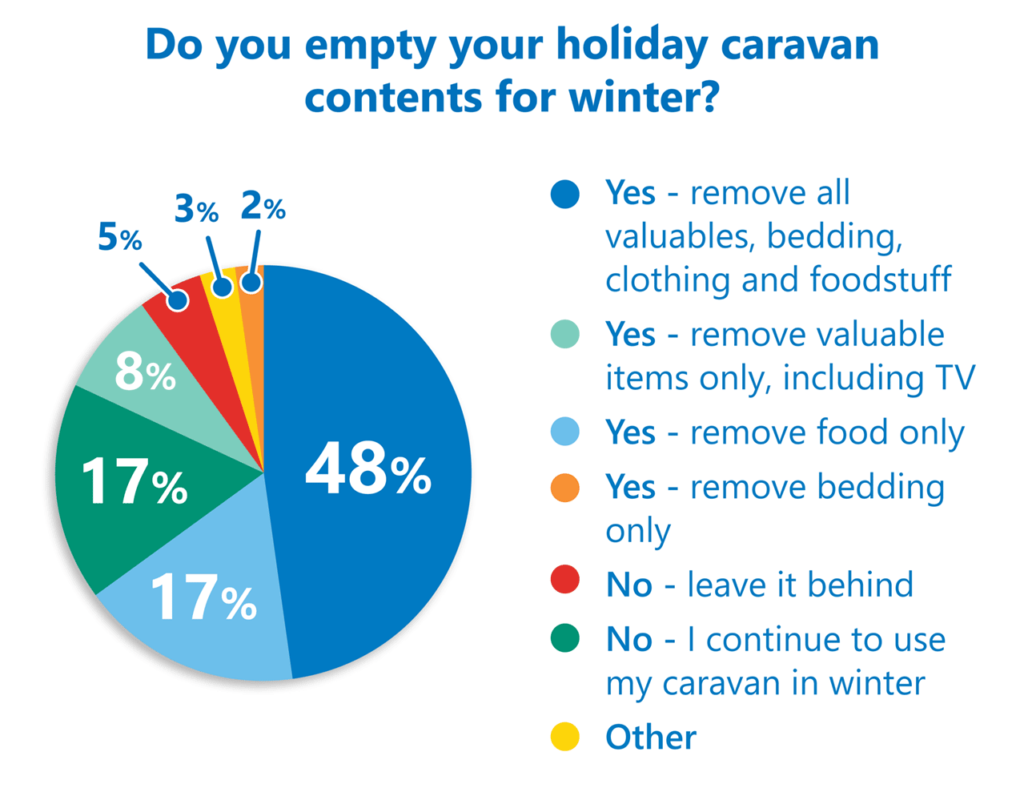 However, 17 per cent of voters told us they continue to use their caravan in winter so don't remove their contents and another 17 per cent only remove the food. They might want to read our winter security tips where we stress the importance of removing valuables to prevent theft.
Eight per cent of voters do remove valuable items, including the TV, and just five per cent leave everything in their static caravan or lodge.
Your comments
Storage space was a problem for some owners and others didn't remove everything because they were reassured by good park security.
Alayna Sutcliffe doesn't have  anywhere to put the contents of the caravan so it stays put! "I was apprehensive at first but I have had no problems with damp or break-ins," she said. "Security is pretty good at Bunns."
Security at Christine Grier's park is also good. She leaves the TV but deep cleans her caravan and removes all food, bedding and clothing.
"Always great at start of season to know it's fresh, clean and aired," commented Christine.
Jeannette Ashfield told us they have a warden at her park and it's only closed in January.
"When we leave we remove all food and bedding but leave everything else in place," she said. "Have been on the park for five years and haven't had any problems."
Kath Diggle removes all electrical stuff and any valuables.
"I pack my bedding in waterproof bags with some lavender. It doesn't get damp," said Kath. "Our van is double glazed so issues with damp and mould not as bad as our old ones were. I clean everywhere, even the ceilings, with a detergent and leave large bowls of salt in every room."
Over to you…
What do you make of the results? Feel free to comment below.
And don't forget to see our winter security tips article to help protect your holiday caravan during the closed season.