In last month's Leisuredays Community Poll we put your furry friends in the spotlight and asked 'Which pet do you take with you to your holiday home or static caravan?'
Not so surprisingly, a staggering 89% of those who voted told us that you take your dog away with you. Ken Healey wrote to us to say that he wouldn't even consider going away without his dog: "Dogs and (static) caravans are what it is about…early morning walks…late evening walks to the pub. I will not go without my dog."
Pauline Cox agrees telling us, "We would not buy a caravan on a site that does not allow pets; pets are part of the family."
Cats came second in the survey with just 7% of the vote, followed closely by rabbits (1%) and Budgies (1%). 2% of you selected 'other', so perhaps it's not just common domestic pets enjoying leisure parks these days.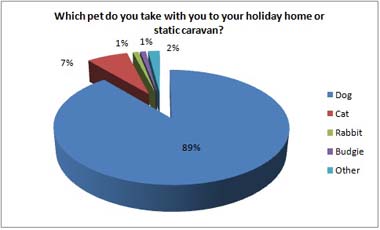 Back to your comments now and we were interested to learn that many of you feel that your leisure time and your pet's leisure time go hand-in-hand.
"We regularly bring our boxer dog 'Holly' and rabbit 'Lopsy' to our caravan," Charley Rutland told us. "We have a wraparound veranda which houses a hutch for our rabbit (which at home lives indoors) and allows them both to wander around the caravan when the weather is fine."
Howard Miller seconds this and admits other options just aren't as practical: "I think one of the main reasons for having holiday home is to have your pets with you as it is becoming impossible to take them to hotels and B&Bs etc. Often the stress caused by putting pets in kennels is worrying. Park owners will find it hard to maintain full occupancy if unreasonable restrictions are imposed."
Restrictions that Irene Allison has some experience of: "Our site only allows owners of static vans to bring dogs," she tells us. "I can't even let my daughter come with her dog. We are responsible dog owners and resent being restricted as when we originally bought our caravan there was no such restrictions."
It's clear from most of your comments and from the voting results that you lot love your pets dearly and that they're an extremely important part of holidays in your static caravans and lodges – and rightly so!