Holiday caravans come in all shapes, sizes, colours and configurations to suit most people's needs.
But it's also important to choose the right chassis for your static caravan or lodge, particularly if it's sited on or near the coast or an estuary. Afterall, the chassis is one of the most important parts of your static caravan or lodge, supporting everything above it, including your investment.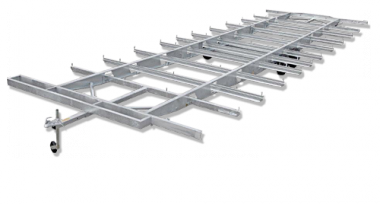 A fully galvanised chassis will reduce the potential of rust and corrosion from sea salt or in the event of flooding and will also increase the lifespan of your holiday caravan.
Some manufacturers, like Swift Group, are committed to building all their new holiday caravans with a fully galvanised chassis.
From an insurance perspective, a galvanised chassis can offer that added layer of protection in the event of a tidal surge or flooding.
Static caravans that are sited near the sea without a galvanised chassis are more likely to deteriorate quicker and this general "wear and tear" will not be covered by your insurance policy, so you could end up with an expensive repair bill in years to come, or worse still having to buy a new caravan.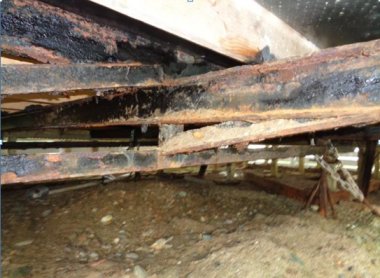 Duncan Smith, national sales manager, at Swift Leisure said a fully galvanised chassis system was the only option suitable for the vast majority of environments.
"For peace of mind Swift are building all their holiday homes on fully galvanised Fusion chassis on all its 2016 models," said Duncan. "The Swift Group are one of the only manufacturer specifying the fusion galvanised chassis as standard. A unique product that not only protects your holiday home investment but provides peace of mind for years to come. Backed up with a comprehensive 10 year anti-corrosion warranty."
Looking after your caravan chassis
All chassis need some maintenance – even the fully galvanised. Firstly, it's recommended to check the chassis on a new caravan when it's first sited to make sure nothing has been damaged in the siting process and that the finish is still intact. Any scratches to the paint finish should be touched up straight away and it's probably best to notify your park operator or manufacturer.
We would advise continuing to make periodic checks of the chassis each year when leaving your caravan for the winter or when opening up for the new season.
For steel chassis with a protective coating, carry out checks each year for any signs of damage or corrosion and touch up using a specialist coating which conforms to ISO: 12944. Ask your park operator or manufacturer for help.
For all chassis, if you spot any significant signs of corrosion we suggest speaking to your park operator about options for repair.
We also recommend you clean, grease and wind each of the four corner steadies/jack stands periodically and clean and oil the jockey wheel.
If your caravan is sat on wheels try to protect the caravan tyres from direct sunlight and make sure the tyre pressures are maintained at the correct levels, as indicated on the tyre.
Check out the chassis warranty cover
It goes without saying that the manufacturer warranty is better if you choose a galvanised chassis. For example, Willerby offers a 12-year anti-corrosion warranty on a galvanised chassis, from the date of manufacture, compared to two years for a conventional steel chassis warranty. Similarly, a galvanised chassis on an ABI holiday caravan has a 10 year anti-corrosion warranty, for that extra peace of mind.
Over to you….
Feel free to share your stories in the comments box below.
Get a holiday home insurance quotation from Leisuredays by clicking here.