The risk of adverse weather is never too far from the UK's leisure industry. Even now, in the midst of a national heatwave, static caravans are vulnerable to sudden storms and heavy rainfall.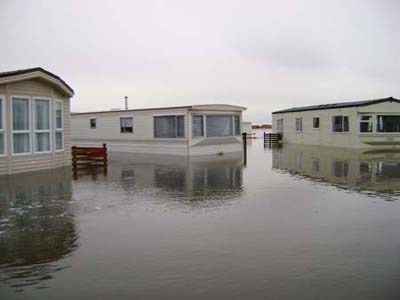 Over the last two years we have seen a 19% rise in weather related claims; predominately from customers affected by flood or storm. In 2012 – when static caravan storm claims alone were up 300% – sun, rain, hailstorms and even snow were recorded just days apart.
The cost to repair static caravans damaged by bad weather is huge; since 2011 the average weather claim cost has risen by 135% and in 2012 flood claims made up over a third of all Leisureday' claims costs, compared to less than one percent back in 2011.
Not only do floods threaten the property, they also pose the risk of fire, explosion, collapse and other hazards. In January 2012, high speed, blizzard-like winds caused severe disruption across much of the UK and we received a large number of claims for exterior damage to roof panels and verandas, putting park home owners at greater risk.
We've also heard from customers who, because of a sudden shift in temperature, have claimed for boiler damage, burst pipes and in some cases even roof damage.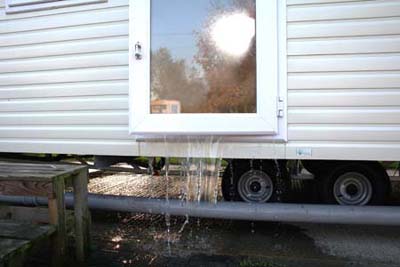 Storms and heavy rainfall tend to strike soon after a long period of warm weather and although they're not always easy to prepare for, its well worth knowing what to do if your park gets hit badly.
Planning for the worst
Its worth keeping an eye on local weather forecasts and the Environment Agency website for Flood Alerts and Warnings.
Also if your park is at a significant risk of flooding it will likely have an Evacuation Plan. Make sure you are familiar with this. Your park may even display flood warning signs giving information about what to do in the event of flooding. Be sure to know which evacuation route to take and which assembly point to head to.
There are a number of key things to consider after a flood.
Electrical hazards
Before returning to your park home or static caravan always make sure the power has been shut off at the mains and never touch electrical equipment when you're standing in water or on a wet surface.
Structural hazards
Never enter the home until it has been certified to be safe.
Contamination hazards
Remember that flood water is contaminated and could be mixed with chemicals and sewage.
Hazardous materials
Take extra care when handling pipes and water tanks as they may have been damaged by storms and floods.
Reporting damage to your insurer
Make sure you keep your static caravan insurance provider's claims helplines on your person – perhaps keep a card with these written down in your wallet or a link to your policy document on your smartphone. It is vital that you inform your insurance provider of exactly what's happened as soon as possible. This can set the ball rolling with regards to making repairs or replacement as early as possible and also allow temporary repairs that could prevent further damage occurring.
Prevention of major damage
Leisuredays works hard with many holiday parks to identify and minimise risk of damage in the event of storms and flooding. Typically static caravans will be anchored at four points to prevent them leaving their base. Your park may have permanent flood defences or employ temporary defences such as sandbags when flood warnings are in place.
If you do get early warning of potential flooding and have time to prepare before evacuating, it makes sense to switch off all electrical items and try to move these items to a higher level in the caravan in case water does get inside. Take portable expensive items with you. Make sure all windows are fully closed before leaving. Also if there are loose items outside the caravan such as garden furniture and barbecues, consider putting these inside your caravan so they don't get swept away.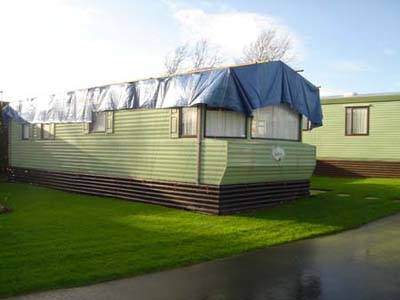 The future potential for storm and flood damage to static caravans
Our flood consultant Laurence Waterhouse, admits we could be in for bumpy ride with future weather patterns: "In 2012 and so far in 2013, we've swung from droughts to floods, hot to cold. Extremes weather seems to be the norm nowadays, with torrential rain, flooding and now the heatwave becoming monthly headline news." The exact course that the UK's climate will take is still uncertain which is why it's so important to make sure your park home or static caravan is prepared and fully equipped to deal with the latest weather warnings.
Leisuredays' static caravan 'all risk' insurance policy includes fire, theft, storm, flood and accidental damage. It also includes cover for removal of debris and resiting of a new unit if your caravan is severly damaged and needs to be replaced.