A new layout for 2016 and some unusual design features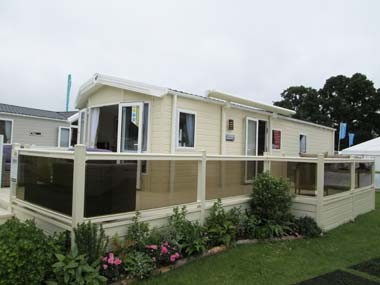 The Winchester from Willerby Holiday Homes has a visually striking exterior. Fully updated for 2016, this static caravan has an all-new layout, contemporary furniture, fixtures and fittings and a clever use of space. Our two-bedroom review model featured cream Canexel cladding with contrasting white uPVC guttering and downpipes. Steel pantile roof sheets were fitted and there is the usual moulded GRP bargeboard to the front elevation. There is also an exterior light beside the main access door on the side.
On the model we saw, a cunning fold-away/pull out awning was attached to the roofline and when deployed, covered a sitting out area in front of the doorway. The home sits on the usual fully galvanised chassis.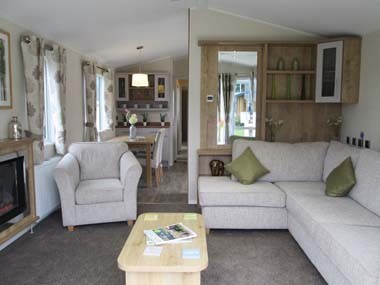 A large, central patio door leads you into the lounge of the Willerby Winchester.  This is a square shape with the unusual feature of a half wall from the apex of the vaulted roof to the floor.  This gives a certain amount of exclusivity to the lounge which, in many similar caravans is open plan.  We quite liked the fact that you are somewhat separated from the kitchen and eating area – it makes the lounge more cosy and, if you have children staying with you, they could be playing in the kitchen/diner without disturbing you watching TV in the lounge! On this wall is a corner unit with small shelves, larger storage shelves lower down and a big mirror.
A freestanding L-shaped sofa in flecked, light cream fabric is to your right and this hides a pull out sofa bed for occasional extra guest use.  A single armchair and scatter cushions in lime green, plus a coffee table, are also included, as is a corner TV/DVD unit, and a wood framed fireplace with overmantle and flame-effect electric fire. Walls are in a light magnolia colour and fully fitted carpets are in a light brown.  The front and side windows allow plenty of light to flood the room. Altogether the lounge, although fairly small, would be a relaxing place to be.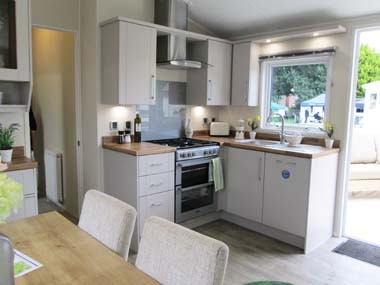 The dining and kitchen area comes next through the half partition wall. Here, a sizeable dining table with four padded chairs sits in front of a wide, opening window and next to a handy 'Welsh' dresser unit with glazed cupboard doors, shelves and cupboard space below – this would be ideal for use either as a display unit or somewhere to keep the home's crockery and cutlery. The floor here is a vinyl wood-effect planking which contrasts nicely with the other décor.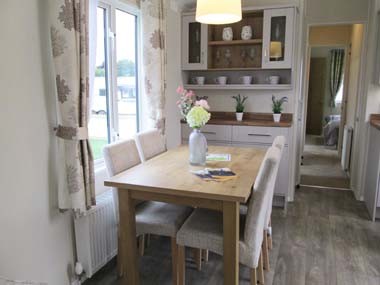 Opposite, the kitchen is split either side of the main front door.  To the left (as you face the door) is an L-shaped unit with off-white cupboards below a stainless steel sink and single mixer tap, handily positioned below a big window, a double cavity four burner gas oven and grill with glass splashback and, to the left of this, a set of four drawers. A stainless steel cooker hood vents cooking smells through the roof vent and has more cupboard storage on either side.
On the other side of the doorway, part two of the kitchen has a large countertop below which is fitted with an integrated fridge/freezer. There are more wall cupboards above, central to which is a built in microwave oven. On this 2 bed model of the Winchester, you can ask for a slimline dishwasher to be fitted as an optional extra which, knowing how many people feel about doing the washing up, would be well worth the expense! There are also plenty of well-placed power sockets for your kettle and other appliances. Willerby has managed to pack quite a lot of kitchen into a relatively small area and the positioning of the outside door could be a positive advantage in hot weather.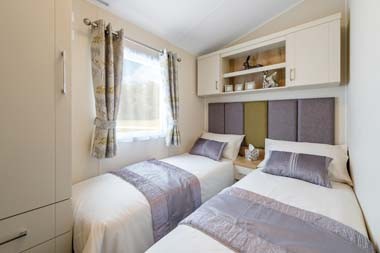 The central door from the kitchen leads, as usual, into the bedroom and bathroom.  These three rooms take up about 50% of the total length of the caravan and the first room on the left is the bathroom, or as Willerby likes to call it, a 'family shower room'.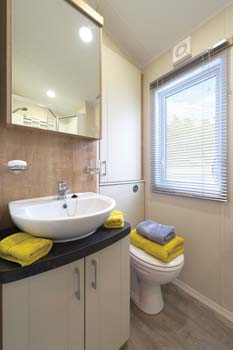 To the right is a large fibreglass shower enclosure with thermostatically controlled shower behind a glass door.  There's a double flush ceramic toilet and handbasin, under which is a useful storage cupboard.  Further storage can be found behind and above the toilet. The floor is a washable laminate style in the same brown plank effect as the kitchen. Accessories such as toilet roll holder, tooth mug and towel rail are all included and there's also a radiator fitted near the window. Would this bathroom pass the 'banging-your-elbows-when-drying' test?  Just about!
Moving on, the next door off the central access corridor is on the right and leads to the twin bedded room. This is a nice, bright and airy space – made more so by the magnolia walls, floral curtains and accent colour of light purple on bedding and padded headboard.  There is a decent space to walk between the beds and a central table and drawer unit with more storage on shelves and cupboards in an over-the-bed wall unit.  A wardrobe with drawers under sits at the bottom of one of the beds.  The second bedroom on static caravans is often very small but here, Willerby has managed to fit in both beds and still retain a modicum of useable floor space.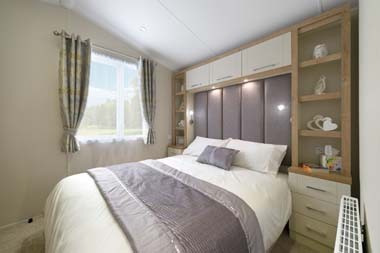 The final door at the end of the corridor takes you into the main double – or master – bedroom. This has the bed across the room with its padded headboard side on to the caravan.  The window here is therefore on the back wall of the unit and this allows for extensive storage above and around the bed.  One both sides are display shelves, a bedside table and three drawers.  Downlighters are fitted above and there's a radiator on one wall.
A small dressing table and stool with mirror and a walk in wardrobe (only on the 2 bed model) complete a nicely proportioned bedroom.  I think that throughout this static, the fact that there is a minimum of 7 feet of headroom, does give an extra feeling of space of the rooms. A door at the foot of the bed leads into the small en-suite bathroom which features a toilet and handbasin – all you need, really.
Verdict
Willerby has gone all out to produce a contemporary design with the Winchester, which is apparent in the separated lounge and boutique style bedrooms. At this price point, the Winchester could appeal to people either buying for the first time or those seeking to upgrade from an older model.
Plus Points
Lounge partially separated from the kitchen.
Integrated appliances in a well laid out kitchen.
Great use of space and styling.
Minus Points
Secluded lounge might not be to everyone's taste.
In-a-Nutshell
Stylish, attractive static at a good, value for money price.

FACT FILE
Size: 36ft x 12ft 6in
Build Standard: EN 1647.
Berths: 4, in two bedrooms (one twin and one double).
Other Layouts Available: 38ft x 12ft 6in, 3 bedroom. BS3632 Residential Specification on 2 bedroom model only.
Key Optional Extras: Outlook French doors; Canexel cladding in various colours; integrated MP3 sound system; washer/dryer or dishwasher; different bedding packs; residential specification.
Ex works price: £38,992.68 inc VAT
For more information visit www.willerby.com or e-mail: [email protected]
Address: Willerby Holiday Homes, Imperial House,
 1251 Hedon Road,
 Hull, East Yorkshire, HU9 5NA. Tel: 01482 707 808
Additional charges will be made by park operators, and/or distributors for transport, siting and annual maintenance. Please check the price carefully before you commit to purchase, as prices vary considerably dependent, amongst other factors, on the geographical location of your chosen park.